South Texas Camping
The South Texas Plains camping region has a more than perfect climate, combined with friendly people, and many historic and exciting vacation destinations this is a favorite area to enjoy the best of camping in Texas: a place to experience Texas history, culture, and fun.
The area's largest city and the number 1 vacation destination in Texas, San Antonio boasts many fabulous attractions: The Alamo, River Walk, SeaWorld San Antonio, Six Flags Fiesta Texas, San Antonio Zoo, Guinness World Records Museum, Ripley's Haunted Adventure, and the San Antonio Children's Museum.
The region is located on the southeast corner of the semi-tropical Rio Grande Valley and is packed with adventures; rich in history from the conquistadores who once traveled through on their explorations to find gold to where Franciscan monks set up missions to Christianize and educate the natives. Texas is said to have the finest examples of Spanish mission architecture in the United States, some of which can be found in the mission district of San Antonio and Mission Espiritu Santo in Goliad.
For birders, the semi-tropical Rio Grande Valley is one of the best bird-watching spots in North America, with more than 600 bird species and 400 kinds of butterflies. Located where major North American bird migratory routes converge, this region features the World Birding Center, a network consisting of nine sites with their headquarters located in the Bentsen-Rio Grande Valley State Park near Mission Texas.
The Rio Grande Valley is a very popular winter camping destination due to its semi-tropical climate. "Winter Texans" move into the Valley for long stays, most returning every year. The perfect climate and wonderfully mild winter allow visitors to the South Plains to enjoy golf, tennis, camping, fishing and other outdoor activities year-round.
Acacia Mobile and RV Park
Winter Texans will find Acacia Mobile & Rv Park conveniently located in the center of the Rio Grande Valley, a few minutes to the Santa Ana National Wildlife Refuge, only 15 minutes to enchanting Mexico, and an easy drive to popular South Padre Island.
Acacia Mobile & RV Park
E Business Highway 83
Donna, TX
(956) 464-4080
Places of Interest in the Alamo Texas Area:
The Santa Ana National Wildlife Refuge is a 2,088-acre refuge located along the banks of the lower Rio Grande and established in 1943 for the protection of migratory birds. Considered the 'jewel' of the refuge system, this essential 'island' of thorn forest habitat is host or home to nearly 400 different types of birds and a myriad of other species, including the indigo snake, malachite butterfly and the endangered ocelot.
At an ecological crossroad, Santa Ana is strategically located where subtropical climate, gulf coast, great plains and Chihuahuan desert meet. Thousands of birds from the Central and Mississippi flyways funnel through the area on their way to and from Central and South America. This small patch of mid-valley riparian woodland is also a habitat for about one half of all butterfly species found in the United States.
South Padre Island, Texas. Hundreds of people are discovering the tropical beaches of South Padre Island as their ideal vacation destination. With five miles of relaxing beaches, near-perfect weather, and thrilling attractions, South Padre Island will make your vacation memorable.
South Plains / Alamo River RV Resort
Campground Details for Alamo River RV Resort: Located on the beautiful Medina River, 16 miles from the downtown River Walk, on the southern city limits of San Antonio the Alamo River RV Resort has over 3/4 of a mile of river frontage to fish, hike or just enjoy the quiet beauty of this historic ranch.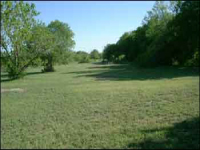 Alamo River RV Ranch is one of the closest RV parks to Lackland AFB. It is definitely the quietest and most relaxing. If you are coming to Lackland AFB for graduation ceremonies, Alamo River RV Ranch is the place to stay! We support all military with a 20% discount! Come and enjoy San Antonio's OTHER RIVER WALK.
Alamo River RV Resort
12430 Trawalter Ln
Von Ormy, TX 78073
210-622-5022
Testimonials and reviews:
I found this park after leaving the one we were suppose to stay at approx 20 minutes after pulling in. The park's host is Charlie Brown; no really that's his name. I chuckled a bit when he told me but later saw the park host listed at Roxy and Charlie Brown. Charlie is the nicest park host we have run into so far and one of the nicest guys I have met lately period.
The park is located on a private ranch with horses and is located on the Medina River. River not good for swimming but you can fish. I am writing this review from the park and we are very comfortable here. The park has a club house with pool table. They offer books and movies which guest can borrow. The park is just about as close to San Antonio as you can get without being in San Antonio. We camped here in a Travel Trailer.
Amenities for Alamo River RV Resort
All sites have 20/30/50 amp service
Most are pull thru at least 60 feet long
Free High Speed WiFi
Clubhouse with kitchen
TV room
Computer desk
Exercise room
Pool table
City water
Riding & Hiking Trails
Mountain Bike Trails
We are the only regional RV park/camp ground that has accessible yet secluded tent sites
We are a Heart Safe Park", equipped with a Zoll AED and staff are trained in CPR
A Country Breeze RV Park
Campground Details for A Country Breeze RV Park: Relax and enjoy the quiet country atmosphere of South Plains Texas in this year round RV park.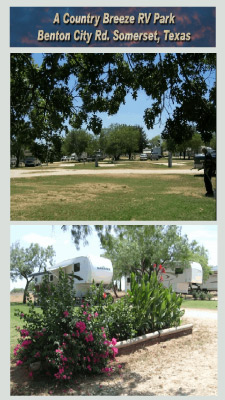 Located just southwest of San Antonio, with easy access to and from IH-35, we are just minutes from everything San Antonio and the surrounding area has to offer.
We welcome Winter Texans, vacationers, workers, and retirees. We have large sites with concrete pad and patios, laundry and shower facilities, and wireless internet, satellite TV. Credit cards accepted.
A Country Breeze RV Park
19575 Benton City Rd,
Somerset, TX 78069
Phone: (210) 624-2665
Amenities for A Country Breeze RV Park
Full hookups
Pull Throughs
Cable TV
Propane
Showers
Laundry
Concrete pads with patios
Wi-Fi
Credit Cards accepted
A Country Breeze RV Park is conveniently located in Somerset Texas only 20 miles southwest of San Antonio with easy access to I-35 N; this is the perfect location for your San Antonio vacation, only a few minutes to all the attractions this region has to offer.
Bluebonnet RV Park
Campground Details for Bluebonnet RV Park of Mission, Texas
"A PLACE FOR WINTER TEXANS & SOUTH TEXAS SNOW BIRDS"
The Bluebonnet RV Park Management & staff extend a welcome to their guests to enjoy the people & the many activities. The Park office is always available to assist guests with registration, general information & site selection. Bluebonnet RV Park is located in the upper Rio Grande Valley and is a great place to enjoy your stay with people who enjoy the active lifestyle.
Bluebonnet, a 55 & over community, has 332 full hookup RV sites with pads including optional phone connections. Enjoy the casual atmosphere of the Parks setting, birds, shade trees, buildings, roads, and sun filled days with warm breezes.
Bluebonnet RV Park
3366 North Bentsen Palm Drive
Mission, Texas 78574
Office Phone – (956) 585-7630
Testimonials and reviews:
We ended up at Bluebonnet on a Saturday a little frazzled and later in the day. Several other parks could not take us. The staff went out of their way to help us. All the people at the park are very friendly (mostly seniors) and there are lots of activities. We planned on staying for a few days and then move on but we stayed for 2 months. Before we left we bought a park model and put it on a site there. It's our winter home now. Can't wait to get back.
Very friendly and helpful office workers. The campers were quiet and friendly, a great place for someone who likes bluegrass music and owns a guitar. Fun place for seniors.
Cactus Gardens Mobile and RV Park
Cactus Gardens RV Park
N Highway 281,
Edinburg, TX 78539
(956) 380-4371
Cactus Gardens RV Park in Edinburg, TX offers services in Campgrounds & RV Parks. We specialize in Campgrounds & RV Parks catering to Winter Texans and vacationers in the South Plains Camping Region of Texas.
Places of Interest, Edinburg, TX
World Birding Center. In the Spring of 2003, the City of Edinburg opened its World Birding Center. The Scenic Wetland Trails and birds park are set on forty acres of wetlands adjacent to the ninety-acre Edinburg Municipal Park. A nature tourism destination, the site has over one mile of trails and five bird observation platforms. The Edinburg World Birding Center is part of the Lower Coastal Birding Trail and is classified as a premier birding location in South Texas. For more information, (956) 381-9922
Waterparks. Edinburg boasts two water parks that contain amenities such as an Olympic-size swimming pool, waterslides, picnic areas, children's play areas, sandpit volleyball courts, and many other attractions. The Main Waterpark is located at 123 East Palm Drive. and the Fountain Park is located at 22nd and Kuhn St. (956) 381-5631.
Fiesta Edinburg. Experience four days of fun and exciting activities for the whole family during the last weekend of February. Enjoy live concerts and carnival rides as well as the traditional city parade, rodeo, 3-mile run, health fair, a diverse assortment of food booths, and much, much more! Call the Edinburg Chamber for more information. (956) 383-4974
Campground Details for Hidden Valley RV Resort: For quiet, country camping near the sights and attractions of San Antonio pay a visit to Hidden Valley RV Park, set on the gentle Medio Creek in the South Texas Plains. We strive to offer all of our guests a relaxing camp experience, so join us at our campground near San Antonio for incredible year-round camping. With our mild temperatures and shady campsites, we're the ideal destination for summer vacations, Winter Texans, and RV campers of all kinds. Seasonal RV'ers: Ask about our mail service.
Our own Medio Creek offers hiking paths, bird-watching areas, fishing spots, and lovely places to relax in nature. Our campground is owner-operated with a country feel and an adult-friendly atmosphere. We're also located near a wide range of services from gas and repair shops to convenience stores and grocery stores, plus several top-notch military base medical facilities.
Hidden Valley RV Park
5706 Coleman Way
Von Ormy, TX 78073
Phone: (210) 623-6737
Testimonials and reviews:
Wonderful, peaceful place to stay, you would have to look long and far to find a more gracious hostess. We are leaving for Texas soon, if we are in your area you can bet we will be there.
Linda & Ray Z
Hi Teri and Mark, yes, we do remember you and the campsite. We had a wonderful time in San Antonio and made a couple of lasting friends while there. We may see you again as we are headed for Texas again this year
Claude and Val P
Hi Teri
Good to hear from you. We had a great time traveling around and I shall put some photos on when I can find them. Have told lots of people about Hidden Valley and what a lovely spot it is and how helpful you were, so you may have more people visit you over the years. We hope to come back over sometime so we may look you up again even if we don't hire a RV. Wish you all well at Hidden Valley
Lynda & Ray S (Cheltanham, England)
Thank-you for letting us feel very welcome at a moments notice!!!! We will surely recommend your pretty place, and nice and quiet!!! Sorry we couldn't stay longer, but next time.
Bill&Mar from Canada
We very much enjoyed our stay at Hidden Valley. You went above and beyond to make us welcome. We loved the seclusion of the campground and our dog, Fred had a blast on his many walks around the property and especially seemed to like checking out the creek. We will most definitely stay with you again if we are fortunate enough to return to San Antonio.
Most Cordially, Barbara and Jeff Dworkin
Thanks for your interest in your customers this is truly unique in this day and age. You are truly a believer of great service and a great help to people visiting great city of San Antonio. We will be back in march and will stop and see you. HAVE A GREAT SPRING.
Best wishes, Walt and Claudia B
Thirty full hook-up RV campsites
Pull-thrus and back-ins available
Dump station
Sewer hook-ups
30 or 50 amps of electricity
Some dry camping sites
RV storage
Pets are welcomed
Laundry room
WI-FI at your site
Barbecue pits
Shaded picnic areas
Our own Medio Creek offers
Hiking paths
Bird watching areas
Fishing spots
Lovely places to relax in nature
Homestead Mobile and RV Park
Winter Texans find a lot to do in the Mcallen Texas area located in the Rio Grande Valley. Homestead Mobile Home & RV Park is centrally located to all the major attractions. Choose Homestead Mobile Home & RV Park as your camping destination when visiting the South Plains Camping Region of Texas.
Homestead Mobile Home & RV Park
2701 N Mccoll Rd
Mcallen, TX 78501
(956) 682-5392
Places of Interest in the McAllen TX Area:
Quinta Mazatlan is the McAllen wing of the World Birding Center, providing a sanctuary for native plants and animals.
Los Ebanos Ferry – This is the only remaining hand-drawn ferry across the Rio Grande. Three cars may cross one time
International Museum of Art and Science – An exciting variety of short and long-term exhibitions are featured in this outstanding art
Museum of South Texas History. See the largest collection of exhibits and artifacts covering South Texas' fantastic-but-true history.
Bentsen-Rio Grande State Park – 588 acres of moist woodlands and dry chaparral brush lands on the Rio Grande, supporting a variety
Santa Ana National Wildlife Refuge – Home to many birds/waterfowl, and animals native to the Valley. Established in 1943 by the U.S
Anzalduas Park and Dam-A diversion dam used to divert water from the Rio Grande to a large irrigation canal on
Birders Paradise. The Rio Grande Valley is a birder's paradise, with six wildlife refuges less than an hour's drive from the city
Mexico. Allow plenty of time to enjoy the enticement of Mexico. Bustling Reynosa or laid back Nuevo Progreso, both are just minutes
The Rio Grande Valley offers the better of two worlds: the bustling newness of a rapidly growing economy and the old-world charm that stems from its proximity to Mexico and its own rich history. The wonderful subtropical climate with mild winters draws "Winter Texans" from all over North America, this is a camping region ripe with travel opportunities.
Shopping and dining in Mexico are minutes away and the mountains of Mexico's interior are just a half-day's drive. The emerald surf of South Padre Island, one of the premier resorts on the Gulf of Mexico is less than 2 hours away.
Sharyland Villa
3417 N Shary Rd
Mission, TX 78573
(956) 585-0966
Conclusion
Camping in South Texas is an incredible experience. From its mild temperatures to its beautiful landscapes, it's the perfect place for outdoor adventurers of all ages. Whether you're in need of a peaceful getaway or an exciting exploration, there's something for everyone. With so many outdoor activities and attractions, you'll never run out of things to do! Start planning your South Texas camping trip today and enjoy all that nature has to offer. Don't forget to make memories and have fun along the way!