Fort Worth, situated in North Texas, is the 18th largest city in the United States and the county seat for Tarrant County. It is also considered one of the most livable communities in America. Fort Worth and the Metroplex area surrounding it offers numerous tourist attractions and great business opportunities. This city was founded in 1849 as a defensive Army outpost at the foot of a bluff overlooking the spectacular Trinity River. Today, the city is well-known for its traditionally old-fashioned lifestyle.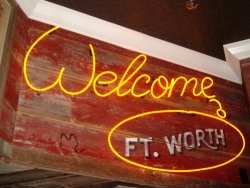 The major attractions in downtown Fort Worth include the Sundance Square, the Fort Worth Water Gardens, the Bass Performance Hall, the Fort Worth Convention Center, the Burnett Plaza, and the Tarrant County Courthouse. Sundance Square is a 16-block entertainment hub for the town. It offers a feeling of innovation, fun, and excitement. It features a number of restaurants, nightclubs, museums, boutiques, live theaters, Cineplex movie theaters, and art galleries. The Water Gardens, a 4.3 acre (0.02 sq-km) contemporary urban park designed by Philip Johnson, features a wide variety of water features, including three spectacular pools of water providing cooling and calming "oasis in a concrete jungle". The Bass Performance Hall, on the other hand, houses the Texas Ballet Theater, the Fort Worth Symphony Orchestra, the Cliburn Concerts, and the Van Cliburn International Piano Competition.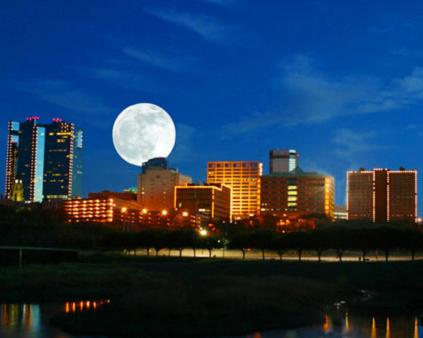 Yet another place of tourist interest is the Fort Worth Stockyards Historic District, which is filled with a number of clubs, gift shops, restaurants, and historic enactments. It is also home to the Texas Cowboy Hall of Fame and Billy Bob's Texas. The latter is the largest western and country music venue in the world. The Historic District is also known for its historic cattle drives through the streets. The main highlights of the Fort Worth Cultural District include the Amon Carter Museum, the Modern Art Museum of Fort Worth, the Kimbell Art Museum, the Fort Worth Museum of Art and History, and the National Cowgirl Museum and Hall of Fame.
The Fort Worth Zoo, situated in the Parks District, is one of the 10 best zoos in the US. Fort Worth is also home to the Fort Worth Botanic Garden. This garden is the oldest in Texas, with more than 2,500 species of plants and as many as 21 specialty gardens. A collection of original Texas log cabins dating from the 1850s is housed in the Log Cabin Village. The famous Trinity Trails System in Trinity Park also attracts thousands of visitors to the city every year. The Texas Christian University, founded by Addison and Randolph Clark in 1873, is the most prominently known university in the city. The city is also a great place for shopping. La Gran Plaza de Fort Worth features cinemas, supermarkets, a Mexican Rodeo, and a Concert venue arena. Fort Worth has a lot to offer and is a perfect holiday destination.