Austin, the 'Greenest City in America", is the
capital of Texas
. Located in Central Texas and part of the American Southwest, Austin is the economic and the cultural center of the state. It is home to the main campus of the University of Texas and also to some of the major technology corporations. The high-tech industries and innovations have earned the city the nickname "Silicon Hills". Being home to many musicians and music venues, Austin is also sometimes referred to as the "Live Music Capital of the World". It is also well known for its vibrant nightlife and the many nightclubs on the 6th Street. The popular live music festivals in the city include South by Southwest, the Austin City Limits Music Festival, the Zilker Park Summer Musical, the Urban Music Festival, the Eeyore's Birthday Party, Spamarama, Pecan Street Festival, Halloween Night, and the Austin Reggae Festival.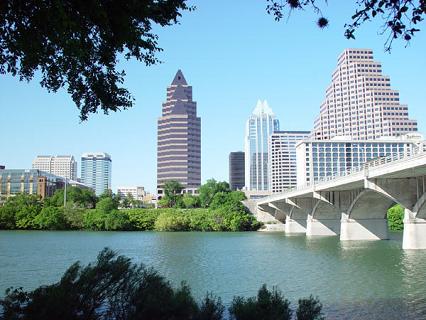 Austin is also known for its scenic beauty. It is ecologically diverse and home to a wide variety of flora and fauna owing to its location at the intersection of 4 ecological regions. Lake Bird Lake, Lake Walter E. Long, and Lake Austin are the three man-made lakes in the city. Each of these artificial lakes is situated on the spectacular Colorado River and provides venues for swimming, boating, etc. A major attraction in the city is Mount Bonnell, a natural limestone formation overlooking Lake Austin. This panoramic mountain rises to nearly 780 ft (237.7 m) above sea level and offers breathtaking views of the surrounding picturesque landscape. The other major tourist attractions in the City of Austin include the Texas Memorial Museum, the Blanton Museum of Art, and the Bob Bullock Texas State History Museum, the galleries at the Harry Ransom Center, the Texas State Capitol, and the Austin Zoo.

Texas White House  & LBJ Ranch From humble Texas beginnings, Lyndon Baines Johnson, the 36th U.S. President whose family immigrated to Texas as settlers, was…
The world's largest population of Mexican free-tailed bats is housed inside the expansion of the Ann W. Richards Congress Avenue Bridge. Watching the bats emerging out in the evenings is an event, which is popular with tourists and locals. This bat emergence event attracts over 100,000 viewers every year. Austin is also famous for its swimming locations. The well-frequented swimming pools in the city include the Deep Eddy Pool, the Barton Springs Pool, and the Hamilton Pool. Hippie Hollow, the only clothing-optional public park in Texas, is yet another place of tourist interest. It is located along Lake Travis and offers a number of outdoor recreational activities, such as kayaking, rock-climbing, swimming, exploring, and hiking. The major architectural landmarks in the city include 360 Condominiums, the Frost bank Tower, the Pennybacker Bridge, and the Moonlight Tower in Zilker Park.