The Texas State Capitol, the fourth building to serve as the seat of Texas government, is situated in Austin. This magnificent building was built from 1882-88 under the direction of Lindsay Walker. It was opened to the public on San Jacinto Day, April 21, 1888. Designed by Elijah E. Myers, the Texas State Capitol building is the largest of all the State Capitol buildings. It was listed on the National Register of Historic Places in the year 1970 and designated as a National Historic Landmark in 1986. The Building is known for its Renaissance Revival style architecture. In fact, it is a unique example of late 19th-century public architecture, characterized by round arches, classical orders, and asymmetrical composition.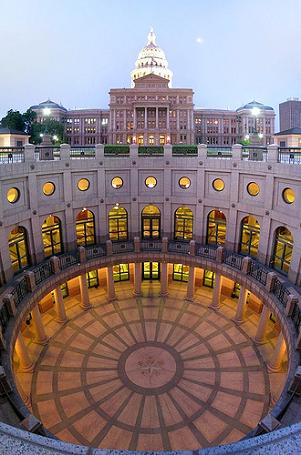 The structural exterior of the State Capitol Building is made of 'Texas Pink Granite', which is now marketed with the name "sunset red" granite. The portraits of every past Texas Governor are displayed within the rotunda, which also serves as a 'whispering gallery'. The lobby of the building features sculptures by Stephen F. Austin and Elisabet Ney of Sam Houston. The Texas State Capitol is nearly 15 ft (4.5 m) higher than the National Capitol and has more floor space than any other Capitol building. A major attraction on the grounds of the Capitol is the granite monument of the Ten Commandments, which became the center of a 2005 U.S. Supreme Court case, Van Orden v. Perry.
The Texas State Capitol Building sits on the highest point of the City of Austin. It offers a breathtaking view towards the Colorado River from its southern façade and anchors the northern periphery of the downtown commercial district. The main campus of The University of Texas at Austin has located just four blocks to the north. The Texas State Capitol Complex is in the heart of downtown Austin and has become a popular tourist attraction in the city. The main features of the Complex include the Capitol, the Capitol Extension, the Capitol Visitors Center, Visitor Parking facilities, and the Bob Bullock Texas State History Museum. The entire complex is managed by the State Preservation Board, which provides various amenities and facilities that both employees and visitors, whether on state business, observing the legislative process, visiting from the University of Texas campus, strolling the grounds, learning about Texas history, buying a unique gift, or simply enjoying the magnificent architecture of the complex buildings.
Address: 201 E 14th Street, Austin, TX 78701-1614
Telephone: (512) 463-5495
Hours: Mon – Fri, 7 AM – 10 PM; Sat & Sun, 9 AM – 8PM
Website: www.tspb.state.tx.us