The city of Abilene is situated in Central Texas and is one of the places that closely mirrors the life in Texas Frontier. Abilene is named after Abilene in Kansas State and is the county seat of Taylor County. It has a population of over 158,000 and a total area of about 110 square miles.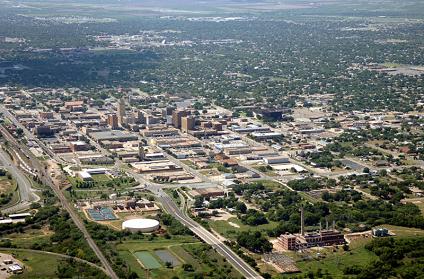 Initially an acclaimed cattle rearing center, the city upon discovery of oil transformed into a commercial hub. Today there are three private and six public universities and several community colleges that have made Abilene an educational center for its region. The most famed landmark in the city is the Dyess Air Force Base, which employs about 5000 people.
The city has three lakes, nine parks and the Abilene zoo offering outdoor recreational activities. Camping, Fishing, hiking, horse-back riding and golf are the favorite sports in the region.
Several places of tourist interest are found in Abilene including the Historic Village of Buffalo Gap, the acclaimed Abilene Christian University Cockerell Art Gallery, the Grace Museum, Frontier Texas – a recreation of the Old west magic, the 1930's Paramount Theatre, Fort Phantom Hill – that hosts the ruins of the 1851 army post, the engaging Texas Fort Trails, the 12th Armored Division Memorial Museum and the PrimeTime Family Entertainment Center. Westgate Towne Centre Shopping Center offers a delightful shopping experience.
Buffalo Gap Historical Village
Near the city of Abilene in Buffalo Gap, find the noted Buffalo Gap Historical Village, one of the prized living history museums in the state of Texas. With over 20 original buildings dating back to the 19th century, it is here that the history of the Texas frontier is bought alive and preserved for the generations to come. The center of attraction is the ancient Old Taylor County Courthouse and Jail built in 1879. Surrounding this structure are pioneer log cabins, a barbershop, railroad depot, a blacksmith shop, a two-room schoolhouse dating back to 1925 and a bank among others.
A treasure of Indian artifacts is on display at the Buffalo Gap Historical Village including farm equipments, wagon barn, domestic articles, some rare medical instruments, firearms and even old cars. Art admirers will enjoy the local art displayed by regional artists.
Tourists can drown themselves in hordes of activities ranging from interactive audio tours to picnicking. Sports lovers thoroughly enjoy the Vintage Base Ball game where the game is played in the 1880's style and interpreters explain the transformation of this sport over the years. However those interested in this activity should book at the centre in advance.
Visitors can find interesting stuff in the Texas History store such as Texas related books and gifts along with some amazing gifts and souvenirs.
Address: Buffalo Gap Historic Village, PO Box 818, Buffalo Gap, TX 79508
Telephone: (325) 572-3365