Best of Austin Cuisine
The state capital of Texas, Austin is also culinary ground zero for delicious barbecue, Tex-Mex, food trucks, even pizza. Whether you hit the city for SXSW (South by Southwest), the University of Texas, or as the gateway to Hill Country, you won't lack for great dining options.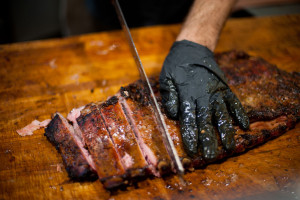 Barbecue in Austin
Texas barbecue may revolve around world-famous Franklin (900 East 11th Street, website, 11am – sold out), but the move to a larger space has done nothing to mitigate an insane wait that can last five to six hours even in the worst weather. While queuing up for the institution has become a sport in itself, and we can attest to the smoky brisket's deliciousness, there are alternatives that are just as good.
Smack by the highway dissecting the city, La Barbecue (902 E. Cesar Chavez Street, website, 11am – sold out) offers an excellent barbecue and manageable lines. The brisket is moist and smoked on-site, the sausages super spicy and you get all the pickles you can eat. Plus they have Frito Pie, literally a pie of Fritos loaded with beans, jalapeno cheese and either pulled pork or brisket. Plentiful outdoor seating makes this a great alternative.
Austin Tex-Mex
That only in Texas mashup of Mexican dishes Americanized with ingredients from our side of the border aka Tex-Mex (or 'Mexican' to Texans) can be found almost anywhere. One must stop is Matt's Famous El Rancho (2613 South Lamar Blvd, website), going strong since 1952. Start with queso, a concoction of processed cheese that Texans swear by for its homey addictability. Matt's serves a version named for a former Texas Land Commissioner, the Bob Armstrong, which includes ground meat and avocado. It's terrific. Then it's on to filling plates with quesadillas and tacos – try the inexpensive Dinner #1 or Dinner #2 for an overview of Tex-Mex dishes. Resist the temptation to over-order as there's complimentary sherbet to wash it all down.
Torchy's (website) is an Austin original, ubiquitous with twelve locations across the city. Here it's all about the taco, including breakfast tacos such as the Migas with scrambled eggs and crispy tortilla strips. The green chile queso was quite tasty as well. In North Austin, Mi Madre's (2201 Manor Road, website) is renowned for its breakfast tacos. Alas, ours left us indifferent, the rambling dining rooms lack for comfort and the service was perfunctory. Probably not worth driving out of your way.
Pizza in Austin
Restaurateur Steven Dilley grew up in Texas, and though he may have decamped to New York for a decade, the Lone Star State eventually drew him back. In 2013, he opened a terrific pizzeria, Bufalina, on the east side of town (1519 E. Cesar Chavez Street, website). Start with creamy housemade mozzarella then dig into Neapolitan style pies from the oven anchoring the dining room. Is this the best pizza in Austin?  You decide.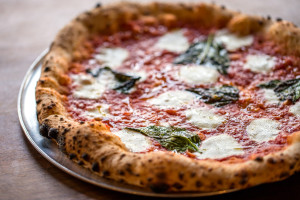 You can't go wrong with a perfectly charred Margherita pie or the spicy calabrese, with tomato, mozzarella, salami, serrano, garlic, and basil. Wash it down with $5 local beers ($3 Lone Stars!) or a bottle from the well-priced, small producer-focused wine list with selections from Italy, France, and New California.
The storefront is small, so be prepared to wait, even early. The place is a hit.
Austin Modern Cooking
Uchi and Uchiko (website) introduced Austinites to modern Japanese small plates and sushi, as well as the town's most popular happy hour. Starting every day at 5 pm – though you should get there earlier if you don't have reservations – both restaurants offer limited "Sake Social" menus with lower prices along with inexpensive beer, wine, and sake. Lured by a seemingly great deal, we dropped into Uchiko (801 South Lamar Blvd) early one evening only to find a fully booked dining room at 5:30 pm. Undaunted, we returned a day later, much earlier, and earned spots at the sushi bar in front of a chef who wanted nothing to do with diners looking for a deal. Overall, the deal is a bit of a wash – the tastes of dishes that come in larger sizes on the menu are $3 – $6.50 so you won't break the bank. But you will find yourself exploring the regular menu too if you want a proper meal and the sake aspect is sorely lacking – a pedestrian sparkling or a warm sake are your only cheap options. $3 Asahi beers make for a solid alternative.
Not too far from Uchi, Odd Duck (1201 South Lamar Blvd, website) presents another side of the equation – seasonal, locally sourced, creative cooking. Two brothers, Bryce and Dylan Gilmore launched a food truck in 2009 to showcase the products of local Austin farms. Odd Duck today stands on the site of the original parking lot that housed the truck, a full-service eatery that packs 'em in. Start with Everything Sourdough bread and house cultured butter – it may be $5 but it's worth it – then dive into dishes like a Parker House roll with a pig face and sesame and Midnight Black Beans, duck breast and hot sauce. The menu changes frequently but the focus remains on local area farms. Wash it down with a craft beer from an extensive selection or a barrel-aged cocktail like the delicious "Smoking Barrel" with Pepe Z reposado tequila, contratto rosso, joven mescal and Meletti amaro.