Best Texas Beaches
Sure – there are a lot of miles of coastline and dune-covered barrier islands that frame the Lone Star State against a backdrop of warm Gulf waters.
Over 400 miles of coastline, in fact, with plenty of great beaches escapes just waiting for your next road trip to the coast. From Port Arthur to Boca Chica Beach in Brownsville, there's a lot to the Texas coast, including quaint waterfront communities, great deserted beaches, a national seashore, and a bay system that rivals anywhere else in the world.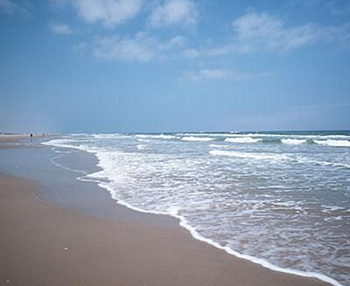 Explore our picks for Best Texas Beaches below and then scroll down lower to review our picks for Best Beach Getaways for the summer season or any time of the year. Get ready for plenty of fun in the sun and in the water.
South Padre Island
Rated one of the Top Ten beaches in the United States, South Padre Island offers a warm tropical environment and 33 miles of unspoiled beach just waiting for your next adventure. From swimming, surfing and all kinds of typical water sport to searching for lost pirate treasure, you'll find plenty to do and plenty to see in this great Texas hideaway. Connect Here
Port Aransas
One of the best places to spend your beach vacation is Port Aransas because it has stood the test of time.
For the best part of a century, Port Aransas and Mustang Island have been the beach playground for Texans everywhere. And little has changed in the last 50 years! If you're looking for a timeless beach playground without the hustle and bustle of the big city, Port A offers long, empty beaches and plenty to see and do in nearby Corpus Christi. Escape to Mustang Island!
The only thing that comes and goes in this place is the tide; there is no commotion or large metropolis comings and goings. Even though Corpus Christi is close by, all you'll notice is the exquisite peace and tranquility of the long, leisurely beach, which begs you to linger and indulge your lazy side.
It's the kind of beach that's ideal for clear days when tinkling laughter rises to the sky and time seems to stand still.
Padre Island National Seashore
Looking for a wild, unspoiled beach? If you like remote, timeless beach destinations your best choice is Padre Island National Seashore, accessible only through Corpus Christi and North Padre Island village. With over 50 miles of undeveloped beaches to roam, you'll get plenty of wild adventures.
Warning: Some if not many areas up and down this barrier island can only be reached by 4-wheel drive, and even then the way can become treacherous and difficult. It's best to travel in two vehicles or a caravan for the more remote areas and be warned cell service may not be great in some areas. there are also wild hogs, rattlesnakes, and coyotes. Well, we did say wild!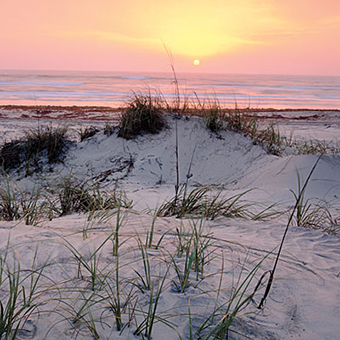 The good news is that stepping onto the Island is like a step back in time, the remote beach in North America. Keep it clean, however, carry your trash out with you, and be warned a lot of sea trash (and treasure) washes on shore every day.
But explore like the prates and explorers explored hundreds of years ago. It's just that wild and lonely!
Galveston Island
A favorite beach for nearby Houstonians, Galveston Island offers all the benefits of a beach getaway with rich history and culture on the Texas Upper Coast. Take a day or a week to explore the great beach amenities and get in touch with one of the state's oldest and most historic communities.
Be sure to include Stewart Beach in your itinerary if you want to visit Galveston. One advantage this beach has over others nearby is that you can bring your four-legged friend with you.
Surfside Beach, Texas
Surf's always up at Surfside, Texas, just an hour's drive from Houston. Long noted as a surf Mecca for active Texans, you'll find all the water sports you can handle, plus great coastal eateries, unique lodging opportunities, and plenty of vacation home rentals begging for you to spend a week or a month at this hideaway resort.
Surfside Beach is popular because it is spotless.  You can make bonfires (beaches and bonfires are a perfect fit) drive on the beach (no walking and hauling those bulky coolers and awkward beach chairs), and there is free parking (no exorbitant fees to put the brakes on your fun).
Corpus Christi Bayfront and Beaches
While not all the beaches of Corpus Christi are directly on the Gulf, you would be hard-pressed to find a City beach that didn't offer plenty of fun, sun, and surf. Add to that new improvement to the bayfront and you have a real winning combination!
Get some sun on the pristine sand, take a swim, and then cool off in a lovely cabana before exploring the area. The Texas State Aquarium allows you to get up close to a broad range of creatures from the area, and the U.S.S. Lexington, a WWII aircraft carrier of the Essex Class, is open to visitors. And providing a stunning backdrop for everything is Corpus Christie's skyline.
Magnolia Beach, Texas
Family time at Magnolia Beach entails slowing down and spending time together in addition to enjoying the sun. Fast food restaurants are not available in this area. There aren't many tourists and those that do appear to be congregating in the popular areas where people feel compelled to constantly be on the go or looking for the next big thing.
You can look up here to look for clouds or look for crabs in the waves. You can talk to one or two villagers if you choose. It's not just about beauty at this beach; it's also about peace and family.
Best Texas Beach Getaways
Crystal Beach Cabanas
Check out a trio of beach cabanas large enough for the entire family and more modestly priced travel trailers for rent for a couple or more wanting to rough it on the beach, this great location is just across the ferry from Galveston and a little way down the beach. Not far from Schlitterbahn Beach Water Park and miles and miles of beach right out your door.
The Habitat Vacation Cabins – LAMAR
Pirates once roamed these woods just north of Rockport on the Lamar Peninsula, and the wildlife still abounds. Located on St. Charles Bay, this rustic getaway lodge is perfect if you're seeking a little R & R and want to avoid the crowds!
The San Luis Resort – Galveston
An ocean of opportunity awaits you at The San Luis Resort, Spa & Conference Center, a 30-acre year-round beachfront resort on Galveston Island and recipient of the AAA Four Diamond Award. Luxury and fun await in the heart of historic Galveston! Discover the nearby Moody Gardens, the historic Strand District, and great coastal seafood Galveston style!
Coral Cay Beachfront Resort – Port Aransas
Coral Cay's beachfront location is just what the doctor ordered. Accommodations range from efficient studios to spacious three-bedroom units, each fully furnished with all-electric kitchens and microwaves, cable TV, and telephone. There are two swimming pools, tennis courts, and an activity room.
The OMNI Bayfront – Corpus Christi
Luxury and the perfect downtown location await at this beautiful bayfront facility. Enjoy the downtown entertainment district just out your door, the bayfront, the nearby beach, and more. The OMNI is our favorite downtown coastal hotel.