Port Aransas Attractions
Port Aransas was once the haunt of dastardly pirates who prowled the Gulf of Mexico in search of bounty. Today, this vacation hot spot on Texas's scenic Mustang Island is better known for its golden sands and glittering seas—although local tales of long-lost buried treasure still persist. If you've ever dreamed of stepping from your own front door straight onto the beach, Port Aransas vacation rentals will transform your dreams into exciting reality. From cozy condos fit for 2 to well-appointed, family-size villas, these self-contained beachfront properties make ideal bases from which to explore the diverse attractions of this colorful community.
Beach in Port Aransas
Life in Port Aransas revolves around the beach. Pristine sands and gentle waves provide perfect conditions for kicking back with a bestseller or enjoying a spot of fishing. The season gets underway in late April with SandFest, a spectacular celebration of the art of sandcastle building, which attracts sculptors from far and wide to compete for the most ambitious designs. The action hots up in summer, when beachfront bars spill out onto their terraces and water sports get into full swing. Surfing lessons, pro-guided nature kayak tours, and thrilling skydiving experiences are all part of the fun.
Port Aransas History
The rich maritime history of Port Aransas is symbolized by the historic Lydia Ann Lighthouse. A pleasant stroll to this iconic landmark offers panoramic views over Corpus Christi Bay. These same views would have been enjoyed by President Roosevelt, who spent many happy hours fishing for tarpon in locally built Farley boats—examples of which can still be seen dotted around the city, now filled with flowers. Port Aransas vacation rentals are also popular with visitors to the Wetlands Education Center, the public face of the world-renowned University of Texas Marine Science Institute, a pioneer in groundbreaking environmental research.
Port Aransas Weather
Sunshine comes as standard on Texas's sizzling Gulf Coast—even winters are mild, thanks to the subtropical climate. By planning your vacation in early spring or late fall, you can take your pick of Port Aransas vacation rentals and benefit from low-season rates and fewer crowds. Look for properties with a hot tub and enjoy a warm welcome at the end of a cool day. If your chosen dates fall during the summer peak temperatures, opt for a Port Aransas vacation rental with a pool and patio, where you can let off steam before a starlit supper.
The wild side of Port Aransas
Mustang Island State Park covers the southern part of the island and provides a protected environment for indigenous wildlife. This unspoiled sandbar is home to many species of rodent, including pocket gophers and cotton rats, as well as small mammals such as raccoons, skunks, and coyotes. Bird-watchers are drawn to the shoreline by the rich abundance of waterfowl and migrating songbirds. A peaceful way to explore the wetland is to follow the network of paddling trails in a kayak, which can be rented from various outlets.
What is the best area to stay when traveling to Port Aransas?
Whether you're traveling with family or friends, here are the areas with the largest selection of vacation rentals for a holiday trip or just for a weekend in Port Aransas:
Cinnamon Shore
Sand Point
Safe Harbor
Island Moorings
Bella Vista
What are the popular points of interest near where I can stay when traveling to Port Aransas?
The most popular points of interest to stay for a holiday trip or just for a weekend are:
Mustang Island State Park
Port Aransas Nature Preserve at Charlie's Pasture
IB Magee Beach Park
Newport Dunes Golf Course
University of Texas Marine Science Institute
Mustang Island
Once a haven for a cannibalistic tribe of coastal Indians, Wild Horse Island – or Mustang Island as it would later be called – was as wild and remote as any place you could – or would want – to ever find on the tropical coast of Texas.
During the 1846-48 Mexican War, a small fort was built on Mustang Island to guard the entrance to Aransas Bay. It was used until after the Civil War.
In the 1850's regular steamship service ran between Mustang Island and New Orleans. The first deep draught steamship went through the Pass in 1859. Mercer Docks was destroyed during the 1875 Storm, thus ending the service.
The town of Mustang Island was called Ropesville by the early 1890's but changed its name to Tarpon by 1899 because of the large numbers of the fish being caught in its waters. The population at that time was about 250. Citizens began calling their town Port Aransas about 1910. The storm of 1919 virtually wiped out the town except for a few structures.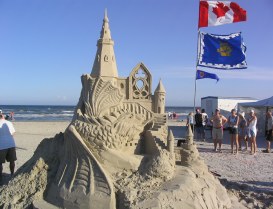 Today, the island community still sports an independent attitude and is a strange and pleasant mixture of tourism, retirement living, and an inherit dependence on the sea for success and sustenance. Fishing, shrimping, shipping, sailing, boat-building – they remain an important part of the island's life.
The City of Port Aransas, Texas, is located on Mustang Island, situated on a barrier island approximately twenty-five miles from Corpus Christi. Port Aransas is accessible via the John F. Kennedy Causeway from the south and via a short free ferry ride from the east.
Port Aransas is noted for its world class fishing, miles and miles of pristine sandy beaches, temperate climate, bountiful recreational activities, fine restaurants and a very low crime rate.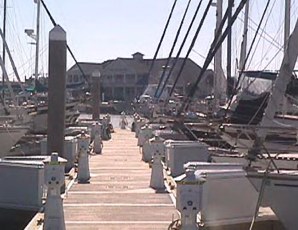 In Port Aransas, and Mustang Island, you will find plenty of history and legend. Pirates frequented the island for several centuries running. In 1834 the remains of a pirates' camp were found on St. Joseph's Island with large iron rings implanted in the sand.
Somewhere on Mustang Island there is said to be a Spanish dagger with a silver spike driven through the hilt. This marks the spot where notorious pirate Jean La Fitte buried a chest of gold and jewels. Treasure hunters today can still be found searching the beach and dunes with modern metal detectors, in hopes of reward and wonder.
A great winter retreat, the island is known as a great place to fish as well. There are plenty of charters and guided fishing trips in the bays and open Gulf, and tarpon fishing is better here than just about anywhere in the world.
There are several RV parks, a community of condos, and ample hotels and lodges on the island for those wanting to visit, regardless whether its for a night, a week or a winter season. And you'll find the slow pace and laid-back island life of off-season (Nov-Feb) a pleasant time to have the beach, and the community, almost to yourself.
Discover this jewel of an island just off the coast from Corpus Christi and experience a timeless coastal community in harmony with the sea.