Judge Roy Bean Visitor Center
Langtry, Texas
An old saloon once known as the Jersey Lilly can be found in the small town of Langtry, Texas, in the dirty desert among the prickly pear and creosote. During the late 1800s, this humble structure served as the jurisdiction of the notorious Judge Roy Bean.
Times were rough on the frontier of Texas just before the turn of the twentieth century. There was a lot of lawlessness, a lot of cattle rustling – and there was Judge Roy Bean. The Jersey Lilly – courtroom, saloon, hall of justice and home to the notorious judge – still stands much as it did over 100 years ago – and well worth a visit.
Langtry, TX
Langtry — it's a quiet place. The winds blows from every direction it seems, often dry and generally arid. If you listen carefully, chances are you'll hear nothing except the wind itself. It's been called lonely; dusty, and the middle of nowhere. But in the late 1800s it was home to at least one colorful personality who made his mark in history, and the rag tag seat of justice for a large section of far West Texas, where justice was handed out, liquor was sold and a man and his bear carved out a living in a place where there's little to carve.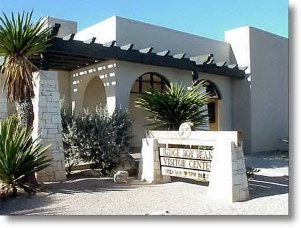 Fables and legends are generally born from half truths, so how much of the traditional story of Judge Roy Bean is true and how much has been enhanced down through the years is just about anybody's guess. But there's no doubt that if his life and times were anywhere as colorful as the historical, make-shift courtroom he left behind, then there is more fact than fiction to his story.
Driving out U.S. Highway 90 west of Del Rio, travelers will skirt across the shores of Amistad Reservoir as the desolate stretch of road heads across the Devil's River in route to historical Langtry. With little more than 100 residents to boast of the community's historical role in shaping the state, you can't expect to see a lot of road signs pointing the way.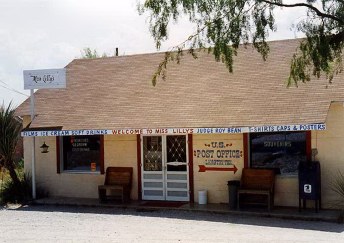 But thanks to the Texas Highway Department, it's hard to miss the turn that takes into Bean country. And though it seems as though you're headed to nowhere, the short distance from the main road is well worth the time if you are a lover of history or lore.
Langtry is on Loop 25 off U.S. Highway 90 just north of the Rio Grande and eight miles west of the Pecos River near the southwestern corner of Val Verde County. In 1882 the Southern Pacific line established a grading camp near the Eagle Nest crossing of the Rio Grande to facilitate joining with the Galveston, Harrisburg and San Antonio Railway at Langtry.
Judge Roy Bean
Enter Roy Bean, a tent-saloon operator who had high ambition of making something out of the nothing in this desolate part of the state. He erected a more permanent saloon on railroad property, eventually falling into dispute with the railroad owner who claimed he owned the land. But that didn't stop railroad workers from flocking into Bean's saloon, and soon crowds grew large and unmanageable, and the nearest law enforcement support was many, many miles away.
Bean, an innovator for his time, decided he would appoint a security force to police the growing railroad town. And when you have police to make arrests, you need a courtroom where justice could be wielded.
Lillie Langtry
Having named his saloon the Jersey Lilly in honor of the popular East Coast singer/performer Lillie Langtry, for whom Bean had a special affection, he would lock up the liquor just long enough to hold court.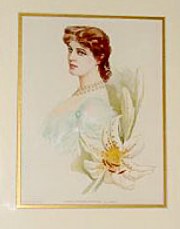 His reputation for colorful behavior grew on account of his rough, arbitrary justice methods and particularly after the staging of a heavyweight boxing championship on the Mexican side of the Rio Grande in 1898, at which time prize fighting was illegal in many US states including Texas.
Today tourism remains one of the biggest industries of the community in spite of its remote location. Recently, the Judge Roy Bean Visitor's Center celebrated the one millionth visitor to cross through her doors.
Weekend travelers visiting nearby Del Rio or Amistad Lake will find much to explore in Langtry. In addition to the Jersey Lilly, there is a cactus garden offering a view of many fine examples of desert plants. The Rio Grande River offers great camping opportunities for the adventure traveler, and the entire region is alive with remarkable scenery and outstanding outdoor activities.
Del Rio, TX
Del Rio is a special place in Southwest Texas and is loaded with all the creature comforts, like nice lodging, good restaurants and plenty of local history. A trip across the International Bridge in Del Rio takes you into the shopping district of Cuidad Acuna in Mexico. Seminole Canyon State Park and Historic Site in Val Verde County, west of Comstock, contains 2100+ acres and offers great outdoor hikes along scenic canyon country where you can view ancient pictographs.
Take time to explore Bean country and enjoy amenities of this special region of the Lone Star State – a great weekend getaway destination.
Judge Roy Bean Museum and Langtry Travel Information Center
526 State Loop 25
Langtry, TX 78871