Fall is finally falling in Texas and that means a change in eating habits for many Texans. After all, what better time to enjoy a warm plate of hot tamales or feast over a bowl of pumpkin-paprika soup? Go ahead and admit it, eating good Texas food is not only a tradition, it's a lifestyle, and the fall season offers a great opportunity to dine with the best of them. Look over our selections for the fall season and get ready for some great eats!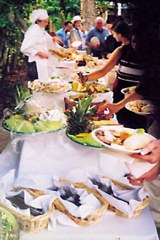 Sure, there' are thousands of great places to eat scattered throughout cities and towns all across Texas, and a Main Street Cafe on just about every corner of every berg from Wink to Brownsville. But there are those really special places that qualify as the Best of the Best – the unique and extraordinary – the unusual, and just plain great places to eat. They shouldn't be missed when traveling down the long roads of Texas.
Take a tour of our personal picks and schedule lunch or dinner next time you're in the neighborhood. And don't forget to check back often, because our hungry staff of restaurant explorers are always on the look for that special place you can't afford to miss. Bon Appetite!
CHEF'S HOUSE Restaurant – Port Isabel
Don't even think about visiting Deep South Texas (The Valley) without stopping by the The Chef's House in Port Isabel – just across the bridge from South Padre Island. Open for breakfast and lunch only, the visit is worth it – the best dining experience in the Valley – bar none! The Chef and his wife run this place – only five tables (linen tablecloths), and the food and plating is extraordinary. Do not miss this little hideaway at 101 Queen Isabella Blvd (main drag). They don't have a web site, but if you miss it, you lose! 956-943-7362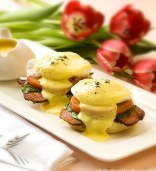 NUERNBERG BRAHAUS – Pflugerville
Authentic Bavarian in Pflugerville awaits. A family-operated establishment featuring schnitzel which is very good. They are all made with pork including the Wiener-schnitzel. Good veal is hard to find, but not here. A great selection of beer (as you would expect) and some wine. Because the food is prepared fresh, it takes a while to dine, but worth it if you are looking for good German food. Recommended. Certainly out of the way (located in a strip mall) but well worth the visit.  – nbg-brauhaus.com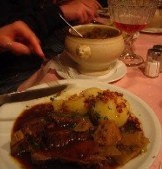 EL CHILE Cafe & Cantina – Austin
Tex-Mex is an art in itself, but in spite of it being the national food of Texas, it is rare for a restaurant to get in "perfectly right". In Austin, El Chile does that – and more. From the homemade smoked chile salsa to the perfect chile relleno, this hot little spot will send you away sated and ready for more (when you eat again). A good menu with lots of choices – a perfect Tex-Mex experience. – elchilecafe.com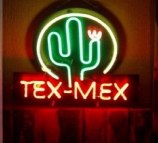 ANCELET'S FRENCH MARKET – Port Arthur
7901 N Twin City Hwy, Port Arthur, TX
"GUARANTEED" great Cajun food, especially their rope sausage, boudain, hog cracklins and crawfish boil. Ummm good! Ancelet's has been around a long time but the food has never changed. Outstanding taste and original recipes. Nothing fancy here, just good eats and fun atmosphere – where the local's hang. Come hungry and get ready to loosen the belt upon departure. No web site, so you're on your own here. But don't miss it.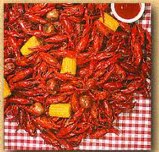 COUNTRY TAVERN – Kilgore
Hwy 31 & FM 2767, Kilgore, TX
Not exactly in the heart of Kilgore (Northeast Texas) but located on a Farm-to-Market road outside of town, this long time favorite is still serving up some of the best BBQ ribs in the state. Nothing fancy here, but good service and melt0in-your-mouth food to die for! Order by the pound nd get enough to take some home. Highly recommended if you appreciate ribs Texas Style!
– countrytavern.com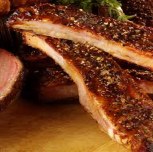 50 YARD LINE STEAKS – LUBBOCK
This restaurant has been around a few years – and for good reason. If you enjoy prime steak, look no further,. In addition to award winning steaks, you'll find great chops and burgers – all of it char-broiled to perfection. For us, the blueberry muffins – a standard and served with every meal – make the the place well worth the visit. – 50-yardline.com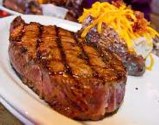 Bonnell's In Fort Worth
The tastes of the great Southwest infused with regional influences of Texas — from Creole to Mexican. From wild boar and venison to oysters and quail, almost every main ingredient is from Texas and is uniquely combined to create a perfect Texas experience. Venison Carpaccio and crispy quail legs are great starters; entrees include a smoked chicken salad topped with a jalapeño and garlic vinaigrette, a filet served with a albino pepper and Tasso cream sauce and the scrumptious Southwestern chicken stack.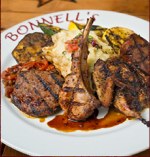 Kerbey Lane Café in Austin
The original location is an Austin institution and the must-eat destination that's a throwback to the pre-technology boom days. Healthy food and with a twist! With its huge pancake breakfast featuring gingerbread and apple whole wheat pancakes as well as the traditional buttermilk, you won't find a btter breakfast! Be prepared, Kerbey Lane is known for its long lines on weekends The alluring aroma of hot pancakes and smoked bacon are enough to overlook the wait. Great lunch menu as well.

Cap'n Roys of South Padre Island
It's getting harder to find authentic Texas coastal food, but Captain Leroy in South Padre Island still serves it up in a traditional style with all the right flavors. You guessed it: Fish, shrimp and oysters rule here – simple and plain, but woonderfully tasteful. Plus a few extra menu items like poblano cream sause fettucini, award winning Diablo Shrimp, and a few Mexican dishes that will also please. If you've got the time, ask for Cap'n Roy and a few of his favorite poems! He's not only good – he's great.

U&I Restaurant – Corpus Christi
Not every good eatery has to be a modern work of architecture, decor or fancy menu full of foo-foo foods. Such is the case of the U&I Restaurant in Corpus Christi. More a diner than a fancy restaurant, locals have been enjoying great local fare at this downtown location for years. The menu is diverse, the food is extra-special and the service is good. Skip the fancy and just get some good eats!

Elite Circle Grille in Waco
Another typical Texas diner, the Elite in Waco has been serving up bhig helpings of Texas for as long as anyone can remember! The first Elite Cafe opened in downtown Waco in 1919. The Elite was the first restaurant in Waco to use refrigeration in 1923 and air conditioning in 1941. Inviting to all, whether local banker or long haul trucker, it is no wonder The Elite gained the slogan "Where the elite meet to eat." Don't expect fancy – but you can expect good food. A large variety menu and a tradition that's hard to beat anywhere else in the Lone Star State!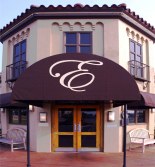 Hill Top Cafe – Fredericksburg
It may not seem like much to look at – at first glimpse. But after stepping inside and wrapping your body around an expertly prepared meal, the place takes on a whole new look and feel! Specializing in Greek and cajun dishes, the restaurant is the pride of famous blues musician Johnny Nicholas and wife Brenda. Highly recommended!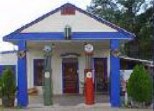 Tortuga Coastal Cantina – Galveston
Relax with family and friends while enjoying the fun and flavors of Mexico on Galveston Island. The Tortuga staff always greets you with a warm smile and a bountiful basket of warm corn tortilla chips, freshly prepared. Nothing goes better with their chips than their famous salsa! Well worth the visit!
Uchi – of Austin
You say Uchi, I say sushi. Well alright – here you can have your cake and eat it too. Actually, no cake here, but plenty of expertly prepared Japenese dishes you won't find anywhere else – except Japan. And yes, sushi is high on the menu – and it's fabulous! Music, food and spirits – Japanese style at Uchi!

City Market – Luling
You can never say enough about good Texas barbeque. But the famous City Market just outside of Luling doesn't serve "good" BBQ – they serve some of the best! They cook their meat over Post Oak wood in specially designed pits, giving a flavor that can't be beat. With a large cult following, you need to arrive early!

The Blue Bonnet Cafe – Marble Falls
For 67 years this diner has been pleasing the famous as well as all the locals and visitors too! This is what home cooking is all about, but this home cooking is out-of-this-world! Always busy (open breakfast, lunch and dinner), you need to come early. And don't forget the home made pies – they are to die for! Visit the Blue Bonnet and discover bliss on a plate.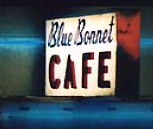 Old Town BBQ – Bastrop
705-f Pine St. , Bastrop, TX, 512-308-9818
A legend reborn, this restaurant comes from one of Austin's' legendary restauranteurs, John Mueller. Mueller recently closed his business in Austin (John Mueller's BBQ) which drew cries of sadness all across the state. Once named the best BBQ in Austin and the best brisket in Texas, you can understand the grief of Mueller BBQ fans. Fortunately he recently opened Old Town BBQ in the beautiful historic district of Bastrop. One can expect the usual high quality meat, service and ambiance he always provided in Austin. Don't forget to try the special sausage blend — yum. BBQ heaven awaits in Bastrop!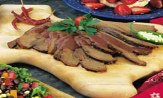 Water Street Oyster Bar – Corpus Christi
There is nothing as delightful to the palate as eating freshly prepared seafood while dining by the bay front. Water Street Oyster Bar in Corpus Christi fits the bill. They've been pleasing customers for over 20 years. You'll find some of the best seafood in Texas at this chic, bayfront restaurant. Be sure to try their Pecan Crusted Shrimp — you'll come back for more.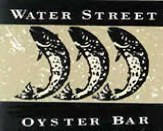 Karam's Mexican Food – San Antonio
121 N Zarazmora St., San Antonio: (210) 433-0111
Having the best cheese enchiladas in San Antonio is no small accomplishment in a city that made Tex-Mex famous. When you want good Tex-Mex cuisine, go to Karam's! The place has that been pleasing customers and traveler's for over 50 years. Selena and the Dinos used to perform here, and in the movie about Selena's life, she performed in their beautiful outdoor garden, full of huge stone Toltec figures, Mayan glyphs, and a towering water fountain. Discover the best Tex-Mex in Texas!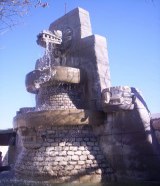 Ye Kendall Inn's Limestone Grill – Boerne
Nestled in the quaint Hill Country community of Boerne, this unique restaurant has the ambiance and food quality of a four star restaurant. The menu is a mixture of Texas coastal seafood, local produce. The Limestone Grill also specializes in wine dinner events that feature succulent exotic dishes with the perfect complementing wine. Check out an example of their wine events called AWEsome Dinners (affordable wine event) or their incredible Winemaker Dinners for an evening you won't forget. Check for upcoming events throughout the year.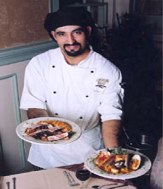 50 Yard Line Steakhouse – Lubbock
2549 S Loop 289, Lubbock: 806.745.3991
It's Texas steaks at their finest, deep in the heart of the West Texas High Plains. This restaurant combines (believe it not) football and great steaks. The restaurant is decorated in Texas Tech Red Raider history; pictures of former players, team photos and action shots. The food is great — including tender steaks and flavorful blueberry muffins that accompany every meal. Every steak dish has a football title like the "Quarterback", an extra cut, 14 oz. melt-in-your-mouth ribeye. For smaller appetites, try the "Tackle", an eight ounce filet, or the "The End", a six ounce filet. While the names are rough and tough, the steaks are always tender and juicy!