When it comes to great attractions, Texas has a lot of great places, events and activities for just about every taste. From professional sporting venues and events to entertainment at its finest, you'll find a lot to see and do in the Lone Star State.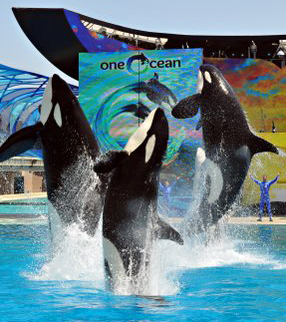 From art to culture, live theatre to cinema, water sports to hot air ballooning, high speed race cars to rodeos and fairs – just about everything you can imagine – can be found in Texas.
While it would be impossible to list every attraction, every event and every activity deserving of your consideration, on this page we have attempted to start a list of some of the more popular – along with a number of our personal favorites. Over time we expect the listing will get rather long. But in the mean time, get started with the few we have listed below, and check back often for new additions as time moves along.
We know you'll discover a wealth of attractions out there. Texas is a big state and there's a lot of ground to cover, so let's get started.
Fall Events in Texas
Since fall has fallen and the holidays are just weeks away, here are a few items related to the season that might perk your interest.
Texas Renaissance Festival
It's the largest renaissance fair in North America, and one that attracts tens of thousands of revelers who celebrate those golden days of old with song, performance, food and dance. Get ready for eight weeks of fun and mayhem…the 39th annual Texas Renaissance Festival is set to get underway the second weekend in Oct. With a theme for every weekend there's fun to be had by everyone. This 16th century village comes to life each weekend with, strolling performers, live jousts, battle reenactments, costume contests, food eating contests, a daily fireworks show, plus live music, magic, dancing, and lots of fun!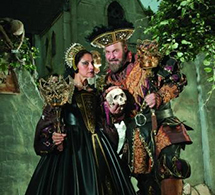 South Texas Maize
With the fall season upon us and as we get relief from the dog days of summer, it's time perhaps to get out in the countryside to enjoy the changing season. Texas is full of rural farms that in recent years added a number of attractions and public events that give the rest of us a chance to enjoy the great outdoors. Visit the South Texas Maize, for example, near Hondo, just west of San Antonio. Test your skill in the 7 acre maize, take a hayride or enjoy the food, the fun and the season. There's a little something for all ages, so get out and discover the joy of visiting a real farm and all activities of the harvest moon.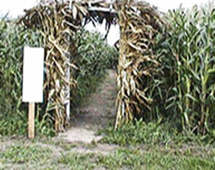 Fright Night at Six Flags Arlington
Just about everyone enjoys a good theme park, and Six Flags Over Texas offers one of the best in quality entertainment and great rides and attractions. While the summer season is high season for the park, in October each year the park opens its gates after sunset – when all the haunts come out. Enjoy October after dark at the park for this year's version of Fright Fest. Special events, rides and activities with names like Boomtown Terror, Evil Night Skyscreamer, Freaktown Side Show, Piggy's Blood Shed, Zombie Infestation and more, you can bet your night at the park will be filled with frightful moments and horribly wonderful activities. Spend a little time this season at Six Flags Fright Fest.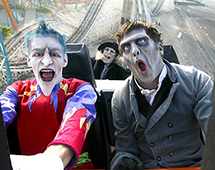 Holiday on the River Walk – San Antonio Style!
Ranked #1 River Walk in America, also known as Paseo del Rio, is a major tourist attraction that brings in over five million visitors a year to San Antonio, and there is no better time to visit than during the holidays! The downtown River Walk is arrayed with tens of thousands of lights each November and December. There is the annual lighted River Parade in December, a favorite with locals and visitors alike. Each night the luminaries are lighted giving an old world charm to the River Walk District, plus multiple events in adjacent La Villita, or Old San Antonio. Food. fun and merriment are in order. Join the fun this year and experience the holidays San Antonio style!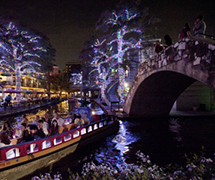 Corpus Christi's Candy Cane Lane Holiday Lights!
There's a residential neighborhood in South Corpus Christi that annual puts on a delightful festival of holiday lights. Affectionately called Candy Cane Lane Holiday light, the event centers on several streets near the Corpus Christi Country Club where homeowners prepare for weeks, even months getting lights and props together to thrill the thousands who stroll or drive the streets each year. City officials no longer allow the annual Christmas parade, which created a traffic nightmare for residents and police alike, but that hasn't stopped the celebration.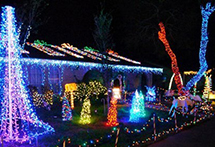 Lubbock Music Festival
Famous for live Texas music, Lubbock does it right. Get ready for this mid September street concert that showcases some of the best talent the Lone Star State has to offer. Chubby Checker headlines one night with Texas born & bred Joe Ely taking the stage the next night. In all, dozens of musicians and performers entertain at the party that all of Lubbock talks about.
It's All There at the Texas State Fair – Big D
The 277-acre Fair Grounds in Dallas come alive beginning Sept. 29 when the Texas State Fair kicks off for 24 straight days carrying on the tradition that first started in 1886. There are a lot of great fairs across the nation but there's only one Texas State Fair, one of our Top Pick attractions and a must-do event for the fall season.
Fiesta Texas Fright Fest – San Antonio
Come on, let the kid in you get out for a little innocent scare or two and enjoy the craziness of the Halloween season. It happens all of October at San Antonio's Fiesta Texas, a Six Flags Over Texas property. Any time of year is a good time of year to visit the sites and attractions of the River City. But October is one of the best months!
Wings Over Houston Airshow
Get ready for some roaring action in the skies over Southeast Texas when the Flying Thunderbirds highlight the Wings Over Houston Air Show at Ellington Field. The 22nd air show will feature some of the best ace pilot legends, military aircraft and hardware and plenty of flying acrobats.
Gaylord Texan ICE – Grapevine
North Texans are getting ready for the big freeze! Imagine a 14,000 square foot structure, kept at 9 degrees, filled with two million pounds of hand-carved ICE! The ice will be carved into magical life-sized holiday monuments and sculptures by artisans from Harbin China. The show opens in mid November and is the perfect start to the holiday season. For all ages.