Contrary to popular opinion, there are a plethora of hiking trails in and around Dallas. Elevation isn't always required to enjoy stunning scenic views, and North Texas has some of the most beautiful trails hidden among new apartment high-rises and suburban sprawl. Whether you're an experienced hiker eager to discover new trails or a novice looking to get outside on a beautiful day, here are the top trails to visit on your next nature trip!
Hiking is one of our favorite things to do. In fact, we met while hiking with friends a few years back. You'll find us on a hiking trail most Saturday mornings, except for what we call the three months of hell, and others call Texas summer. So, we're always looking for new places to hike in the Dallas area. Here are a few of our favorites.
If you have any other favorite hiking spots around Dallas, send them our way, we're always looking to explore new areas.
Oak Point Park & Nature Preserve
5901 Los Rios Blvd, Plano, TX 75074
Oak Point Park & Nature Preserve is Plano's largest park, with 3.5 miles of concrete trails and 5 miles of dirt trails along the Rowlett Creek. This is a great park for going on a long walk. Be warned on hot summer days, the park doesn't have a lot of shade.
Oak Point Park & Nature Preserve is an 800-acre park in suburban Plano that features hiking and biking trails, canoeing, standup paddleboarding, kayaking, horseback trails, and the annual Plano Balloon Festival and GoApe Adventure Course. This preserve features blackland prairie, an old huge tree forest, lush green walking trails, and a wide boardwalk that is an easy walk for people of all ages and abilities.
White Rock Lake
White Rock Lake is about 5 miles northeast of downtown Dallas. The Lake covers more than a 1,000 acres. There is a trail that goes around the lake that is a little more than 9 miles for hiking or biking. This is a very popular place with beautiful lake views and Dallas homes. There are a lot of things to do here including a dog park, picnic areas, pavilions for rent, piers and kayak concession.
There are a lot of fun restaurants near by with patios, great for a meal after a long walk. The Dallas Arboretum and Botanical Gardens is also by the lake. It's beautiful year round, but especially so in the spring.
Katy Trail
Dallas, Texas
The 3.5-mile long Katy Trail is a privately funded community park built on an old railroad line. Through generous donations and private support from businesses and individuals, the Katy Trail remains in peak condition for residents and visitors to enjoy Dallas' beautiful, natural trail. The trail is in the City and runs from American Airlines Center to Mockingbird DART Station. Finding parking can be a challenge, especially on pretty weekends.
The Katy Trail runs through the heart of downtown Dallas and is an ideal place to escape for a lunch break or an afternoon stroll. The trail connects Mockingbird to Houston Street and can be accessed from either end. The best location to park is at the trail's northern end, off of Travis and Knox St, where there is a dedicated parking lot for the trail. There's a great park near Snyders Union where you can rest under the the trees or have a picnic. Don't forget to stop by the Katy Trail Ice House for a cold beer or a bite to eat!
Arbor Hills Nature Preserve
6701 W Parker Rd, Plano, TX 75093
Arbor Hills Nature Preserve is in west Plano. In this 200-acre park you really feel like your escaping from the city with trails for walking, hiking and biking. The outer loop dirt trail is about 3 miles and is our go-to for hiking. If you choose to go on the dirt trail, make sure it hasn't rained in the last few days, it does tend to get muddy there. There is also a 2.5 mile paved trail with streams, trees and lookout vistas.
The park is surrounded by 3 miles of looping paved trails. These segments are beautiful and ideal for walking with the family or taking a nice contemplative stroll, and if you want to get a good workout, the stroller-friendly circumstances make it ideal for running.
When hiking or running through the park, the Observation Tower is a wonderful place to rest. It's easily accessible and provides sweeping views of the park and nearby communities.
Erwin Park
4300 Co Rd 1006, McKinney, TX 75071
Erwin Park is a 212 acre park in McKinney. This park has hiking, biking, and camping. This is not the place to be when we have had a lot of rain. It's mostly dirt trails and gets very muddy. But when wildflowers are in bloom and the weather is nice, this is a great park for day hikes.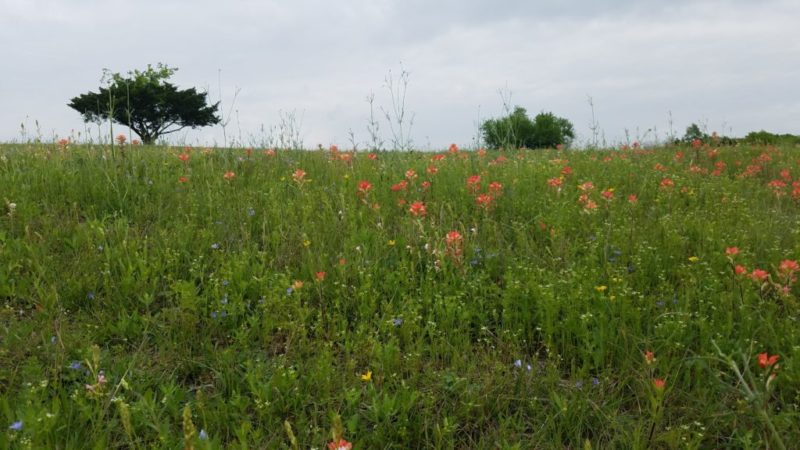 The Erwin Park trail is located in a public park on the periphery of McKinney, Texas. The trail has tight and twisty segments within the trees as well as fast, flowy portions across open fields. There is climbing as well as some fast downhills, and there are numerous roots, especially in the most technical sections.