The secret to successful flower gardening in Texas lies in knowing two facts: What flowers to grow here, and where to plant them. Once you have answered these questions, you should be able to grow beautiful flowers here. Thanks to our relatively mild climate, we can have flowers in bloom all year long. Below is a list of flowers for Central Texas, along with their cultural requirements and the planting times.

Blackfoot Daisy
a tough little wildflower that blooms profusely all summer. A beautiful plant for hot dry conditions.
Bluebonnets
Our state flower is easy to grow here. Plant the seeds in the fall, around September to October. Keep weeds from overwhelming the plants over the winter. You can supplement your seedlings with some transplants in the spring so as to have a lusher display. Look for new selections of bluebonnets; they come out every few years. A Texas Superstar® plant.

Chrysanthemums
These fall flowers can be planted in beds and actually will outperform most container planted ones. Proper preparation begins one year before peak performance. Plant in full sun in the fall of the first year. During the next year, keep the plants trimmed back to a rounded shape and do not allow them to produce flowers. In August quit cutting off any flower buds that form. That fall you will have beautiful mums just covered in flowers. Repeat this procedure for the following year.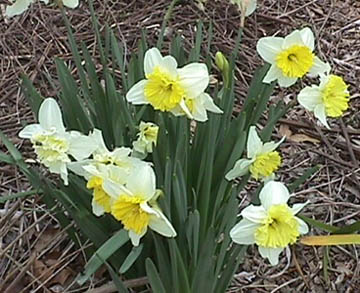 Daffodils
Daffodils are spring bulbs that come in a fascinating array of colors and cup forms. Plant daffodils in late fall through the winter but before the end of January at the very latest.

Dahlberg Daisy
A yellow flower that blooms a long time in heat and drought. This annual flower takes full sun and has medium water requirements.

Dianthus
If you plant these flowers in the fall, by spring they will be covered with blooms. This is a cool season flower. It is considered an annual in some places but many times it will overwinter for several years here and provide you with lovely flowers both in the spring and in the fall. Plant in full sun.

Esperanza
This is a large annual that is heat and drought tolerant with very large trumpet shaped yellow blooms. It will bloom even in the hottest time of the summer. Even though it is an annual it often comes back year after year. 'Gold Star' esperanza is a Texas Superstar.

Fall Asters
Lovely natural looking mounding perennial that blooms in the fall with masses of daisy like lavender flowers. Wonderful for the wild flower bed or in combination with mums.

Globe amaranth
This is a heat and drought proof annual flower with white pink, lilac, or magenta flowers that dry well for arrangements; it likes full sun. Some varieties have earned Texas Superstar® status.

Ice plant
You might mistake this plant for portulaca or purslane, but the flowers look more like daisies. It is a succulent, so it can go without water in dry conditions, and withstands full, hot sun. However, it does like a little afternoon shade in the heat of summer. This plant needs good drainage.

Iris
This lovely flower is also a hard worker in the garden. Placed on slopes, it will keep back erosion in everything but a tsunami. Many lovely colors and varieties are available online or in catalogs. Plant or divide in October. Place the rhizomes above the ground level with the roots covered with soil.

Lantana
This is a tough perennial flower perfect for our Texas heat. The yellow ones are consistently better in quality.  The variety 'New Gold' is a Texas Superstar.

Larkspur
Larkspurs should be planted in the fall for spring blooms. They are tough, cool season flowers with spikes from pink to purple and blue. The 'Bunny Bloom' larkspur is a Texas Superstar® plant. It is named thus because the center of each flower seems to have the shape of a white rabbit's head in the center.
Mexican Mint Marigold
This perennial plant, which is about 2 feet tall by 3 feet wide, is covered in the fall with orange flowers. It is actually an herb but has earned its place in the flower garden. It is sun-loving and drought tolerant.

Oxalis
This is a sweet little bulb that looks like clover but is covered with a profusion of pink blooms in the spring and fall. It disappears in the summer and in the winter when temperatures are extreme but will return each spring and fall. This can be a hard plant to find in the nursery trade, but you can divide it in the fall and replant it to give yourself more plants. It grows in part shade.

Oxblood Lily
Also known as a schoolhouse Lily this lovely bulb blooms in the fall then disappears until the next fall. It can take some light shade so it will be easy to find a spot for it in the garden.

Perennial hibiscus
There are several perennial hibiscus varieties for sale at your nurseries that have spectacular large blooms and will do well here in Central Texas. They take full sun, but appreciate a little afternoon shade. Perennial hibiscus need watering once or twice a week, but it is worth it for their spectacular display. Try the following recommended varieties: 'Flare', 'Moy Grande' (no that is how it's spelled; it is named after Dr. Moy) or 'Lord Baltimore'. These varieties are Texas Superstars.
Petunia
I believe success with petunias comes from two things. Plant them to grow in the cooler seasons. Fall is a great time to plant them. The other thing is choosing the right variety. The hybrids that have been developed over recent years are a big improvement over the old "garden variety" petunia. The 'Tidal Wave' series are Texas Superstars®.

Plumbago
A perennial in zone nine but may easily live more than one year even in Central Texas (Zone 8a). It likes full sun and can reach 2 to 3 feet tall. It has rare sky blue flower blossoms. A Texas Superstar®.

Poppies
Poppies should be planted in the fall for springtime blooms. The "pass-along" types seem to be tougher. Poppies will reseed and give you more blooms from year to year. They are part of an Earth-Kind® program.

Portulaca or Purslane
A flowering succulent with rose-like flowers that can take our heat with no upkeep other than watering once a week. It may come back from seeds. 'Yubi' is a Texas Superstar® selection.
Purple coneflower
This is one of the toughest daisy-like perennial flowers that bloom here. The old reliable pink form is the healthiest although other colors have been cultivated. The fancy new colors cannot be grown from seeds. The old-fashioned purple coneflowers will reseed readily, giving you many new plants each season. Light shade to full sun.

Roses
There are many wonderful roses that we can grow in Central Texas. There are roses that that have been especially developed and tested to be drought tolerant, disease resistant, and easy care. Among the best of these are: 'Knock Out', 'Belinda's Dream', 'Caldwell Pink', 'Carefree Beauty', and 'Mutabilis'. For more information about roses look up Earth-Kind® and Texas Superstar® roses on the Internet.

Ruellia
Also known as Mexican Petunia, this is the short ruellia that makes a good border flower. Ruellia brittoniana is a Texas Superstar® known commonly as 'Katie'. The taller varieties of ruellia can become invasive pests in the garden, although some people still like them because they will bloom when it has gotten too hot for almost anything else to bloom. They are all practically indestructible. There is also a wildflower form of ruellia. It is invasive also. It gets about a foot tall and has the familiar light purple flowers of the other species, but they open in the morning and close in the heat of day.

Salvia
There are many plants with the name Salvia. One of the most well known is the sage we use on our Thanksgiving turkey. The ornamental varieties of Salvia are quite useful in the garden. Some get as tall as 4 feet and three or 4 feet wide. They are drought tolerant and some of them bloom almost all year long. Your local nurseryman will be able to find one that is just right for your landscape.

Scabiosa
Sometimes called the pincushion flower, scabiosa is a pretty flower that attracts butterflies. It grows to be about 12 to 18 inches tall in full sun.

Scaevola
(Fan Flower) This is used as an annual in Texas that has distinctive fan shaped flowers in shades of white to purple that will grow in sun to light shade. This flower attracts butterflies. 'New Wonder' is a Texas Superstar®.

'Texas Gold' Columbine
This is a shade blooming perennial. Columbine's other large flowering varieties do not do well in Texas, but this one is different. It has large yellow flowers and performs well in light shade. A Texas Superstar®.

Snapdragon
This is an annual with spikes of flowers in multiple shades that can take full sun and likes to grow in the cooler part of the year. A great fall to spring flower, it comes in heights from very short to very tall. Some of the tallest varieties are quite spectacular. For best results plant in the beginning of October.

Turks cap
This perennial flower can get to be 4 feet tall and 2 to 3 feet wide. It is a shade lover. The flowers are an interesting shape, and they attract hummingbirds and butterflies. A Texas Superstar®.
Zinnias
This is an old reliable standby annual. It comes in many many different colors including green. It is a sun loving annual that will be happy to receive twice a week watering and will reseed reliably.