Herbs are some of the best plants for Texas. Most herbs like it hot and dry, so they are a natural for Texas. Herbs are a pleasure to care for; as you trim them, they fill the air with their delightful fragrance. The cuttings can often be used in cooking. You need to understand the requirements for the particular type of herb you are growing. The following list will give you the helpful hints for cultivating some of the best herbs we can grow here. Try adding herbs to any ornamental or vegetable bed. Since most herbs are quite pretty, they belong in flower beds, often adding extra appeal, color, and fragrance.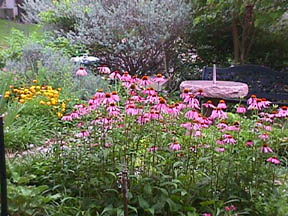 You will see that on my site I have often listed herbs in the category of landscape plants, such as shrubs and ground covers. Herbs are often overlooked as landscape plants, but in truth, they make some of the very best, easiest to care for, and cheapest plants you can use for shrubs and groundcovers. Powis Castle Artemisa is a fine border shrub, and thyme a great small border shrub as well. Try using Salad burnet wherever you might want a plant that looks much like a fern. It is pretty, and it can take much more heat and sun than ferns. You will not be disappointed!
Basil
This herb cannot take freezing weather, so plant it when all danger of frost has passed in the spring. Everyone knows that basil is essential in Italian cooking. You will also find several varieties of basil that are used in other cultural cuisines. Plant several kinds and have fun experimenting with them in cooking. Plant in rich soil. Basil has rather high watering requirements for an herb. Plant it with other herbs that need to be watered once a week. Although the flowers of many species are decorative, trim them off if you want to cook with it. It is my opinion that freezing basil does not work well, as much of the flavor is lost. You can be moderately successful growing basil under lights indoors through the winter, but keep the plant close to the light to avoid leggy basil.
Chives
Chives are easy to grow member of the onion family. It can even take a little shade. Chives also have pretty flowers in the spring or summer. After a few years you can divide your chives and make more bunches. To use chives, cut off what you need with a pair scissors. There are very few insect problems, except for an occasional snail.
Comfrey
Comfrey is a large leaved herb that grows to about a yard wide and tall. It is considered a medicinal herb not culinary. However do not eat comfrey, it is not safe to to take internally. Consult a good herbal book to discover the topical uses of this herb. I think the best use for this herb is as a landscape accent plant. It is a nice addition to the herb bed, but be sure and give it enough room–three feet minimum.
Culinary Sage
Culinary Sage is a beautiful large herb with lavender flower spikes. It smells wonderful. You may want to move your sage after a few years; sometimes if it stays too long in the same place it dies. Use some of its leaves for stuffing for your Thanksgiving turkey.
Dill
This herb is of course good for making pickles or in potato salad, but it is also important in the butterfly garden as a host for butterfly larva. If you use it for this purpose, be sure to have a few more plants in pots that you can move into place when the caterpillars have eaten all the leaves off the dill.
Echinacea
A beautiful flower that is considered medicinal. Most people use them strictly for ornamental purposes however, for they have beautiful pink flowers. The purple coneflower, as it is sometimes called, will reseed easily and give you many new plants.
Fennel
Fennel is a beautiful herb that comes in either green or the more dramatic bronze Fennel, which is maroon colored. It is a good seasoning for carrots, to which it is related, and a host plant for butterflies. Avoid eating fennel during pregnancy. This herb is so lovely that it can be used in your flower bed.
Garlic
Plant in the cooler weather of fall. Use short neck varieties and fertilize with nitrogen every three weeks. Harvest in early summer.
Lavender
Lavender is another great herb that is ornamental. It is famous for its aroma, but it also has pretty flower spikes in the summer. Lavender has the same horticultural requirements as rosemary. Be sure that it has good drainage. The best variety we have found for this area is 'Provence'.
Lemon Balm
Lemon Balm is a lesser-known herb that is great for Texas gardens. Lemon balm smells like lemon cough drops. It is related to the mint family. Though it does better in full sun, it can take a little afternoon shade.
Lemon Verbena
This herb is actually a small shrub. Give it about a yard wide area to grow in. It can take a little bit of shade in the afternoon. The leaves smell heavenly and they add a lemony flavor to recipes.
Mexican Mint Marigold
This is an up to three feet tall by eighteen inch wide flowering herb that blooms with small orange flowers in the fall. It is a must for all Texas gardens whether flower or herb beds.
Mint
Mint can be used as a small shrub. It spreads very easily, so you will have to watch it or it will take over. It also comes in several leaf colors and flavors. If you keep it trimmed, it makes a nice little hedge.
Mullein
Large gray herbs that are biennials. The first year they form a beautiful gray rosette about 18 inches across. The next year they send up a Flower stalk that can be up to six feet tall. If you have the common mullein that grows here in Texas, the blooms will be yellow. They are not attractive, but they do provide a home for baby leaf footed bugs (often called stink bugs), the tomato's arch enemy. This is not as bad as it seems because when you see the babies on the flower stock, just cut it off and take the whole thing to the trash. This makes it a good trap crop for getting rid of this bug.
Oregano
Oregano is used in Italian cooking, but it also makes a good landscape plant. It comes in several leaf colors and sizes that make it good for a knot garden or border. It takes full sun and is fairly drought tolerant, though you must water when the leaves wilt.
Parsley
This is another butterfly host plant that is also easy to grow in the garden. It is probably better to grow it from transplants since it is so slow to grow from seeds. It is high in vitamin C and is good for the digestion.
Rosemary
Rosemary is my favorite herb. It is very easy to grow and care for. Plant in full sun in a location that gets good drainage. It needs moderate watering. This plant should be used where it can be seen. It releases a wonderful fragrance when rubbed. You can trim the upright varieties into shapes, like the little Christmas tree shape in this photo. It also comes in a trailing variety. Both can be used in cooking. Use some snipped rosemary when baking chicken and the whole house will be filled with its wonderful aroma.
Rue
A pretty herb that is also good as a butterfly host plant. The swallowtail butterfly will lay its eggs on rue if there is not any fennel or parsley available. It is rumored to repel cats, although I have not seen it work in my herb bed.
Salad Burnett
Salad Burnett is a lesser-known herb that should be used more in the landscape. It has pretty fern-like leaves. It can be added to salads, and it has a slight cucumber-like taste. We like it mostly for its ornamental value, as it is a good substitute for ferns, which have a hard time in our environment.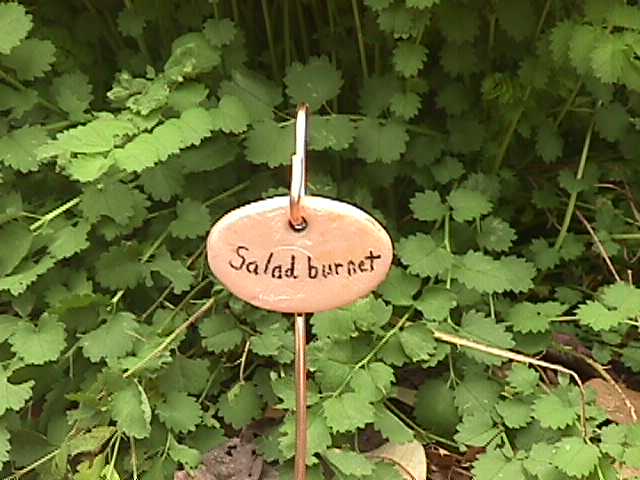 Thyme
Thyme is another good herb, both for culinary and ornamental uses. Since it is low-growing, it makes a nice groundcover. It likes afternoon shade to protect it from the strong sun and heat of our summers. Look for the many varieties of this interesting herb.