Blue & Purple Flowers in Texas
Texas has a large region and a variety of climate classifications, which results in a wide array of plants. The Lone Star State is home to over 2,500 different types of wildflowers. This excludes bushes, trees, and cacti, all of which are abundant in Texas.
The Texas bluebonnet, Lupinus texensis, is the state flower and unquestionably the most recognizable of all spring blossoms in North Texas. Washington and Hill Counties have the most bluebonnets. The fields are in flower from March through mid-April. The "Official Texas Bluebonnet Trail" in Ennis Texas gets tens of thousands of people and is the greatest area to see these gorgeous wildflowers. Bluebonnet paths are also seen all around the Texas Hill Country.
Amsonia tabernaemontana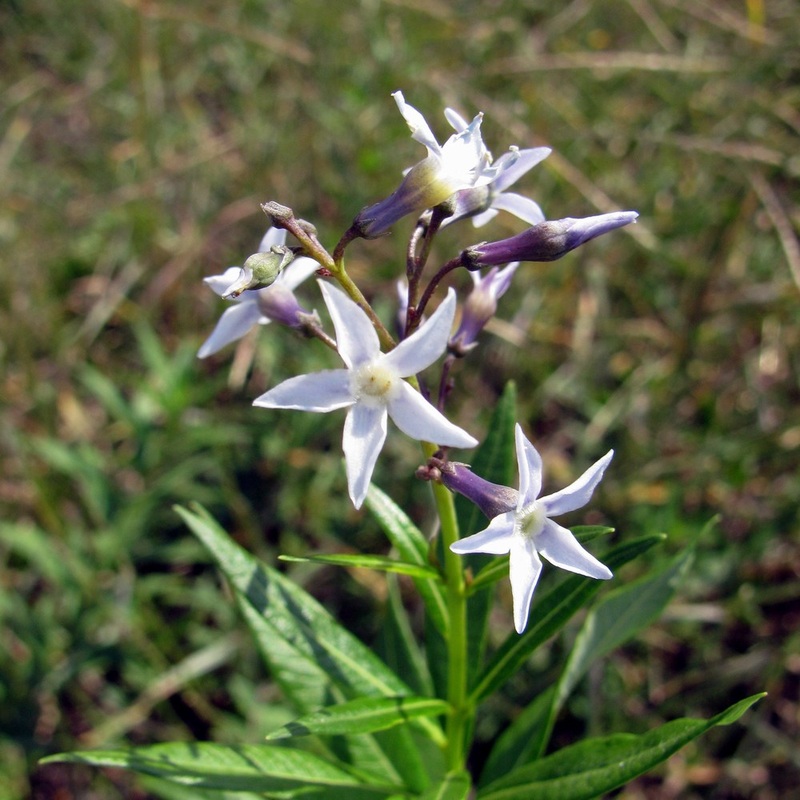 Texas Native
Family: Apocynaceae
Common Names: Eastern Bluestar, Blue Dogbane, Willow Amsonia, Woodland Bluestar
Native to USA: AL, AR, DE, FL, GA, IL, IN, KS, KY, LA, MA, MD, MO, MS, NC, NJ, NY, OH, OK, PA, SC, TN, TX, VA
---
Centrosema virginianum
Texas Native
Family: Fabaceae
Common Names: Butterfly Pea, Spurred Butterfly Pea
Native to USA: AL, AR, DE, FL, GA, IL, KY, LA, MD, MO, MS, NC, NJ, OK, SC, TN, TX, VA, + PR, VI
---
Clematis crispa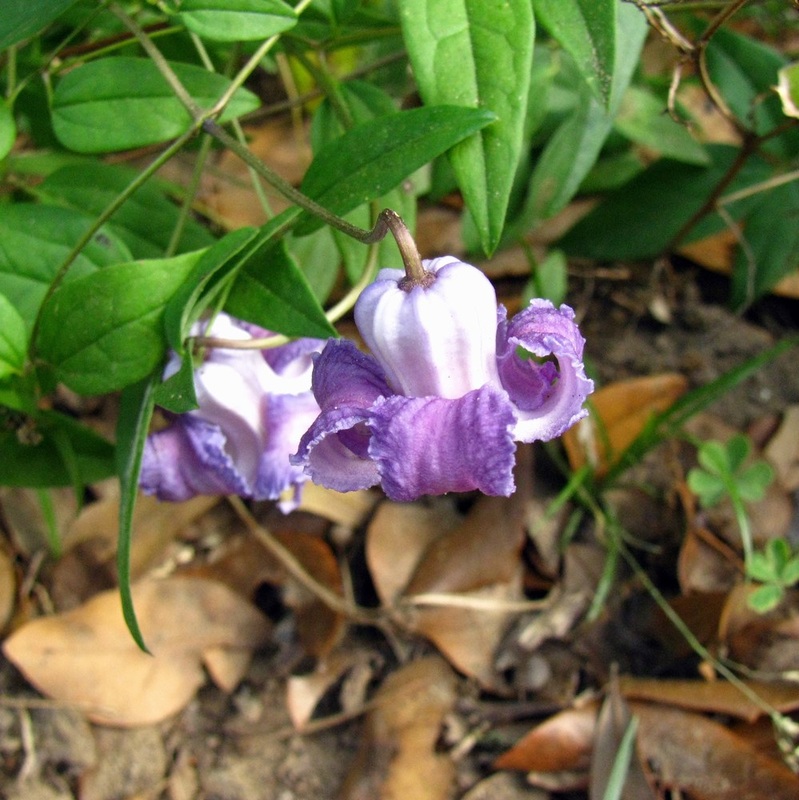 Texas Native
Family: Ranunculaceae
Common Names: Swamp Leather Flower, Curly Clematis, Blue Jasmine, Curlflower
Native to USA: AL, AR, FL, GA, IL, KY, LA, MO, MS, NC, OK, SC, TN, TX, VA
---
Commelina diffusa var. diffusa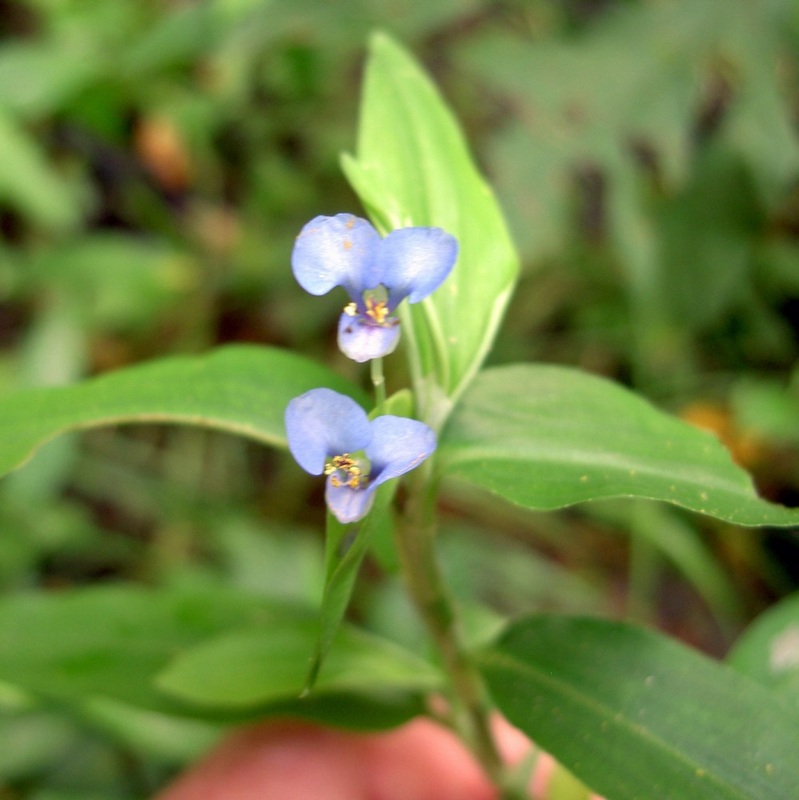 Texas Native
Family: Commelinaceae
Common Names: Climbing Dayflower
Native to USA: AL, AR, DC, DE, FL, GA, IL, IN, KS, KY, LA, MD, MO, MS, NC, NJ, NY, OH, OK, PA, SC, TN, TX, VA, VT, WV + PR, VI
Introduced to USA: HI
---
Commelina erecta
Texas Native
Family: Commelinaceae
Common Names: Dayflower, Whitemouth Dayflower, White-mouth Dayflower, Widow's Tears
Native to USA: AL, AR, AZ, CO, DC, DE, FL, GA, IA, IL, IN, KS, KY, LA, MD, MI, MN, MO, MS, NC, NE, NJ, NM, NY, OK, PA, RI, SC, SC, TN, TX, VA, WI, WV, WY, + PR, VI
---
Conoclinium coelestinum
Texas Native
Family: Asteraceae
Common Names: Blue Mistflower
Native to USA: AL, AR, DC, DE, FL, GA, IL, IN, KS, KY, LA, MD, MI, MO, MS, NC, NE, NJ, NY, OH, OK, PA, SC, TN, TX VA, WV
Introduced to Canada: ON
---
Eichhornia crassipes
Introduced Species
Family: Pontederiaceae
Common Names: Common Water Hyacinth
Introduced to USA: AL, AR, AZ, CA, CO, CT, DE, FL, GA, HI, IL, KY, LA, MO, MS, NC, NJ, NY, OR, SC, TN, TX, VA, WA, + PR, VI
Introduced to Canada: ON
---
Elephantopus carolinianus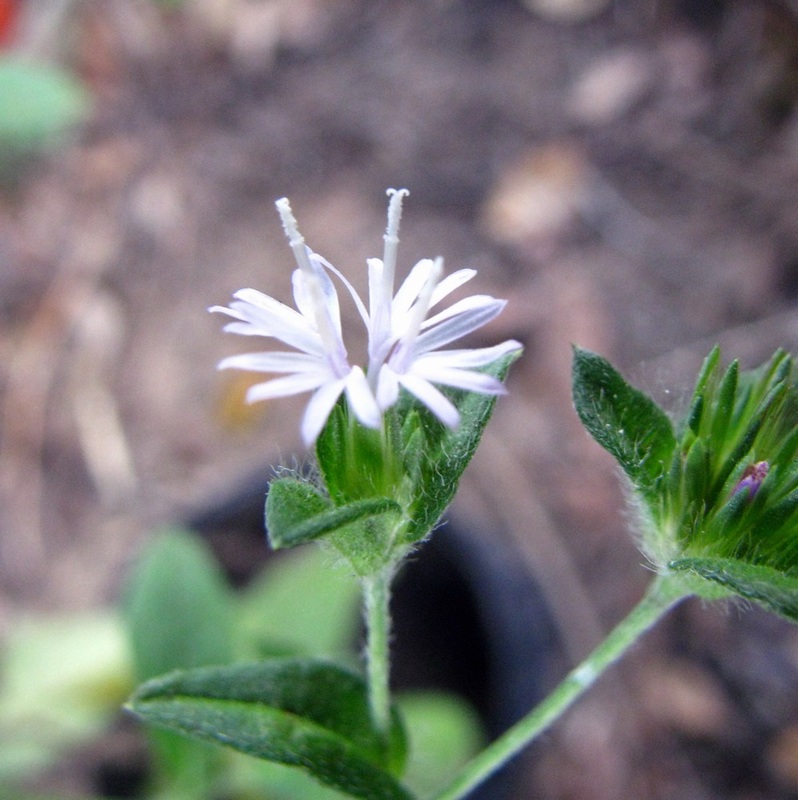 Texas Native
Family: Asteraceae
Common Names: Carolina Elephant's Foot
Native to USA: AL, AR, DC, DE, FL, GA, IL, IN, KS, KY, LA, MD, MO, MS, NC, NJ, OH, OK, PA, SC, TN, TX, VA, WV
---
Eryngium hookeri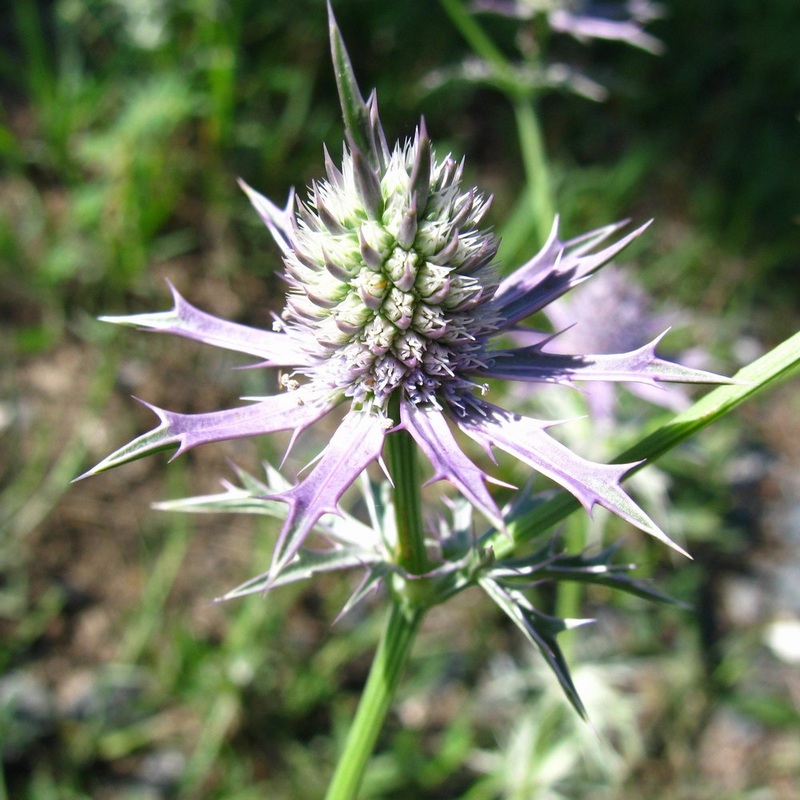 Texas Native
Family: Apiaceae
Common Names: Hooker's Eryngo
Native to USA: AR, LA, MS, OK, TX
---
Hydrolea ovata
Texas Native
Family: Hydrophyllaceae
Common Names: Blue Water Leaf, Hairy Hydrolea, Ovate False Fiddleleaf
Native to USA: AL, AR, FL, GA, KY, LA, MO, MS, OK, TN, TX
---
Ipomoea wrightii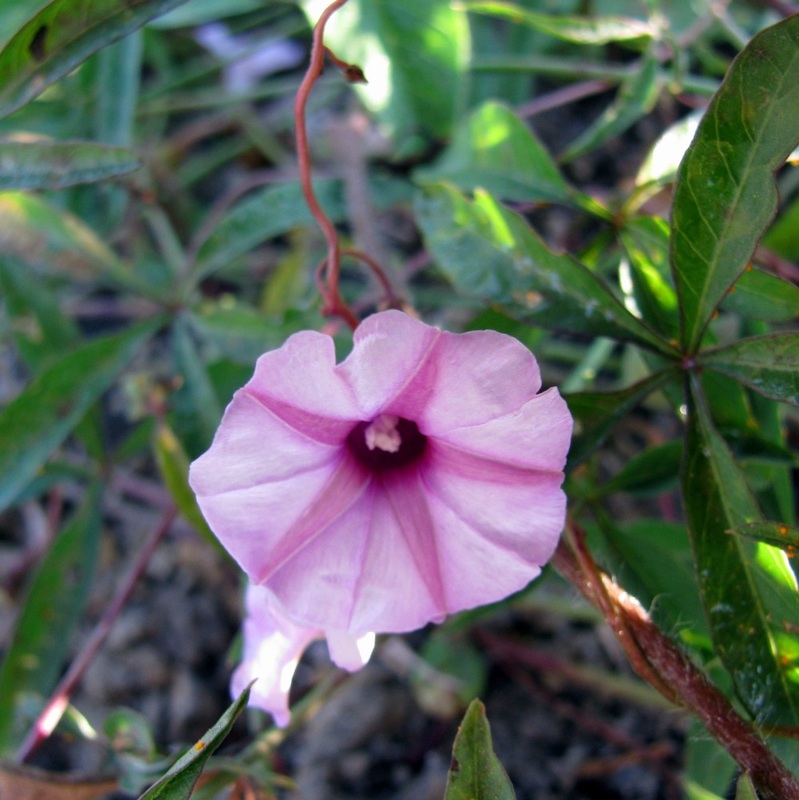 Introduced Species
Family: Convolvulaceae
Common Names: Wright's Morning-glory
Introduced to USA: AL, AR, FL, GA, LA, MS, OK, TN, TX, VA
---
Ipomoea cordatotriloba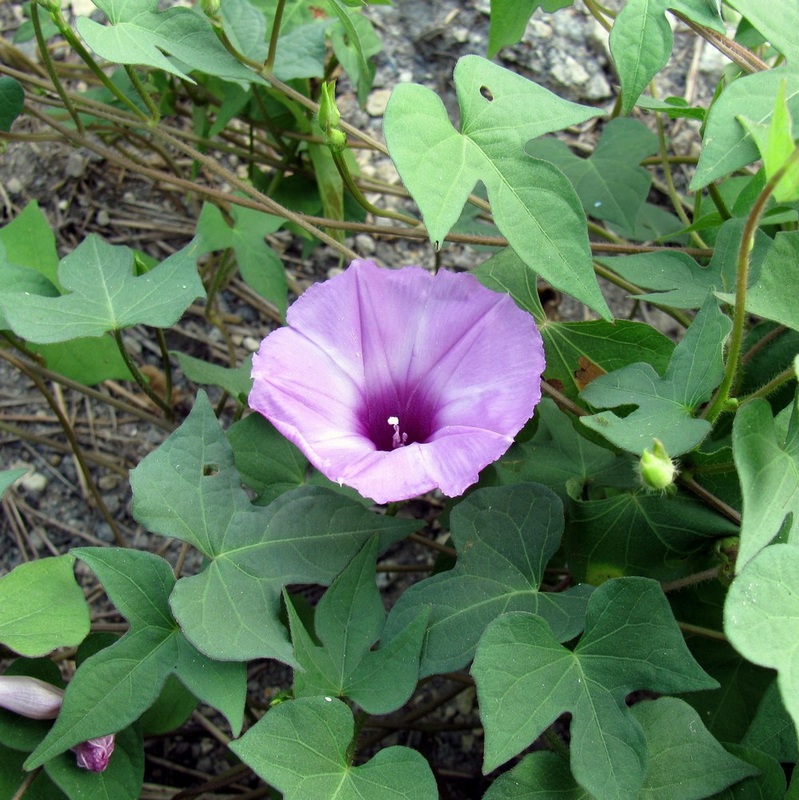 Texas Native
Family: Convolvulaceae
Common Names: Purple Bindweed, Sharp-pod Morning Glory, Tie Vine, Tievine
Native to USA: AL, AR, FL, GA, LA, MS NC, SC, TX
---
Ipomoea sagittata
Texas Native
Family: Convolvulaceae
Common Names: Saltmarsh Morning-glory
Native to USA: AL, FL, GA, LA, MS, NC, SC, TX
---
Jacquemontia tamnifolia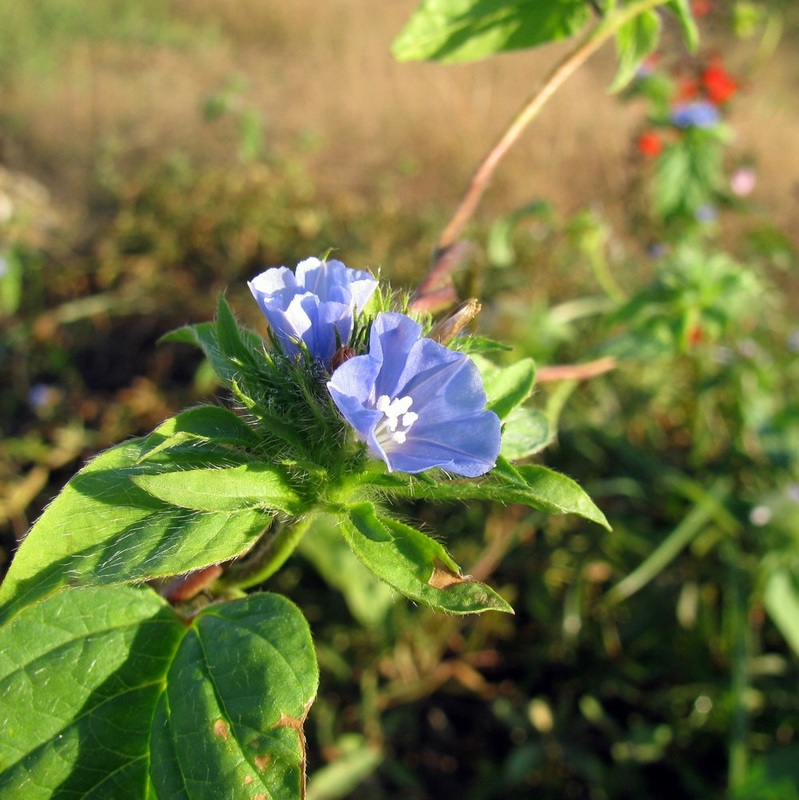 Texas Native
Family: Convolvulaceae
Common Names: Hairy Clustervine
Native to USA: AL, AR, FL, GA, IL, LA, MO, MS, NC, OH, OK, PA, SC, TN, TX, VA + PR, VI
---
Justicia ovata  var. lanceolata
Texas Native
Family: Acanthaceae
Common Names: Loose Flower Water-willow
Native to USA: AL, AR, FL, GA, IL, KY, LA, MO, MS, OK, TN, TX
---
Lycium carolinianum
Texas Native
Family: Solanacea
Common Names: Christmas Berry, Carolina Wolfberry, Carolina Desert-thorn, Creeping Wolfberry
Native to USA: AL, FL, GA, LA, MS, SC, TX
---
Lythrum alatum var. lanceolatum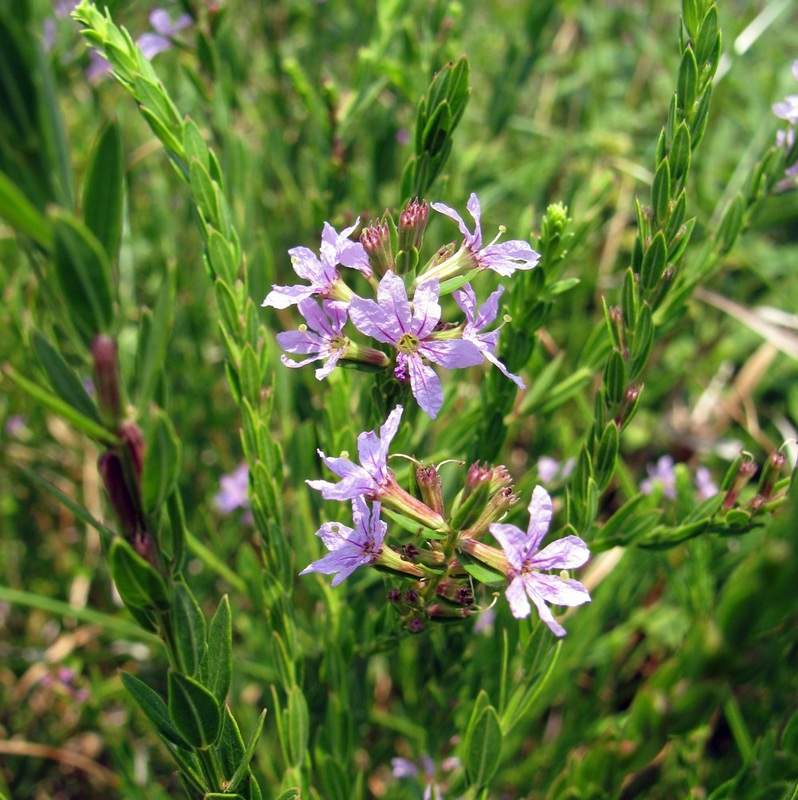 Texas Native
Family: Lythraceae
Common Names: Winged Lythrum, Lance-leaf Loosestrife
Native to USA: AL, AR, FL, GA, KY, LA, MS, NC, OK, SC, TN, TX, VA
---
Passiflora incarnata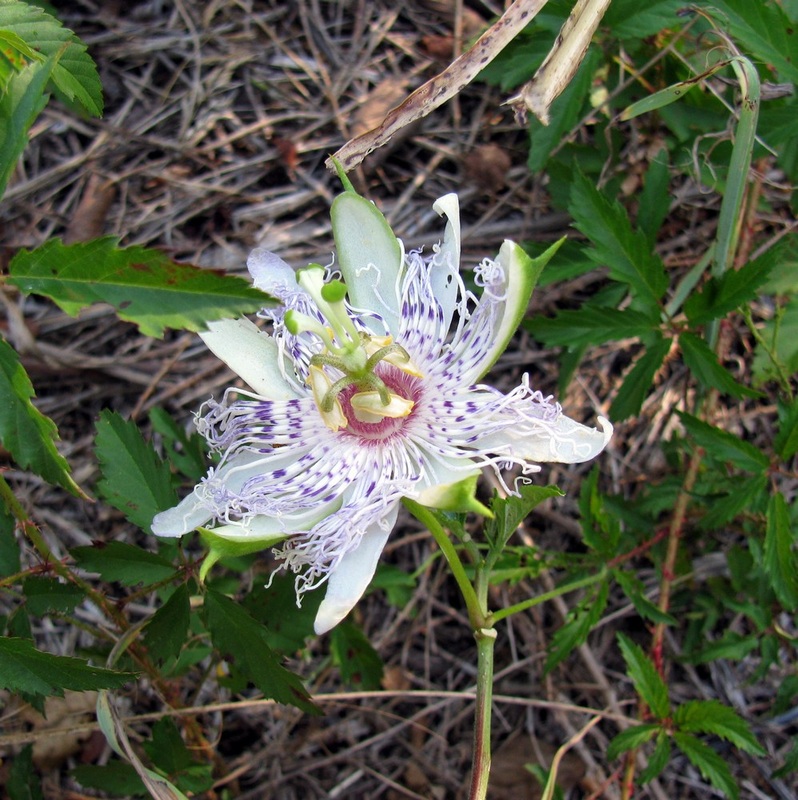 Texas Native
Family: Passifloraceae
Common Names: Purple Passionflower, Purple Passion Vine, Maypop, Apricot Vine
Native to USA: AL, AR, DC, DE, FL, GA, IL, IN, KS, KY, LA, MD, MO, MS, NC, OH, OK, PA, SC TN, TX, VA, WV
---
Pontederia cordata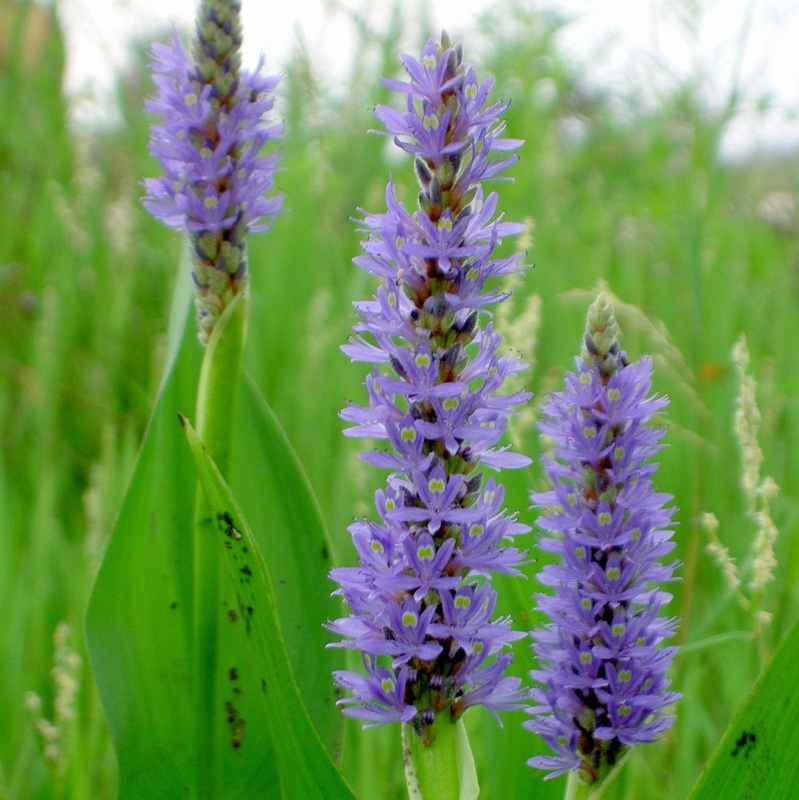 Texas Native
Family: Pontederiaceae
Common Names: Pickerelweed, Pickerel Weed
Native to USA: AL, AR, CT, DC, DE, FL, GA, IA, IL, IN, KS, KY, LA, MA, MD, ME, MI, MN, MO, MS, NC, NH, NJ, NY, OH, OK, OR, PA, RI, SC, TN, TX, VA, VT, WI, WV
Native to Canada: NB, NS, ON, PE, QC
---
Prunella vulgaris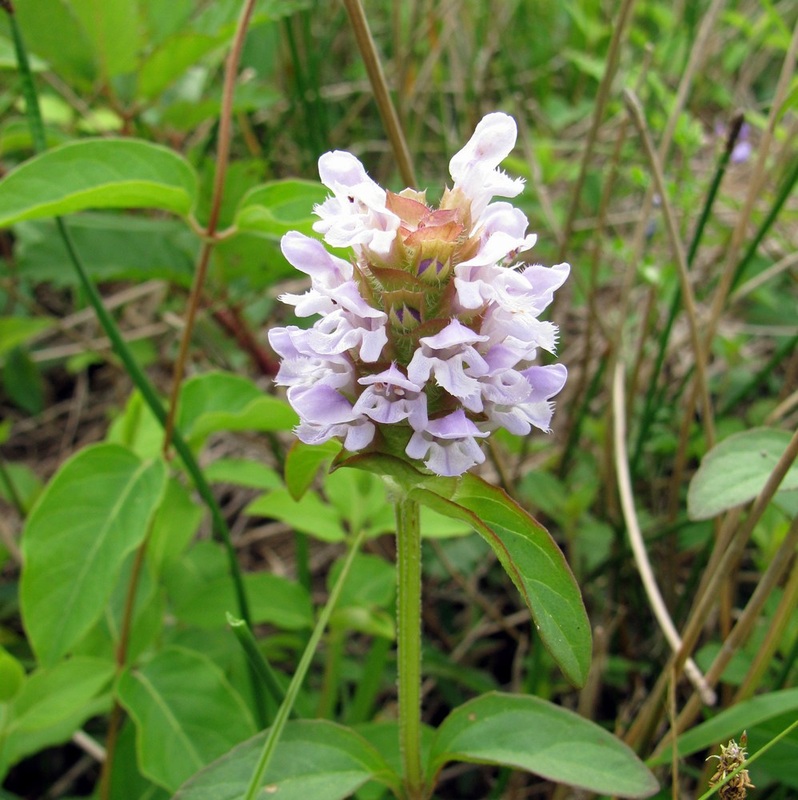 Texas Native
Family: Lamiaceae
Common Names: Common Selfheal
Native to USA: 48 Contiguous States + AK
Introduced to USA: HI
Native to Canada: AB, BC, LB, MB, NB, NF, NS, ON, PE, QC, SK, YT
Native to France: SPM
---
Ruellia humilis
Texas Native
Family: Acanthaceae
Common Names: Fringeleaf Wild Petunia, Hairy Ruellia, Low Wild Petunia, Low Ruellia
Native to USA: AL, AR, FL, GA, IA, IL, IN, KS, KY,LA, MD, MI, MN, MO, MS, NC, NE ,OH, OK, PA, TN TX, VA, WI, WV
---
Ruellia nudiflora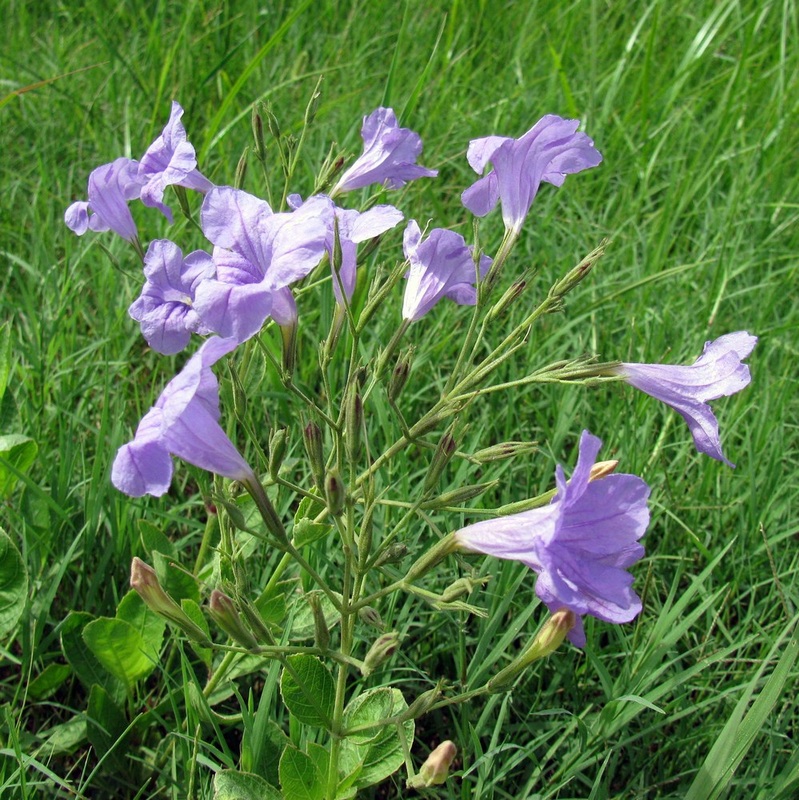 Texas Native
Family: Acanthaceae
Common Names: Violet Ruellia, Common Wild Petunia, Violet Wild Petunia, Wild Petunia
Native to USA: AZ, LA, MS, TX
---
Salvia azurea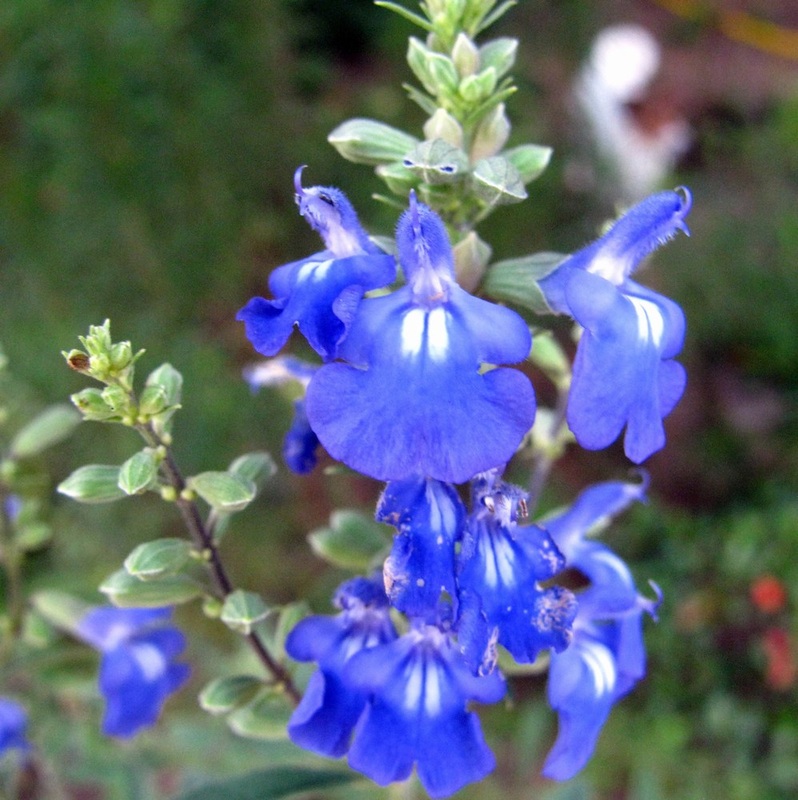 Texas Native
Family: Lamiaceae
Common Names: Pitcher Sage, Big Blue Sage, Azure Sage, Giant Blue Sage, Blue Sage
Native to USA: AL, AR, CO, CT, FL, GA, IA, IL, IN, KS, KY, LA, MI, MN, MO, MS, NC, NE, NM, NY, OH, OK, SC, TN, TX, UT, WI
---
Salvia lyrata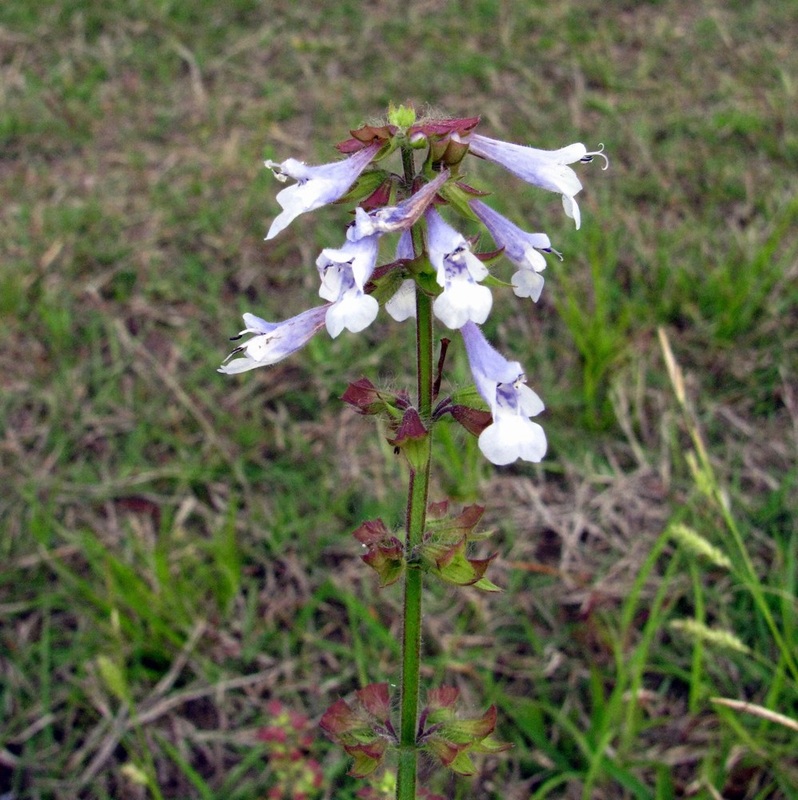 Texas Native
Family: Lamiaceae
Common Names: Lyreleaf Sage, Cancer Weed
Native to USA: AL, AR, CT, DC, DE, FL, GA, IL, IN, KS, KY, LA, MD, MO, MS, NC, NJ, NY, OH, OK PA, SC, TN, TX, VA, WV
---
Stachys floridana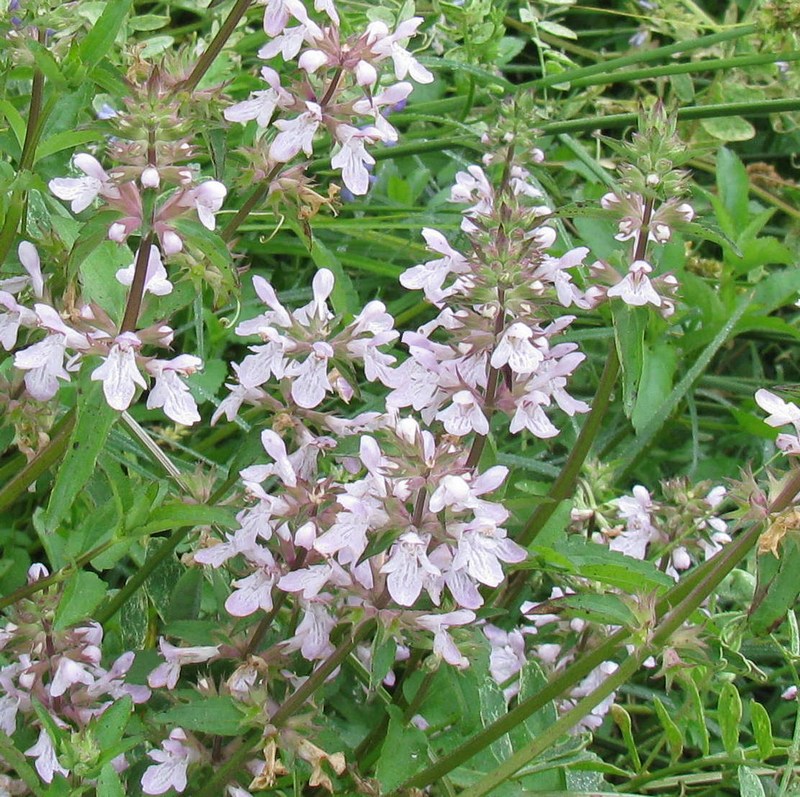 Texas Native
Family: Lamiaceae
Common Names: Florida Hedgenettle, Florida Betony, Rattlesnake Weed
Native to USA: AL, AR, CA, FL, GA, LA, MS, NC, SC, TN, TX, VA
---
Verbena brasiliensis
Introduced Species
Family: Verbenaceae
Common Names: Brazilian Vervain
Introduced to USA: AL, AR, CA, FL, GA, HI, KY, LA, MO, MS, NC, OK, OR, SC, TN, TX, VA
---
Verbena rigida
Introduced Species
Family: Verbenaceae
Common Names: Tuberous Vervain
Introduced to USA: AL, AR, CA, FL, GA, HI, LA, MS, NC, ND, OK, SC, TN, TX, VA + PR
---
Veronica persica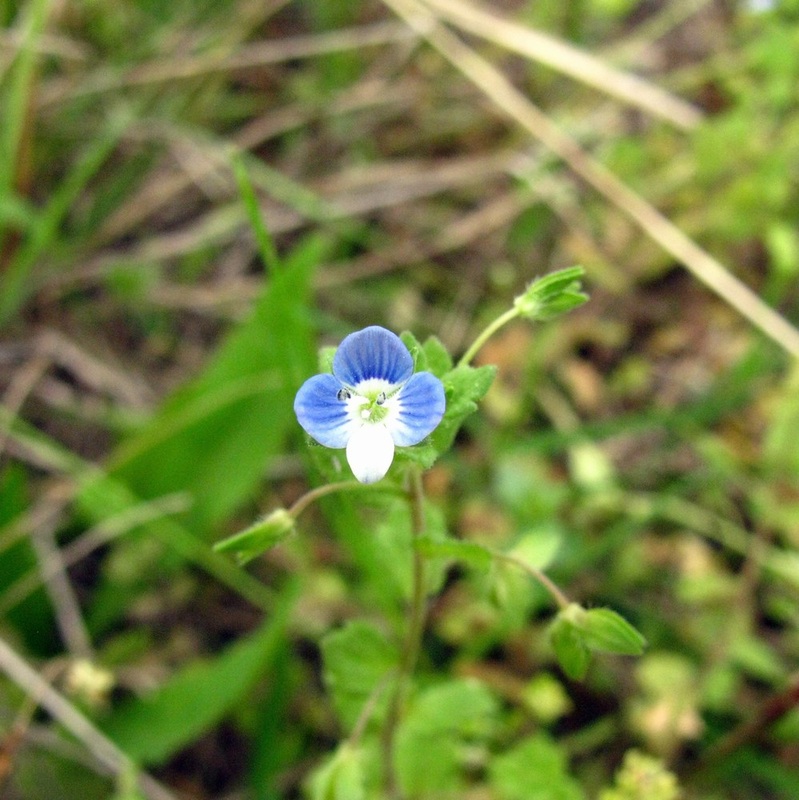 Introduced Species
Family: Scrophulariaceae
Common Names: Birdeye Speedwell
Introduced to USA: AK, AL, AR, AZ, CA, CO, CT, DC, DE, FL ,GA, IA, ID, IL, IN, KS, KY, LA, MA, MD, ME, MI, MN, MO, MS, MT, NC, NE, NH, NJ, NM, NV, NY, OH, OK, OR, PA, RI, SC ,TN, TX, UT, VA, VT, WA, WI, WV, WY
Introduced to Canada: AB, BC, MB, NB, NF, NS, ON, PE, QC, SK
Introduced to Denmark: GL