Marion County Mysteries
There's an old Caddoan legend that says the Great Spirit warned a Caddo Chief to move his village or else the earth would swallow it. Ignoring the vision, not long afterward, the Chief was leading a hunting party a great distance away when the ground began to shake violently. Upon returning to the village, they discovered it was sunk beneath a lake that had never existed before.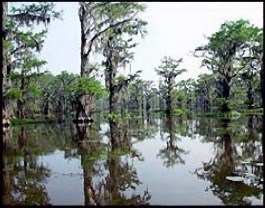 Contemporary geologists tell us there may some basis for the legend. The Missouri earthquake of 1811 caused a blockage of the Red River, and water poured into the the region now known as Caddo Lake, forming what has been called one of the most diverse regions of North America.
One look at this amazing countryside and you will agree, there seems to have been a power at work here that defies easy explanation. The USGS calls Caddo Lake and surrounding region a pristine and unusual wilderness, full of dense vegetation and wildlife; unspoiled and undefiled. Author Jim Whitock, naturalist and historian, calls it "a place where legends and mysteries are born."
Even residents of modern day Uncertain, Texas, little more than a fishing outpost on the banks of the lake, say the land is a place of eerie qualities and is full of mystery.

Craig Woolheater, head of the Texas Bigfoot Research Center in nearby Jefferson, says Caddo Lake is a land of Bigfoot. And he's not kidding.
Woolheater's non-profit organization is serious about their pursuit of the legendary creature known as Bigfoot. A cryptozoologist at heart, Woolheater claims there have been several substantiated sightings of the mythical creature in the lake region, and hundreds of unofficial reports that filter in every year.
So strong is the belief that Bigfoot inhabits this wilderness area that the Research Center stages an annual conference each autumn in Jefferson with multiple field trips into the backcountry scheduled every year. And while proof positive has yet to be unearthed, few will disagree that the Caddo Lake region is a place that lends itself to a place that is both wild and untamed.
Caddo Lake is a 25,400 acre (103 km²) Lake and wetland located on the border between Texas and Louisiana, in northern Harrison County and southern Marion County in Texas and western Caddo Parish in Louisiana. The Lake is named for the Southeastern culture of Native Americans called Caddo, or Caddoans.
Caddo Lake flora and fauna consists of: 189 species of trees and shrubs, 75 grasses, 42 woody vines, 216 kinds of birds, 90 fish and reptiles, and 47 mammals. One of these species, Crataegus opaca or mayhaw fruit is collected from the water to make a jelly that is considered one of the finest in the world. Forty four of Caddo's Native species were either endangered, threatened or rare. Wildlife include waterfowl, alligators, turtles, frogs, snakes, raccoons, minks, nutrias, beavers, squirrels, armadillos, and white-tailed deer.
Thick bald cypress and a tangle of aquatic plants thrive in the waters at Caddo Lake State Park. Because the vegetation is so lush, much of the lake is really a maze of sloughs, bayous, and ponds – ideal habitat for a Bigfoot?
Jefferson and Marion County treat visitors to a geographic wonderland. There are bayous, swamps, alligators and eagles. Texas' two most beautiful lakes are within our borders. Caddo Lake, the only natural lake in Texas, is home to the world's largest cypress forest. Spanish moss hanging from these ancient trees creates an aquatic scene that has inspired cinema producers to film many movies in these waterways. Tall loblolly pines and hardwoods tower above the shores of Lake O' the Pines. Nature enthusiasts love to observe wildlife on this lake—especially the eagles.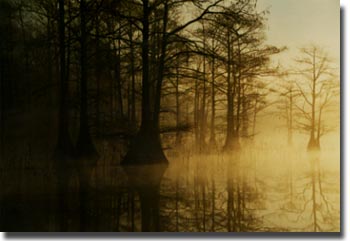 East Texas, in fact, which is where the majority of the reported sightings of Bigfoot occur in the state, boasts of nearly 12 million acres of forestland. There are four national forests and five state forests in Texas, all located in East Texas. The East Texas Pine Belt, or "Piney Woods" as it is commonly called, extends over forty-three counties and accounts for almost all the state's commercial timber.
According to the Texas Bigfoot Research Center, there has been a long history of sightings in the state of Texas. One of the first in the history books is the strange case of the "The Wild Woman Of The Navidad". This is a story that was recounted in the Legends of Texas published by the Texas Folklore Society in 1924. The creature was described as covered in short brown hair and was very fast. She eluded capture because the horses were so afraid of the strange creature that they could not be urged within reach.
These events occurred in 1837 in the Texas settlements of the lower Navidad. Mysterious barefoot tracks were seen frequently in the area. There are Native American legends dating back hundreds of years that describe tribes of giants that were hair-covered and lived in the woods.
In 2002, residents of Sabine, Texas, reported seeing a gray, ape-like creature in the area's dense forests. The local newspaper dubbed the creature the "Sabine Thing". A similar beast called the "Caddo Critter" is said to have inhabited the bottoms around scenic Caddo Lake in the 1970's. The Sulphur River along the Texas-Arkansas border has been a source of similar sightings for decades.
As strange as those stories may sound, they are not the only cases of mysterious ape-like animal sightings in Texas, not by a long shot. "Bigfoot" (a.k.a. "Sasquatch") is a term associated with the US Pacific Northwest, but a handful of investigators are searching for the same (or similar) animal right here in the Lone Star State, and the Caddo Lake region seems to be a favorite hunting ground.
Regardless whether you are a serious "Bigfoot hunter" or not, the piney woods of Northeast Texas are a prime destination if you like the outdoors and a brush with nature. From great fishing on the Caddo to exploring the history of Jefferson and surrounding communities, the region is rich in history and culture and is a great getaway destination.
The sping season is a great time to enjoy the reawakening of nature after the winter season, but any time of year is a good time to visit the rich and vast resources of this remarkable part of Texas.
Area Attractions
Nearby attractions include Starr Family State Historic Site in Marshall; and nearby, Karnack is the childhood home of Mrs. Lyndon B. Johnson and the Old City of Jefferson, famous as the commercial center of northeast Texas during the first half of the 19th century.
Boat tours are offered by a number of operators on the lake. Schedules are dependent on the weather. Shady Glade Marina, Motel and Restaurant 903/789-3295; Caddo Lake Steamboat Company 903/665-1665; Jefferson Landing Riverboat 903/665-2222.
Historic Jefferson Tour Headquarters handles the following information for Jefferson and Caddo Lake: tours, tickets and information on many events, including riverboat excursions, horse-drawn tours, home tours, city trolley tours, train rides, horseback riding, general information, souvenirs, gifts, and steamboat tours on Caddo Lake – 222 E. Austin St., Jefferson, Texas 75657; 903/665-1665. Marion County Chamber of Commerce – 903/ 665-2672; Marshall Chamber of Commerce – 903/935-7868; Shreveport-Bossier Convention and Tourist Bureau – 800/551-8682.