Historic Bishop's Palace
No road trip across the upper Texas coast would be complete without a stop at one of the Island's greatest landmarks, the historic Bishop's Palace, ranked among the top 100 homes in the nation for its architectural significance, featuring woodwork of rosewood, satinwood and white mahogany, and various fireplaces from all over the world.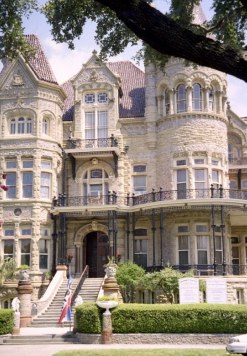 Operated as a museum/historic home by the City of Galveston, the structure was built in 1886-1893, at a cost of $250,000. It was originally home to the family of Walter Gresham, a former Confederate colonel and U.S. Congressman who settled in Galveston after the war and opened his law practice.
Designed by a well-known architect, Nicholas Clayton, it is built from native Texas granite, white limestone and red sandstone, all cut and shaped on the premises. Massive sliding doors are unique in that the wood surface on each side of the door matches the room it faces. The mantle in the front ballroom won first prize at the Philadelphia World's Fair in 1876.
The Catholic Diocese owned the structure from the 1920s to middle 1950s. The Diocese obtained the home for Bishop Christopher Byrne who lived there until his death in 1950. It has been open to the public since.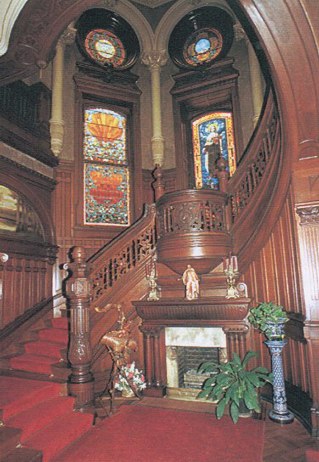 The basement of the spacious home has been remodeled to serve as a meeting place for Galveston's Newman Club.
Income from tours is used to maintain the palace and to support the Newman Center of the University of Texas Medical Branch and Galveston Community College.
One of the most significant architectural designs in the plush interior is a ballroom fireplace mantle that was exhibited at the Philadelphia World's Fair in 1876, winning first prize for its elegant design.
Tours offered every 1/2 hour. Gift shop on premises.
Adults $6; Seniors 65+: $5; Teens: $3; Kids 12 & Under: $1
Hours:
Labor Day to Memorial Day:
Noon – 4pm Daily
Memorial Day to Labor Day:
Mon-Sat: 10am – 4:30pm
Sun: Noon – 4pm
1892 Bishop's Palace
1402 Broadway Avenue J
Galveston, TX 77550