The lesser-known Piney Woods of East Texas have lakes, woods and swamps overlook the landscape. Step back in time in the state park of Mission Tejas, cross the state lines at Texarkana, camp among Daingerfield's gigantic pines or take an excursion on the Texas Forest Trail of an 835-mile long. It's difficult to beat a kayak in Caddo Lake State Park if you want to go out in the water.
Pine Curtain Camping
The Piney Woods camping region in East Texas contains thousands of acres of pine and pine-hardwood forests. Visitors find a large variety of tress such as loblolly, shortleaf and some pockets of longleaf pine, as well as magnolia, elm, oak, ash, cypress. Located in East Texas, this area has four national forests and five state forests. Outdoor enthusiasts enjoy many state parks and bodies of water that offer fun for the whole family.
The grandeur of towering trees and eye-popping landscapes can be seen year-round, but this area is dominated by breathtaking colors during the fall when the sassafras, persimmon, maples, sweetgums, dogwoods, elms and oaks can generally be counted on to offer up hues of golden brown, yellow, orange, red and even reddish-purple.
Arts & Culture
The Texas Piney Woods camping experience is enlivened by the area's commitment to culture. Whether your focus is viewing historic architecture, visiting arts centers, or shopping for crafts or antiques, you'll find interesting destinations in the Piney Woods. The Piney Woods calendar is filled, throughout the year, with a variety of local festivals and other events celebrating the region's traditions and culture.
History & Heritage
Texas Piney Woods history extends back to the great Caddoan Indian civilization. The region was the first part of Texas to be settled by Spaniards and, later, by American pioneers. This long heritage has resulted in a wealth of historical landmarks. Museums & exhibits invite visitors to discover the Piney Woods past, as do the region's many historic homes, churches, schools, and cemeteries.
Bethy Creek Resort at Lake Livingston, Texas
Bethy Creek in the Piney Woods Camping Region of Texas now offers ERC (Endless Ride Cable), a 2 tower cable system for wakeboarding; also offering boating, fully equipped waterfront lodging, pontoon boats, pedal boats and canoe rentals.
This great outdoor recreation facility on Lake Livingston, TX is sure to make your Texas vacation an enjoyable family adventure.
While enjoying a few days, a week or a month you can explore the north end of Lake Livingston. Fish from one of their rental pontoon boats or from their fishing pier, catch bass, crappie, and catfish. And new for this year they are renting WAKEBOARD BOATS fully equipped with all of your life jackets, plus wakeboards, and all the gear you will need for a fun day on the lake.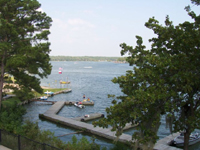 Bethy Creek has 30 and 50 amp RV sites with all utilities, picnic tables, grills, Wi-Fi, and plenty of trees to keep you shaded on those warm summer Texas days. Their RV sites are a great way to experience the big bright Texas stars at night.
Overlooking and only a stones throw from Lake Livingston are the spacious fully equipped waterfront lodging facilities. Your Lake Livingston waterfront lodging home away from home has air conditioning, heating, two queen beds, full kitchen, full bath, color cable TV, Wi-Fi, and they provide all linens, towels, cookware and utensils. The waterfront lodging is a great way to spend time on Lake Livingston in comfort at an affordable price for you and the whole family.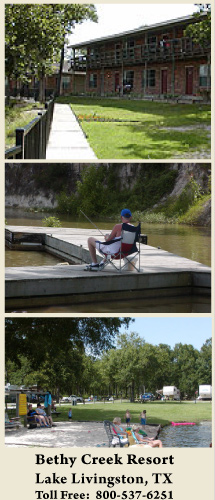 The facilities and attractions for your waterfront enjoyment at Bethy Creek include fully equipped wakeboard boats, pontoon boats, pedal boats and canoe rentals. With full amenities including boat slips, fishing pier and a nice sandy swimming beach on Lake Livingston. Bethy has a 1500 square foot pavilion for family reunions and groups to get together.
They also offer secured monthly boat storage for customers wishing to leave their boat at Lake Livingston. Daily, weekly or monthly rates are available for waterfront lodging and RV customers. Reservations are honored at Bethy Creek Resort.
Reviews:
I found this campground while I was searching the Internet looking for a nice place to camp in Texas, and I RV camped here in July 2010.
This is a nice quiet clean campground. It has tent and RV camping as well as cabins and kitchenettes to rent. There are paddle boats, canoes, and boats to rent. You can ride your bicycles and fish all around the park. There are picnic tables and swings out by the lake to watch your kids swim. There is a swimming area with a floating deck to sun on. There is a nice store with all the bait and tackle you would need plus things for you when you get hungry. It was everything advertised on the Internet plus more peace and quiet.
Bethy Creek Resort
PO Box 137 – Riverside, Texas 77367
(936) 594-2511
Canton I20 RV Park
Relax at the friendliest RV Park on Interstate I-20, with spacious country camping and all the comforts of home. Bring your kids, pets and even your horses. Now under new ownership and management, Canton I-20 RV Park is located about an hour east of Dallas, Texas, and just minutes from the "World Famous" Canton First Monday Trade Days, held on the Thursday, Friday, Saturday and Sunday prior to the first Monday of each month.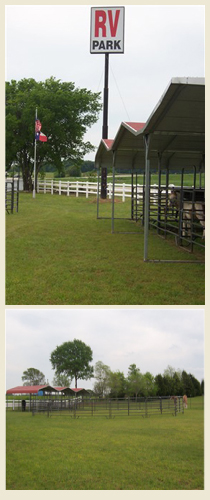 Canton I-20 RV Park has a 900 sq. ft recreation hall, with full kitchen facilities, banquet tables, phone, WiFi for your computer, Satellite TV, air conditioned and heated, with a covered patio overlooking the park. The Park also has a pond with a peaceful gazebo and fountains, all with a rustic western decor.
This Campground is great for parties, meetings, weddings, rehearsals, dinners, events, and scrapbooking get-togethers. If you have a need Canton I20 RV Park can fill it!
Canton I20 RV Park
24481 I-20, Exit 519
Wills Point, TX 75161
903-873-8561
Testimonials and Reviews
We stayed here in January and the park is better than ever. We had a little trouble with the electric but we were using an electric heater and when it was off all was well. The campground owner allowed us to move when our site was flooded and they put us on higher ground. Real nice owners and the work campers here are real helpful. We stayed here for the month. We will stay here again when we are in the area. We camped here in a Fifth Wheel.
This park had improved greatly under the new owners. The campground is spotless, well landscaped and looks new. All sites are 50 amps. Of the 42 sites, 25 are 70 ft pull thru. The sites are level and covered with fine ground gravel requiring little in the way set-up. The rally room is open 24/7 with a big screen tv, recliners, card tables and a full kitchen for the campers to use. The coin laundry is also open 24/7. We called ahead for reservation and they didn't even ask for all the usual info and credit card deposit, etc.. Sign-in was just a quick 3 line form and then we were personally escorted to our site. The owner even stuck around to help us get unhooked, plugged in, and answered all our questions about the local area. I-20 Rv Park is just outside the city and a quick 10 minutes to the First Mondays grounds. Although there are some Monthly campers there, they are all high quality belonging to mostly traveling Nurses and professional people. We will stay here there again! We camped here in a Fifth Wheel.
Canton I-20 RV Park is top notch!! The service is also top notch!!!…
Amenities for Canton I-20 RV Park
The rally room has…
A full kitchen, satellite TV, banquet tables, climate control and a patio porch that overlooks the park
The Campground features…
Large gravel sites
20, 30, and 50 amp electrical hookups
Pond with a Gazebo and fountains
Restrooms, showers and laundry
Wi-Fi Internet Available
Phone access
Tent sites
Six 10×12 covered horse stalls
Trees and a pond for outdoor recreation
Horseshoe and washer pitching
Community barbecue / fire pit
Repairs to your RV available
Emerald Glen RV Park
Emerald Glen RV Park
17506 Farm to Market Road 1797
Tatum, TX 75691-3499
(903) 836-4700
Welcome to Emerald Glen RV Park. The newest and best RV Park of East Texas. We offer the convenience you require and the peaceful relaxing atmosphere you deserve. Located between Lake Cherokee and Martin Lake, we are just minutes from Longview, Henderson, Tatum, and Carthage. Relax in the swimming pool or take advantage of the free Wi-Fi Internet. We provide a full service convenience store, laundry mat, and can fill your propane bottles. Come and see for yourself!
Do you have a work project in East Texas? Maybe you are a contractor making plans to work one of the shut-ins at the Luminant Power Plant at Martin Lake, the Pirkey Power Plant near Hallsville or the Eastman Plant in Longview. No matter what the reason, were here to help you and make your stay as pleasant as possible.
Lake Country RV Park
Enjoy peace and quiet at Lake Country RV Park in the heart of East Texas Lake Country on the border of the Prairie & Lake and Piney Woods camping in Texas region. This campground RV Park is in close proximity to Super Wal-Mart (five miles), only a mile to a public park boat ramp with pier. Lake Bob Sandlin State Park and Daingerfield State Park are close by. Golf courses, restaurants, hiking, swimming and fishing are some of the many local attractions and activities RV'ers and campers can enjoy.
Lake Country RV Park
11 PR 2352
Mt. Pleasant, TX 75455
Local phone: 903-572-6300
Testimonials and Reviews
Lake Country RV Park is a glorious local campground, so many entertaining things in the neighborhood of Lake Country RV Park, and it is a fun place for everybody.
This campground has it all. Lake Country RV Park is a top pick campground with the folks of Mount Pleasant.
North Shore RV Resort
This RV Resort has first class accommodations! The swimming pool and new splash park are great for cooling off during hot Texas afternoons. Come make yourself at home at one of our full hookup lakefront RV sites with all the comforts of home FREE WI-FI Internet and Cable TV, 30/50 amp service, water and sewer. Our gorgeous cedar cabins feature a pillow top queen sized mattress with high thread count sateen linens. Your whole family will enjoy their stay in a cabin which includes a full kitchen, full bathroom, bunk bed and a full sized sleeper sofa.
Northshore RV Resort
13111 Highway 190 / 168 Butler
Onalaska, Texas 77360
Toll Free: (877) 766-7847
Livingston, a mere 10 miles away, is home to Trade Days where you can find hundreds of vendors selling arts and crafts and antiques. Don't leave without visiting the nearby Alabama-Coushatta Indian Reservation. For golfers, there are several courses to consider. Mill Ridge and Cape Royale are local golf courses. Just an hour away you can play at Tour 18
Lake Livingston is home to white bass, black bass, catfish, crappie, and stripers. For those who want to try your hand at catching some of these delicacies, launch your boat from our concrete boat ramp. If fishing isn't your cup of tea, Onalaska and the surrounding towns feature several antique shops and specialty shops.
Amenities for North Shore RV Resort
All RV Sites have Full Hookups
75' Pull Thru Sites
30/50 amp service
Water
Sewer
Concrete Roads and Pads
Free Cable TV
Free Wireless Internet (Wi-Fi)
Guest Facilities
Lakefront Sites
Laundromat
Showers / Restrooms
Boat Launch
Lake Swimming Area
Hot Tub
Sand Volleyball
Propane
Swimming Pool
Private Sandy Beach
Splash Park
Playground
Meeting Room with Full Kitchen
Fitness Room
Fenced Doggie Play Area
Piney Woods Texas Region Attractions
Texas State Railroad
This historic train travels through the scenic piney woods and hardwood creek bottoms of East Texas where rolling hills, nature and wildlife abound. The Texas State Railroad offers both steam and diesel train excursions reminiscent of days gone by.
Lake Livingston Texas
Located just 80 miles north of Houston and 175 miles south east of Dallas, Lake Livingston is a great place for a weekend trip or year round vacation home.
Texas Pineywoods Experience
The Texas Pineywoods Experience is enlivened by the region's strong–and growing–commitment to culture. Whether your focus is viewing historic buildings or architecture