One of the biggest regions of the state is the plains of Texas Panhandle. The 2nd largest canyon of America in Palo Duro Canyon State Park as well as an iconic car sculpture from Cadillac Ranch along road worthy of travel route 66 are located here.
Panhandle Texas Camping
The Panhandle Plains are the northernmost region of Texas, and recreation activities in this region include boating, fishing, waterskiing, hiking, and camping. Picnics, wildlife viewing, and visiting historic sites are also popular activities.
This region consists primarily of flat, grassy land or plains. These plains are part of the same flat grassland that extends from the Central United States' Great Plains. This land is also known as the Llano Estacado, or "Staked Plains." The land is mostly devoid of trees and is situated on a high, flat plateau. The eastern Panhandle is not as flat as the western Panhandle. It has a lower elevation and is known as a rolling plain. The eastern half has more rainfall and is more brushy. Deep canyons carved by rivers and their tributaries that wind their way through the Panhandle region divide the western and eastern parts of the region.
This area includes the Palo Duro Canyon and Caprock Canyons State Parks. Rivers carved the magnificent canyons. Because the land is relatively flat until you reach the long steep canyons, they are sometimes referred to as "inverted mountains."
The Panhandle ranges from gently rolling hills to rugged terrain riddled with canyons. This region is located at the southernmost tip of the Great Plains. Soils range from fine sands along streams to clays and shale. The soil pH ranges from neutral to slightly alkaline. Caliche (kah-lee-chee), soil containing chunks of calcium carbonate, is typically found two to five feet beneath the surface soils.
Sweetwater RV Park
Guests staying at the Sweetwater RV Park in the Panhandle Plains camping region can enjoy sites with full hookups and a range of amenities. Hookups include 50-amp electric, water, sewer and optional cable TV. The park is pet-friendly. Many sites are tree-shaded. Guests may use the showers, bathrooms, and picnic/barbecue facilities.
Sweetwater RV Park
70 South 210 West Florida
Sweetwater, TX 79556
(325) 235-1923
Lake Colorado City State Park is within a 30-minute drive of the Sweetwater RV Park. Day use facilities at the park include picnic tables with grills and water. There is a Group Picnic Pavilion with a capacity of 40 people and a Group Recreation Hall with a kitchen and a capacity of 75 people. Activities include picnicking, camping, fishing, and lake swimming (unsupervised). Containing more than five miles of shoreline, the 500 acres of park land afford numerous outdoor activities for lake swimmers, fisherman, skiers, jet-skiers, campers, hikers, and naturalists. Park visitors of all ages enjoy seeing part of the Texas Longhorn herd.
Are you looking for a comfortable, affordable place to settle down while enjoying West Texas? Sweetwater RV Park offers full hookups, free Wi-Fi internet access, clean restrooms, self-serve laundry facilities, a pull through entrance and GREAT customer service. Whether you are just passing through or here for the long haul, we believe that our rates and services will keep you smiling!
Red Deer Villa RV Ranch
Nestled conveniently in the beautiful Panhandle of Texas, with easy access to and from major highways you will find Red Deer Villa RV Ranch is the perfect place to relax and unwind from a hard days journey or a full day of sight seeing.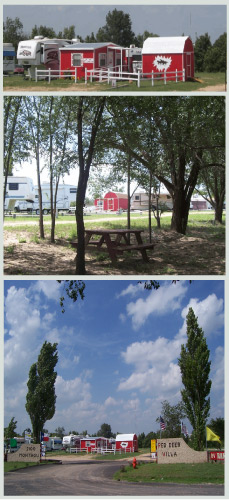 Red Deer Villa RV Ranch has a country atmosphere yet has all the conveniences of the city, only minutes from shopping, restaurants, public golf course, lakes and the Black Kettle and McClellan Creek national grasslands.
Red Deer Villa RV Ranch
2100 Montagu Ave.
Pampa Texas 79065
806-669-1122
Amenities for Red Deer Villa RV Ranch
Full hookups with city utilities
50 amp service
large sites
patios and sidewalks
Wi-Fi
Cable
Extra Parking
BBQ and picnic grove
Rolling Plains RV Park
Rolling Plains RV Park is about 10 minutes west of Sweetwater Texas. Sweetwater  is known as "the Wind Energy Capital" thanks to its role as home to over 500 giant wind turbines which can be seen from TX 70.
Rolling Plains RV Park
9909 Interstate 20 Frontage Road
Sweetwater, TX 79556
(325) 235-8114
Sweetwater  Texas Information
Listed in the National Register of Historic Places, this downtown boasts many long-standing buildings. Sweetwater became the training ground for the Women's Airforce Service Pilots (WASPS) in World War II. Today the community, located west of Abilene, is home to Texas State Technical College. The town is also known as "the Wind Energy Capital" thanks to its role as home to over 500 giant wind turbines which can be seen from TX 70.
Local Attractions
Pioneer City-County Museum. Local history exhibits on early pioneers and Native Americans are found at this museum. Located at 610 East Third St. Admission is free.
WASP Monument and Walk of Honor. This monument is dedicated to the Women's Airforce Service Pilots and honors the brave women who flew 60 million miles during World War II, ferrying aircraft for the military. You can read the names of the more than 1,000 women on the monument located at their former training ground, now Texas State Technical College. Located at 300 College Drive.
Festivals & Special Events
March: Rattlesnake Roundup. This controversial event, called the World's Largest Rattlesnake Roundup, is held at the Nolan County Coliseum and includes rattesnake displays, performances with live rattesnakes, and, of course, rattlesnake to eat. Always held the second weekend in March.