From the area of DFW to Waco, Bryan and College Station,  the region crosses the state center. The area has 17 Texas state parks and a National Wildlife Areas and does not have to drive far to find a campground on the lakeside or on-the-water activities.
Prairies and Lakes Camping
The Prairie & Lake region is a beautiful Texas camping destination with patches of woodland running in a north and south direction, sprinkled throughout with grassland prairie. The land is gently rolling to hilly. This region is sometimes called "cross timbers" named by early settlers who found belts of post oak, cedar elm, hackberries and hickories crossing strips of prairie grassland.
The soil is rich, fertile, and black giving the name Blackland Prairie. Located in north central Texas, this region hosts major reservoirs and remnants of the tall grass prairie and wildflowers that greeted early inhabitants. Here you will find the rich soil of the Blackland Prairie and the oak "cross timbers" noted by early European explorers.
My horse could scarcely make his way through the wilderness of flowers, and I for a time remained lost in admiration of this scene of extraordinary beauty. The prairie in the distance looked as if clothed in rainbows that waved to and fro over its surface," – Author Charles Sealsfield in the Texas Blackland Prairie, 1843.
Numerous reservoirs in the region provide water for metropolitan areas while also providing unparalleled boating and fishing opportunities. The region is known as oak savannah, because patches of oak woodland are interspersed with grassland, and introduced grasses like Bermuda grass are grazed alongside forage crops and native grasslands. The region's terrain ranges from gently rolling to hilly. The elevation varies between 300 and 800 feet above sea level.
Prairie & Lake Camping
The Prairie Lakes Oak Woods and Texas Prairies region is a premier camping destination for vacationing in Texas. The Camping in Texas directory recommends the following RV parks and campgrounds while vacationing in the Prairie and Lake Texas Region:
Blue Bonnet RV Parks
Blue Bonnet RV Parks is a full service RV facility located in the Prairie and Lake camping region on the north side of Rockdale, Texas. Blue Bonnet RV Parks offers sites with electric hookup (30 and 50 amp). Amenities include a bath house, laundry, restrooms, showers and broadband cable. The monthly rate is $315, as of December 2009. Daily and weekly rates also are available.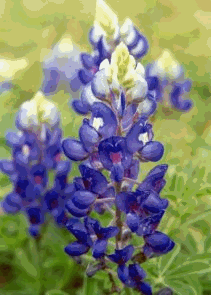 We are located in a quiet area with storage facilities available on adjoining property. Reservations are preferred but not required. We're located on Ackerman Road, 0.8 Miles North of US 79 in Rockdale Texas.
From HWY 79 in Rockdale, turn north on Ackerman Road for almost 1 mile. We are located on the right (east) side of Ackerman Road.
Blue Bonnet RV Parks
328 N FM 487, Ackerman Street
Rockdale, TX 76567
512-446-6116
Testimonials and reviews:
The hosts were friendly. The site was level and adequate for a 40 ft motor home with 14ft trailer&6 ft tongue. The water was good. We stopped for 1 night and stayed 3 because it was comfortable enough to get some rest. We would stay here again anytime we are passing through. We camped here in a Motorhome.
Amenities for Blue Bonnet RV Parks
30 and 50 Amps
Bath House
Laundry
Washer/Dryers
Dish Network
Restrooms, Toilets, with Showers and Sinks
BBQ Grills
Picnic Table and Chairs
Internet-Broadband
E.S.W.
Cactus Rose RV Park
West of Fort Worth on Interstate 20 a place to enjoy and relax nearby to many unique Texas attractions: Thurber Ghost Town, Thurber Historical Association, Palo Pinto Lake, Tac-Pro Shooting Range, Ancient Art Soap Company, Dreamer Candles, Ranger College, Ranger Oil Boom Museum, W.K. Gordon Museum , Thurber Historical Village.
Campground Details for Cactus Rose RV Park
Our Park is a place to relax and enjoy the best times of your life, cultivate new friends, and pursue new interests with the eager assistance of our on site staff. Whether it's excitement or relaxation that you are seeking, we welcome you home!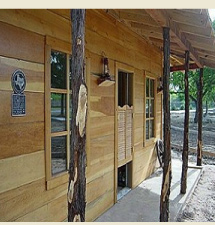 Cactus Rose RV is a place to enjoy and relax. You can make new memories and have the best time of your life. Our helpful staff will assist you in cultivating new friendships and developing new interests. Our Calendar of Events gives you many opportunities to Mix and Mingle or just have some quiet relaxing time together.
Cactus Rose RV Park
115 W. Interstate 20
Mingus, TX 76463
Phone: (254) 693-5976
Testimonials and reviews:

A great place. Owners are very helpful & accommodating. Had cable when we were there a month ago.
Cactus Rose RV Park features:
13 Full Hookup Sites (20/30/50/Amp)
Most sites are Pull-Thru
Clean Restrooms/Showers (Handicapped Accessible)
Brand New Laundry Facility (Coin-Op)
Western Designed Group Room
Large Shaded Patio Areas
Lagoon Style Pool w/walk-in beach
Barbeque Pits & Picnic Tables
Sheriff's Office
Music Everywhere (1610 AM)
Gift Shop/Texas Souvenirs
RV Supplies
5 Tent Sites
Wi-Fi
On Site Management
Choctaw Casino & Resort
Not in Texas but right on the border this fabulous resort offers everything an RV camper could dream of.
Campground Details for Choctaw Casino and RV Resort
Choctaw Casino Resort – in keeping with our mission statement to provide an exciting leisure experience for our gaming patrons – is proud to announce the addition of a premier KOA RV Park to better serve our customers.

Kampgrounds of America has been providing quality family camping to travelers from around the world for over 40 years. Campers know that when they see the KOA flag they can count on getting the one-of-a-kind camping experience that only KOA offers.
Choctaw RV Park
3650 Enterprise Drive
Durant, OK 74701
(800) 788-2464
Testimonials and reviews:
The positive environment and the satisfactorily looked after facilities makes the spree here worthwhile. As long as you go for the outdoors you will go for Oklahoma.
We should all go camping every now and then, and Choctaw KOA Kampground in Oklahoma is such a delightful location. Mary Mahoney Reservoir is a fine lake close to Choctaw KOA Kampground, and playing golf is lots of fun at Choctaw Creek Golf Club.
This campground is so tremendous. Some nearby water includes West Branch Hog Creek. Despite the fact that there's little to do close to Choctaw KOA Kampground when you're here you're always having a delightful time. If you're dropping by Choctaw KOA Kampground from Choctaw, you won't be the only one, and as expected, all our national parks are brilliant sites to stop at and Chickasaw National Recreation Area is no exception.
For the duration of the months of summer at Choctaw KOA Kampground temperatures are usually in the 90's. Summer night lows fall down to the 70's. Daytime highs during the wintertime are in the 40's while the cold winter nights at Choctaw KOA Kampground are in the 20's. Choctaw KOA Kampground is a campground that is exceptionally esteemed by folks from Choctaw.
The yearly rain here at Choctaw KOA Kampground is about average; May is the month that gets the most rain, and January is when it's the driest.
Choctaw RV Resort Features:
Our new facility features 75, 12' X 80' concrete pull-thru pads, full RV hook-ups with 50 amp electrical service. To assure peace of mind, there are hourly security patrols of the park.
Patio
Picnic Table
Grill
Premium hookups include free WiFi and Cable TV
The main building facility (10,000 square feet) offers all of the comforts and convenience that makes modern RVing a truly enjoyable experience.
Meeting Room with 100-plus seating capacity
Fully Appointed Kitchen
Fireplace
Plasma TV
Spacious Laundry Room
Restrooms and Showers
Game Room with Pool Table, Air Hockey and Shuffleboard
Vending Room with assorted electronic video games
Business Center equipped with computer workstations and internet access
Outdoor Pool – heated salt-water
Covered Patio
Playground
Fire Pit
Kamp K-9 Dog Park
Coffee Creek RV Resorts & Cabins
Read the dozens of reviews of how people rave about this campground, located in the Fort Worth Dallas area.
Lake Ridge RV Park
Loaded with amenities, close to local attractions, this RV park gets great reviews.
Mill Creek Ranch Resort
Mill Creek Ranch Resort was awarded Texas Park of the Year offering RV and deluxe cabin camping facilities, a perfect place for banquets, weddings, located in the eastern prairie and Lake Region on the edge of the piney woods camping area.
Rustic Creek Ranch
Rustic Creek Ranch located in the heart of the Texas Prairie and Lake Camping Region near Fort Worth is loaded with amenities and features that will make this a favorite RV park and camping destination.
Texan RV Ranch House
This RV park has a Brand New Pool and sites ready for big rig guests! The sites come complete with 50amp service, Wi-Fi, sewer hookups, grassy areas and all sites include picnic tables.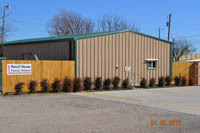 The Texan RV Ranch is only 15 miles to Cowboy Stadium.
Located in Mansfield, Texas, one of the fastest growing areas in the Dallas/Ft. Worth Metroplex region, Texan RV Ranch offers campers sites ready for our big-rig guests. Adjacent to a Texas greenbelt but convenient to restaurants, entertainment, and city life, our sites come complete with 50 amp service, Wi-Fi, sewer hookups, grassy areas, and picnic tables.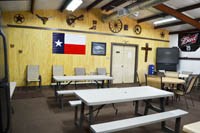 This RV park has a Beautiful Pool and sites ready for big rig guests! The sites come complete with 50amp service, Wi-Fi, sewer hookups, grassy areas and all sites include picnic tables.
Our newest clubhouse The Texan RV Ranch House is a comfortable and inviting place where our guests gather and relax outside their RVs. Accommodates small and large parties.
Texan RV Ranch
1961 Lone Star Road
Mansfield TX – 76063
Toll Free: (866) 348-3978
Testimonials and reviews:
I have stayed at many campgrounds big and small, Texan RV Ranch has the best service and security I have seen. I enjoyed my stay and if and when I get out this way I will be back to stay here again. Thanks for for all the hard work you have done to make my stay enjoyable and worry free. Bill Fitzpatrick Hudson NH.
We have stayed at the Texan RV Ranch several times and everytime we come we are greeted in a very courteous and professional manner. Everyone is very helpful. We always plan on staying at the Texan when in this area. Thank you for doing a wonderful job!
I love the Texan RV Ranch so much I might retire here. The shower and laundry building is kept clean, along with the wonderful swimming pool area. The folks who work here go out of their way to make sure your stay is an enjoyable one. They have a nice sized dog run where you can turn your dogs loose to get some exercise. They provide the doggie bags and disposal. Many thanks to Rick, Sheila, Mary, Tom and Becca for such an enjoyable stay. What a professional friendly group of folks.
Texan RV Ranch is the only RV Park in the city of Mansfield. With a country setting in the southern part of the metroplex, we are only 30 minutes away from Downtown Dallas and Ft. Worth which feature numerous fun activities, such as the following:
Cowboy Stadium
Big League Dreams Ballpark
Hawaiian Falls Waterpark
Six Flags Over Texas
Hurricane Harbor
Texas Rangers
Mansfield National Golf Course
Joe Pool Lake
Gaylord Texan Resort
Vineyards Campground and Cabins on Lake Grapevine
The Vineyards Campground and Cabins on Lake Grapevine, conveniently  located between Dallas and Fort Worth is a favorite destination when visiting this area, receiving great reviews and offering lots of first class amenities.
Campground Details for Vineyards Campground and Cabins
The Vineyards Campground, nestled between Dallas and Fort Worth, sits on the southeastern shores of Grapevine Lake. It's near the Gaylord Texan Resort & Convention Center, Historical Downtown Grapevine, the Grapevine Mills Mall, and several other great attractions. The center of the Metroplex is an excellent place to explore nature and biking trails, shop, golf, and visit many entertainment venues as well!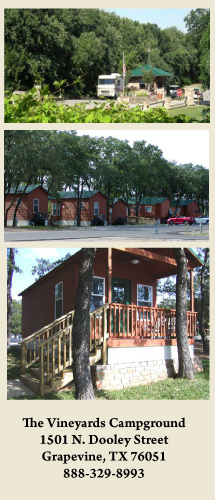 The City of Grapevine manages The Vineyards Campground and Cabins, and they certainly will show you what Texas Hospitality is all about! Read some of our latest Guest Reviews, and then come visit The Vineyards Campground and enjoy the beauty of the Lone Star State!
The Vineyards Campground
1501 N. Dooley Street
Grapevine, TX 76051
888-329-8993
Testimonials and reviews:
"The Vineyards Campground is not only the best RV site in Texas, but the best in the three-state area we have traveled, Missouri, Arkansas, and Texas. My husband and I decided this is such a beautifully maintained park with so many trees, such spacious sites, and close proximity to the lake, beach and marina, and fireworks that we are simply going to come here from now on and forge the long expensive drives to less worthy sites. Why bother traveling when we've got this fabulous park just 10 minutes away! What a gem!"
Bess Amaral, Carrolton, TX
"All of The Vineyards staff were extremely helpful and friendly–especially Walt was very welcoming at the front desk, and Rosie, his wife, made it so easy to change my reservations. We brought lots of bicycles and rode all over the beautiful campgrounds, and then we skied on the lake in the afternoons, and took our grandson walking on the Nature trail." – Linda and Terry Weir, Hurst, TX
"I would like to extend my thanks and appreciation to all of The Vineyards Campground staff. All are beyond gracious, and instantly make a traveler feel at home. Without this fine staff, this campground would not be what it is. You and they also maintain the property beautifully, making it an oasis among a bustling city with many wonderful things to see and do. Thank you for such a great place. This is certainly a campground that warrants praise and the compliment that it is a great place to stay for a short while or even return to regularly." – Connie F., Topeka KS and Grapevine, TX
"The staff at this campground are among the best we have encountered in all our travels!" – James and Carole T. Lakeville, MN
"This is one of the finest campground we've been to. I loved it and plan on coming back very soon."  Sandi B. Livingston, LA
"Me and my family loved this place! We travel a lot and this will be a regular stop for us with friends!" – Wayne B. Livingston, LA
"It was great! We love staying here." – Vincent G. Summerfield, TX
"Nice atmosphere. Secluded sites." – Gary and Karen S. Odessa, TX
"Very nice, will return." – Rudy R. Watauga, TX