Longview Balloon Races
They are masterful and elegant works of technical art floating silently across clear blue skies, catching the favor and attention of old and young alike, a virtual kaleidoscope of graceful colors aloft. And, once again, they're off and running!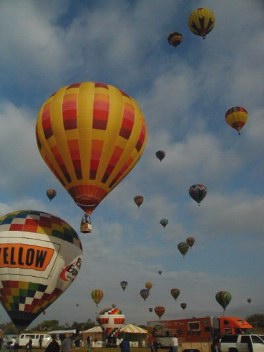 No, not the horses — hot air balloons! It's the Great Texas Balloon Race, and it is the starting point for pilots and teams to begin the yearlong balloon racing circuit in search of National, World and North American Hot Air Balloon Championship titles.
The Great Texas Balloon Race gets underway June 17th-19th in Longview, a North American Balloon Association event that sports nearly 100 sport and special-shaped hot air balloons that fill the weekend sky with pure visual delight. Perhaps no other racing event in the world is as fun to watch for the spectator as it is for the pilots and crews that commandeer these lighter-than-air ships.
In this leg of the competition pilots and crews will be competing for the Texas State Championship, and a chance at even bigger titles as the circuit unfolds.
While the event has grown in popularity since its inception, you might be wondering how it all got started. In 1978 an agreement was reached between local dentist Dr. Bill Bussey, a world-record hot air balloon pilot, and Frankie Riggins and Mary LeTourneau, Longview Mall managers. To advertise the new mall's grand opening, Bussey agreed to drape a Longview Mall banner on his hot air balloon and fly over the city, giving birth to the annual event.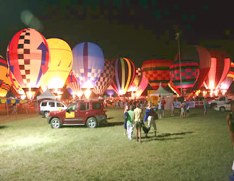 If you have never attended a hot air balloon event you're in for a real treat. There is something awe-inspiring about seeing multiple balloons launch on a cool crisp morning, hearing the oohs and aahs as each air ship lifts into the predawn sky. Like opening presents on Christmas morning, it brings a smile to your face.
In addition to opening morning ascension, spectators will appreciate the annual balloon glow event as well, scheduled on both Friday and Saturday evenings. With the big, star-filled Texas sky as a backdrop, the landscape comes alive as dozens of glowing balloons tethered to the ground fire up their furnaces in unison, creating an eerie sight like none other. This special "balloon glow," now a common event at balloon festivals around the world, got its start in Longview when participants in the first Longview race came up with the idea as a way to encourage public participation. Not only could you view this remarkable sight, but you could converse with the pilots and crews of each balloon and even help out in securing the tethers, making the event interactive for spectators.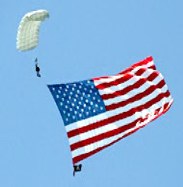 Through the years the popularity of this race has grown for pilots, crews and spectators. What started as a small affair on a mall parking lot has grown so large that the event is housed permanently at the East Texas Regional Airport.
Spectators still get the chance to see much more than just the balloon ascension each morning. The Festival also includes balloon races in the morning, balloon glows in the evening, open air concerts, special exhibits and performances, children's activities, and lots of vendors of all sorts and sizes.
Four special events and exhibits planned for the race include several American Flag parachute drops by the Green Beret Parachute Team from Fort Bragg, North Carolina.
For vintage plane lovers there will be a precision formation flight show put on by the T-6s' of the of the Phoenix Aviation Museum. Spectators will get a chance to tour them on the ground and buy a raffle ticket for a ride on one of these "Screaming Eagles." There will also be a special A 10 Thunderbolt ll on display and a B 52 fly over, so bring a good set of earplugs!
Kids will have plenty to do as well with "Kids Land," an area set aside for bounce rides, climbing walls, pony rides and more, to keep the kids entertained throughout the day and evening between balloon events.
Music Venues begin as early as late afternoon with multiple music acts performing Friday and Saturday. The evening concerts start just after the glow events making it an action packed day for spectators and participants.
The event is cost friendly as well with an advanced purchase ticket price of $15.00 for the whole weekend and just $5 for the kids to enjoy Kid Land for two days. Individual day tickets are $10 per day for Friday/Saturday and $2 for Sunday.
This is one event you will want to bring your camera along and make sure you have extra batteries! Bring along your jacket as the mornings are cool, and bring along the short-sleeves as afternoons can be typically Texas hot.