Dr. Pepper Museum – Dublin Texas
Before we tell you where and when, we're going to tell you about a Texas pharmacist that decided Texas was big enough to give birth to a brand new fountain drink, one that would endure the test of time. Here's how it all started…
In 1885, Waco, was a wild frontier town, nicknamed "Six-Shooter Junction." Wade Morrison's Old Corner Drug Store was a prominent business and popular meeting place in downtown Waco. People came in for everything from flea powder to stationery, from cigars to fountain drinks.
One of Morrison's employees, pharmacist Charles Alderton, noticed how customers loved the smell of the soda fountain with its many fruit, spice and berry aromas. He wanted to invent a drink that tasted the wonderful way the soda fountain smelled. After much experimentation he finally felt he had hit on "something different." Patrons at the drug store agreed.

Soon other soda fountains were buying the syrup from Morrison and serving it. People loved the new unnamed drink and would order it by simply calling out "shoot me a Waco!" But Morrison named it Dr. Pepper, after the father of a girl he had loved back in his home state of Virginia.
In 1891 Morrison and new partner Robert Lazenby organized the Artesian Manufacturing and Bottling Company in order to bottle and sell Dr. Pepper as well as other soft drinks. That same year, while visiting Waco, a Texas businessman by the name of Sam Houston Prim tasted the new fountain drink and knew he wanted to sell it in his bottling plant in Dublin, Texas, 80 miles to the west.
Under the direction of Mr. Lazenby, Dr Pepper enjoyed steady growth in sales and began to spread in popularity across the country. But it wasn't until 1904 that Dr Pepper gained real national exposure. Along with other soon to be favorites like ice cream cones and hamburgers, Dr Pepper was introduced to the rest of the U. S. and the entire world at the 1904 World's Fair in St. Louis.
Since then Dr Pepper's popularity has grown consistently over the years to become one of the top 3 soft drinks in the United States and the No. 1 non-cola. And over that time Dr Pepper Corporate Headquarters have remained here in Texas. That's why Dr Pepper can truly claim the title of "Texas Original."
WHERE and WHEN
Now we're going to give you the details! Are you ready?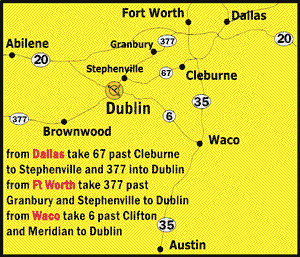 Though Dublin may not be known as "The Big Easy" (or "The Little Easy" for that matter), Mardi Gras will be coming to Dublin Dr Pepper on the second Saturday in June (shall we call it "Fat Saturday"?) as Dublin Dr Pepper – the oldest bottling plant in the world – celebrates its 114th birthday.
This annual Dublin Dr Pepper Birthday Celebration draws thousands of visitors each year to the tiny city of Dublin, Texas. Their 2005 edition, dubbed "Mardi Gras in June!", will emulate the Crescent City and the joy of Carnival through rythm and blues music, entertainment and several special events that will be announced soon. There will also be several surprise events that will not be announced in advance.
The day's events kick off with the annual 10-2-4k run early Saturday morning. The 10k run, hosted by RunTex, has featured Texas Governor Rick Perry for the past three years. A shorter 4k run will also be chip timed and there is a 2k fun run for the kids.
The rest of the day will be filled with festivities found only on Bourbon Street, but this time Dublin Dr Pepper style! Beeds, doubloons and cajun food. Ooooh-weee! Emmerse yourself in the festive atmosphere with an old fashioned carnival, lots of "Nawlins" inspired music and entertainment.
On Monday, June 6, the city limit signs of Dublin will be changed to read DR PEPPER, TEXAS by proclamation of the Dublin City Council. The birthday observance will continue throughout the week with most activities occurring on Saturday, June 11 at the Dublin Dr Pepper plant which draws nearly 70,000 visitors annually, located one block south of the intersection of Highway 377/67 and Highway 6 in downtown Dublin.
Visitors may enjoy free tours of the bottling plant and museum, as well as free Dublin Dr Pepper, and foods made with Dublin Dr Pepper as a key ingredient, throughout the day. A full day of entertainment on the Dublin Dr Pepper stage is also free.
The annual event is staged by the Dublin Dr Pepper plant as a thank you to the community and area, which help ensure the bottler's position in the top 10 of the Dr Pepper national per capita sales list each year. So, start gobbling up those King Cakes well in advance!
Dublin Bottling Works Co
221 S Patrick St
Dublin, TX 76446