This Labor Day Weekend, discover the mystery of West Texas! Explore the surreal landscape by air floating above the carpet at the whims of the wind, and spend your evening watching for the mysterious lights that made Marfa famous. Isn't it time you lived a little on the edge?
There are always a couple of good reasons to travel to deep West Texas, but perhaps none better than the end-of-summer, dual-city festivals known as the Big Bend Balloon Bash and the Marfa Lights Festival, staged annually in Alpine and Marfa respectively. It's a time for big skies and wide open spaces, mystery, history, and lots of frivolous fun.
Marfa Lights Festival
It all gets started this year on Friday, Sept. 1 on the Marfa Courthouse grounds, and Saturday, Sept. 2, at Casparis-Alpine Airport, the kick-off to a fun-filled weekend involving live music, fabulous food, a lighter-than-air hot air balloon ballet, arts & crafts and the lure of that ever mysterious glow in the West Texas night sky known as the Marfa Lights, often visible to visitors along a long stretch of West Texas Highway (U.S.) 57/90 just nine miles east of Marfa.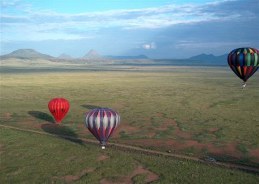 If you've never been to the Big Bend area of West Texas, you're probably in for a real surprise. The vast regional geography stands in contrast to many other areas of the Lone Star State. Alpine is cradled between the towering Davis Mountains and the beautiful Chihuahuan Desert. With plenty of wide open spaces, the arid landscape is full of color, clean air, and plenty of room for hot air balloon pilots who appreciate the gentle updrafts of the open countryside.
Marfa, just west of Alpine, offers the same open landscape and serves as a jumping-off point for excursions south to the Texas-Mexican border (Presidio, Texas, and Ojinaga, Mexico). If you're looking for a scenic drive you'll never forget, we recommend you take this route to Presidio, then turn east into the Big Bend country, skirting the Rio Grande river with its deep canyons that separate the two nations.
An alternate route can be taken by turning south in Alpine and traveling down to Study Butte, an old mining town that is little more than a ghost town these days. The community is located on the western edge of Big Bend National Park.
The dual festivals on Labor Day weekend offer plenty of opportunity to explore the region. But lots of time for driving as distances can become rather vast in this part of the world.
If you're RVing, there are plenty of campgrounds where you can set up headquarters as well, including Big Bend National Park and Big Bend Ranch State Park.
The Balloon Bash includes vendor displays and a Fire Concert at Buck Stadium Sunday night at dusk. In Marfa, you can enjoy live music and an arts & crafts fair on the courthouse lawn, a night parade Friday night, and a parade on Saturday as well. DJ and live music continue throughout the weekend.