What to do in Alpine Texas?
The unofficial capital of Far West Texas, Alpine offers an oasis of academia, arts, and cowboy culture splashed across a picturesque valley
In the town of Alpine, time grinds slower than in West Texas' interstate towns where travelers getting from point A to point B just want a good night's rest at a chain hotel.
At 4,475 feet and surrounded by scenic drives and mountain ranges, the Alpine air is cleaner. So is the shopping experience, especially for the buy-local purist. Tucked 220 miles to the southeast of El Paso, Alpine's population nudges just north of 6,000. While its tiny dot on the atlas might tempt you to overlook it, here are 10 reasons not to.
Stroll through downtown Alpine.
Downtown Alpine, Texas is an exciting destination for a weekend getaway. Whether you're looking to explore the rich culture and history of west Texas or just relax and take in the scenery, there are plenty of things to do in Alpine that will keep you entertained.
Start your visit with a stroll through the town square where you'll find charming shops, restaurants, and historical buildings including the Holland Hotel – one of the oldest hotels in Texas! After enjoying lunch at a local eatery, head to Big Bend National Park for some hiking or camping. The nearby Davis Mountains offer excellent opportunities for bird watching or stargazing as well. If you're looking for something more relaxed, take in a show at The Acker Theater – one of only two theaters still operating since it opened its doors back in 1914!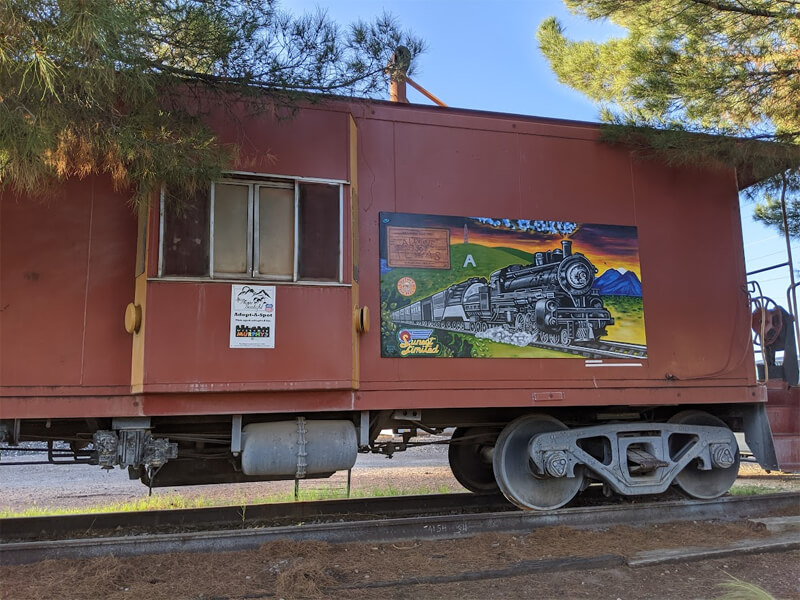 There are so many vibrant murals in Alpine that it seems like there aren't enough to view and photograph!
The food truck park at Holland & Fifth Street is where you can locate the iconic "Greetings from Alpine" postcard mural.
Climb Hancock Hill.
Hancock Hill, located above Sul Ross University and offers stunning views of the vast landscape.
In 1981, three Sul Ross State University students took higher education to a new level when they hauled a desk — a heavy, six-drawer, metal desk — up to nearby Hancock Hill to have a place to study away from noisy dorm life. Now, 35 years later, that rusty, weathered desk still greets visitors who make the 20-minute hike up the hill.
A long-standing custom in Alpine is to leave a few words behind for the hikers that come after you. This is one of the best things to do in Alpine.
When visiting Alpine, it is definitely worth the effort to make the short, 20-minute ascent (provided you don't get lost, of course, which is easy to do).
Don't forget to sign your name in the notebook.
Museum of the Big Bend
The Museum of the Big Bend is one of the most fascinating Alpine attractions and a great addition to a trip to Big Bend Country as a whole. It is committed to researching and conserving the history and culture of the Big Bend region in both Texas and Mexico.
Museum of the Big Bend on the Sul Ross campus houses a collection of Native American artifacts and exhibits on cultural history, paleontology, and Western art. The Texas pterosaur replica is a full-scale replica of the largest known pterosaur fossil, found at nearby Big Bend National Park. It also has displays on local flora and fauna as well as geological studies about how the land has changed over time. Visitors can learn about famous historical figures who lived in or visited this area including Apache Chief Victorio and mountain man Jim Bowie.
In addition to its permanent exhibitions, The Museum of the Big Bend hosts workshops throughout the year on topics ranging from rock art interpretation to leatherworking.
Watch the Cowboys play.
Not those Cowboys, silly. The Alpine Cowboys independent baseball team suits up May through July at Kokernot Field, a stone and wrought-iron replica of the Chicago Cubs' Wrigley Field. The field hosted traveling Negro League teams, led by stars like Satchel Paige, before desegregation. The 1,400-seat Norman Rockwell-esque setting is a must-see space for any baseball fan. Even in the offseason.
Visit Big Bend National Park.
It's almost criminal to visit Brewster County without logging time at Big Bend National Park, where day hikes, cycling, scenic drives, birding, and river trips await. Spanning 800,000 acres, the park's elevation plunges from forested mountains to cactus-studded desert floors. Chisos Basin and Rio Grande Village are popular spots, but if you only have a few hours, hike the Window View Trail for a sunset view.

There are a variety of breathtaking sights to behold at Big Bend National Park, such as the breathtaking views of the Chisos Mountains from the Lost Mine Trail, the Rio Grande's beautiful course through Santa Elena Canyon, and the captivating views from Emory Peak and the Windows Trail.
Old Gringo Coffee and Cocktails.
The Old Gringo is a well-known local hangout that invites out-of-town guests. Every night there is live entertainment as well.

"Live Music Center of the Universe! Full menu with regional TexiCajun flare! Mexican, American, and Cajun delight! Full bar with 2:00 a.m. license on the first floor of Big Bend Biker Hotel!"
Two-Step over to Railroad Blues.
A self-described funky live music, beer, and wine joint, Railroad Blues hosts live bands on weekends. There are plenty of Texas two-stepping and outdoor fire pits to keep warm even on cool autumn nights.
Alpine's Railroad Blues is a lively live music venue featuring beer and wine, a cheerful atmosphere, and a welcoming attitude. Arlo Guthrie, Jerry Jeff Walker, Alejandro Escovedo, Omar, and the Howlers, Ray Wylie Hubbard, Brave Combo, The Red Elvises, Toni Price, Charlie Sexton, Billy Jo Shaver, Canned Heat, James McMurtry, Asleep At The Wheel, Del Castillo, Pat Green, Cracker, Cross Canadian Ragweed, Eric Johnson, and a long list of other great musicians have performed at The Blues.
Big Bend Brewing Company
If Railroad Blues' impressive tap beer selection left you to want, head over to Big Bend Brewing Company for a tasting or tour. At Big Bend, the most remote microbrewery in the United States, beer is brewed "where solitude goes to be alone."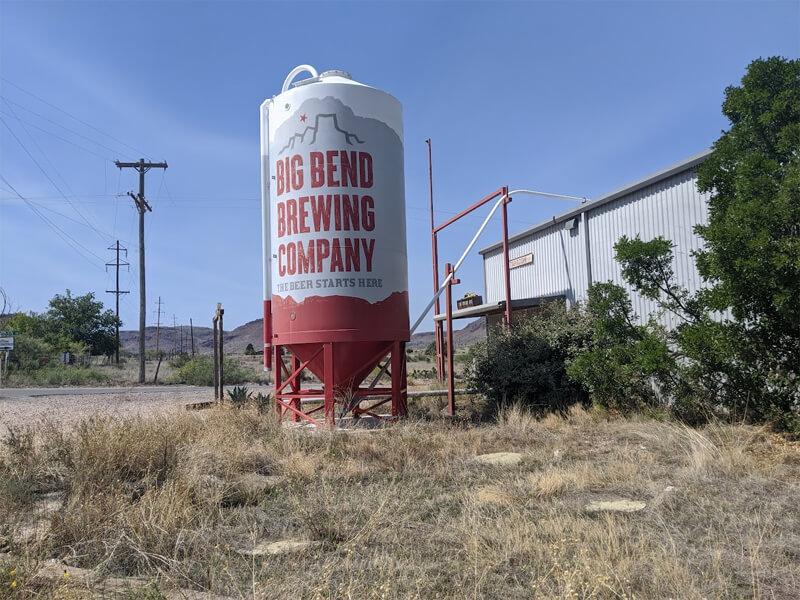 Cedar Coffee Supply
As mom-and-pop cups of Joe go, Alpine pours a double shot. There's the hipster Cedar Coffee Supply with specialty coffee, espresso, and its own apparel line. Or, there's the old service station-turned-coffee shop, Plaine Coffee, which exudes a relaxed vibe and a bonus laundromat. Because who doesn't enjoy a spin through a latte-laundry cycle?
Stay at the Holland Hotel.
We stumbled onto Alpine's gorgeous and maybe haunted Holland Hotel on a whim while looking for places to stay, and we instantly fell in love with it once we arrived!
Alpine, Texas is a great destination for those looking for a tranquil getaway. Nestled in the Big Bend region of West Texas, visitors can find plenty of things to do in Alpine such as hiking, fishing, and shopping. One must-see spot when visiting Alpine is the Holland Hotel.
The Gage Hotel in Marathon and the renowned Paisano Hotel in Marfa were also created by Henry Trost, whose name you might come across again while exploring the area.
Built in 1912 and designated a Texas Historic Landmark in 1980, the Holland Hotel offers boutique elegance a short walk from shopping, music, and barbecue. The old girl got an architectural reboot in 2011 with flat screens, wi-fi, and a real, electric elevator. Don't be shocked if the front desk clerk hands you earplugs with your room key. The hotel is close — really close — to the train tracks.
The Holland Hotel is located on Holland Avenue and has been in operation since 1930. It was originally owned by Albert and Laura Holland who ran it until their passing in the late 60's. Since then, the hotel has become an iconic symbol in Alpine due to its old-fashioned charm and rich history amongst locals. Although it underwent a significant renovation in 2013, the hotel still honors its rustic heritage with its original brick façade and boutique interior design that captures the feel of yesteryear.
Final Word
Alpine, Texas is a great destination for travelers who want to experience a unique and diverse range of activities. From exploring the mountains and visiting nearby Big Bend National Park to enjoying delicious Mexican food and browsing vintage shops, Alpine provides something for everyone. With its rich history, stunning scenery, and vibrant culture, this small town is sure to make your trip unforgettable. So why wait? Pack your bags and plan a visit to Alpine today!