Haunted Gage Hotel – Marathon TX
Home, Home on the range…that should be the slogan for the historic gage Hotel in Marathon, Texas. The hotel brochure says it all:
"…Few other historic hotels offer a more unique experience of days gone by than The Gage Hotel in Marathon, Texas. The inviting, comforting atmosphere of The Gage returns us to a time when a breath of fresh air and the magnificent night sky filled with a thousand stars was all a cowboy needed to feel alive. This is a land where silence is a reward and your soul speaks to your heart, far away from the big city hustle and bustle…"
The Ghosts of the Gage Hotel
The Gage is a Historic Register Property – the most visible landmark in Marathon. It all started when Alfred Gage left his native Vermont in 1878 and set out to make his fortune in the wide open spaces of Far West Texas. Finding work as a cowhand, he and his brothers later founded the Alpine Cattle Company south of Marathon. By 1920, Gage was a prosperous banker and rancher. Needing a headquarter for his extensive operations he employed the acclaimed firm of Trost and Trost to design a hotel, and Ponfords and Sons of El Paso to build it.
Opening in 1927, the Hotel became a gathering place for many ranchers and miners of the area. Gage, however, was unable to enjoy the success of his hotel. He passed away the year it opened.
After decades of neglect the Hotel was purchased by J.P. and Mary Jon Bryan of Houston. Restoration was begun as well as an expansion of the facilities. The Los Portales rooms were opened in 1992, Café Cenizo opened in 1996, and Desert Moon Spa opened in 2003.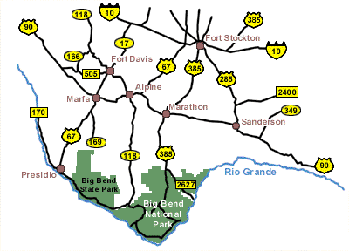 An Old West town just wouldn't be an Old West town without a few spooks, and the historic gage is said to have its share. According to author Docia Schultz Williams, the Gage has at least 3 resident spooks, all of which have been reported by guests down through the years.
While there seems to be no ill intent, these spooks are said to be heard and sometimes seen walking down the hallways or across the patio or porch areas just after dark. We have heard on good word that you should ask for room 10 if you want to be a believer.
Nearby Big Bend national park offers a great side trip if you're in the area, as does the ghost towns of Terlingua and Study Butte (neither much of a ghost town anymore after urban ex-patriots settled in the communities during the 70s and 80s.) Nearby Marfa offers a bit of a mystery of its own, the famed Marfa Lights, another attraction you can't afford to miss.
Any time of year is a good time to visit, but if you're sensitive to the searing Texas heat, avoid May through August. Happy traveling out west!
Gage Hotel
102 NW 1st St, Highway 90W
Marathon, TX 79842