Enchanted Rock State Natural Area
Full of mystery and legend, the "Rock" stands as a reminder of the rough and untamed frontier of the 18th & 19th centuries in Central Texas; a geologic wonder and a great place to waste away a day in the Texas Hill Country.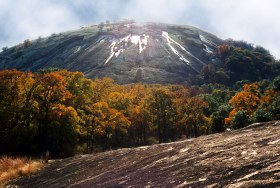 Rising above the central Texas Hill Country is a granite monolith of nature, a great dome of rock that rises as a natural landmark, a virtual geographic wonder that still attracts academic study as well as tourists from all around the world.
Enchanted Rock State Natural Area consists of 1643.5 acres on Big Sandy Creek, north of Fredericksburg, on the border between Gillespie and Llano Counties.
Enchanted Rock was designated a National Natural Landmark in 1970 and was placed on the National Register of Historic Places in 1984. The Rock is a huge, pink granite exfoliation dome, that rises 425 feet above ground, 1825 feet above sea level, and covers 640 acres. It is one of the largest batholiths (underground rock formation uncovered by erosion) in the United States.
The first well-documented explorations of this area did not begin until 1723 when the Spanish intensified their efforts to colonize Texas. During the mid-1700s, the Spaniards made several trips to the north and northwest of San Antonio, establishing a mission and presidio on the San Saba River and carrying out limited mining on Honey Creek near the Llano River.
There's plenty of legend and history associated with the rock. The Tonkawa, Apache and Comanche believed the rock was enchanted, partly because of the strange moans and groans that come from the rock shortly after sunset. The "talking rock" was believed to house the spirits of the dead, and because of this, many settlers and trailriders of the 19th century sought refuge at the rock when raiding parties ere near.
Not far from the rock is the rugged Llano River country, an area where Texas historical figure Jim Bowie supposedly had discovered a silver mine worth a fortune. Bowies, of course, died a hero at the Alamo and the mine has never been discovered.
Visitors to the park can enjoy primitive backpacking, camping, hiking, technical and rock climbing, picnicking, geological study, bird watching, and star gazing (minimal light pollution). Remember, at Enchanted Rock State Natural Area, not disturb plant or animal life, geological features, or Indian or historical artifacts. These park resources are protected by law! Bring your own firewood. Rock climbers must check in at headquarters; route maps and climbing rules available.
The park is very popular and parking areas are limited, Often the park closes as early as mid-morning, and the overflow is turned away. So plan on visiting at off peak days and hours. Monday and Tuesday are your best bets.
Facilities include restrooms with showers; walk-in water sites (25 to 100 yards) with tent pads, picnic tables, fire rings, and water and restrooms with showers nearby; hike-in primitive sites, located in three unique areas with composting toilets (backpack camping in designated areas only); picnic sites for day-use with tables and grills; a group picnic area with a pavilion and restrooms; a 4-mile trail for backpacking/day hiking that winds around the granite formations; a short, steep trail leading up to the top of Enchanted Rock (foot traffic only); an interpretive center; and a Texas State Park Store. No facilities are available for vehicular camping of any type.
Park Fees:
Adult (13 and over) $5
Child (12 and under) No Charge
Seniors (Texas residents 65 on 9/1/95 or after) $3
Group School-Sponsored Trip (entrance per person 13 and above) (not overnight) $0.50
Group School-Sponsored Trip (entrance per person, 12 an
Enchanted Rock
Location: near Fredericksburg, Texas, US