For over a century now, Ft. Worth's Stock Show and Rodeo have been providing the best western show on earth to millions who come to witness the cowboy spectacle…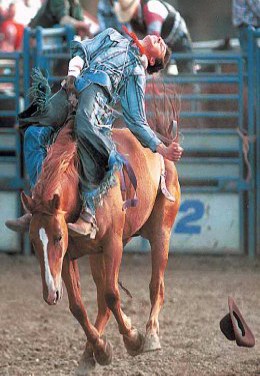 In Cowtown, rodeo is serious business. For a century and a decade now, Ft. Worth has staged its annual cowboy ritual in the dead of winter to the amazement of millions of awe-inspired spectators.
For three weeks running, in fact, this city of over a half million people turns the clock back to the days when Fort Worth was known as "Where the West Begins," long before mechanized transportation and fast food restaurants, to the days when cowboys would pit their skills against all others, and where cattlemen and farmers (and wives and children) would bring their best to a mutual show ground, or fairground, for viewing, judging and tasting.
This year's cowboy spectacle runs Jan. 13 – Feb. 5 and promises to be bigger and better than ever before. But to understand it, you need to know a little about its beginnings.
Like no other city in the United States perhaps, Fort Worth captures the spirit and authenticity of the American West. With a rich variety of western attractions, events, and traditions, restored structures from the Old West, and outstanding cowboy cuisine, its reputation as the city "Where the West Begins" is as strong as ever.
The Western sport of rodeo and Fort Worth enjoy a long association. In fact, the world's first indoor rodeo was held there in 1918 at the Cowtown Coliseum located in the Historic Stockyards. Today, professional rodeos take place nearly every weekend of the year at the Cowtown Coliseum.
But Fort Worth's most famous rodeo is the Fort Worth Stock Show and Rodeo. Each January and February, the city celebrates this annual event, along with more than 800,000 visitors to the Stock Show grounds at the Will Rogers Memorial Center in Fort Worth's Cultural District. Founded in 1896, it is the oldest stock show in America. It even boasts the world's longest non-mechanical parade, with hundreds of horses and riders heralding the start of the event.
Stockyards National Historic District
With "Cowtown" as a city nickname, you would expect visible reminders of Fort Worth's heritage throughout the city. But no district is as distinctly Western as the Stockyards National Historic District. The Stockyards, a 10-block historic area, boasts some of the finest Western entertainment found in America, including numerous restaurants, saloons, museums – such as the Texas Cowboy Hall of Fame – and a variety of Western heritage events scheduled throughout the year, including the Red Steagall Cowboy Gathering and Western Swing Festival (in October.)
Fort Worth Herd
The Historic Stockyards is also home to the Fort Worth Herd – the world's only daily cattle drive. Texas longhorn cattle, guided by cowhands in period dress, make their way down Exchange Avenue twice daily – a fitting tribute to Fort Worth's heritage as a major stop along the Chisholm Trail.
There is more to see in this famed area, including Billy Bob's Texas, the world's largest honky-tonk and eight-time winner of country music's "Club of the Year." Open seven days a week, Billy Bob's Texas hosts the top names in country music every Friday and Saturday night, along with live bull riding in its indoor rodeo arena. Nearby, the White Elephant Saloon, named one of the Top 100 Bars in America by Esquire magazine, offers live country music throughout the week.
Historic Stockyards
Outside the Historic Stockyards, Western culture is evident in the city's museums, events, architecture, and cuisine. Notable institutions that showcase Fort Worth's Western ties include the Amon Carter Museum, which reopened in October 2001 following a $39 million expansion designed by esteemed architect Philip Johnson.

The Amon Carter Museum houses a stunning survey of American paintings, sculptures, and photography. An outstanding series of works by Western artists Frederic Remington and Charles Russell are on permanent view in the museum's front gallery.
National Cowgirl Museum and Hall of Fame
Nearby, the National Cowgirl Museum and Hall of Fame, which opened its $21 million new home in Fort Worth to worldwide acclaim in June 2002, provides an interactive showplace for heroines of the American West, from Annie Oakley and Sacajawea to Dale Evans and U.S. Supreme Court Justice Sandra Day O'Connor.
Sundance Square
Downtown's Sundance Square is a 20-block entertainment district named for the Western outlaw Sundance Kid, who along with Butch Cassidy, spent time in this area of Fort Worth. Many of the buildings lining Sundance Square date to the turn of the 20th century, providing a wonderful architectural view of the past and housing restaurants, galleries, museums, theaters, shops, and hotels. The Sid Richardson Collection of Western Art, a free museum on Main Street, houses a noted collection of works by Remington and Russell, as well as other Western artists.
In the heart of the area, Richard Haas's three-story trompe l'oeil mural of The Chisholm Trail commands quite a presence and sits just yards away from the historic cattle trail's actual pathway downtown.
For the entertainment lineup for this year's stock show, or for ticket and travel information, visit the official Stock Show Website.
Fort Worth Stock Show & Rodeo
3400 Burnett Tandy Dr
Fort Worth, TX 76107
(817) 877-2400