Homemade Cleaners
You can clean almost any area of your home with just a handful of products you most certainly already have in your home. The benefits are obvious. You'll be spending a lot less on products and you're not introducing a myriad of chemicals into your environment. If you don't already know about these concoctions you soon be singing their praises and keeping your home stocked with this easy-to-find, household ingredients.
Baking Soda
Baking soda can be your best friend in the kitchen and perhaps a smelly teen's closet. Baking soda is an amazing deodorizer! You can place an open box in your refrigerator to capture all those funky smells that reek (yes, pun intended) havoc in even the most meticulously maintained refrigerators. Baking soda also has several other applications when used in conjunction with other products.
Washing Soda
Washing soda can be found in your store's cleaning or laundry aisle. It's sodium carbonate and can be used to help get rid of really stubborn stains like grease and red wine. Be careful with it though because when used directly or in concentrated doses it can damage clothes. It also works to soften hard water which better enables your detergent to work better. Add a couple of drops of essential oils for scent and cleaning boosts and you're in business. Laundry business.
Borax
Borax is easily found in the laundry aisle of your local grocery store. It can be used for all sorts of cleaning applications like stain removal, rust removal, and mildew removal. It can also work wonders to deodorize. Try using it in your toilet. Sprinkle a cup in the bowl making sure to get some under the rim and everywhere you can get it.
In the morning grab your toilet brush and do a quick scrub and say goodbye to all the toilet nastiness. It makes a great grout cleaner too! make a thick paste with the borax and a bit of water. Apply to grout and leave for several hours (or overnight) before scrubbing away. It works wonders!
Vinegar
You can make an amazing all-purpose cleaner with equal parts vinegar and water in a spray bottle. You can use this solution on windows, countertops, and floors. Make sure to mix equal amounts of water and vinegar to ensure that the vinegar's acidity isn't too potent when it comes to more sensitive areas like grout (never use vinegar on marble). You can easily clean gunky burner grates by putting them into a bag with vinegar for a couple of hours. When you remove them you can easily clean them with soap and warm water.
You can also use a half cup of water and vinegar to make it a lot easier to clean the microwave. Put the two ingredients into a microwave-safe bowl and bring them to a boil in the microwave. The steam will help loosen baked-on food and it will help get rid of odors. Wipe the microwave clean immediately after removing the water/vinegar mixture. Vinegar works quite well on pet stains too. After cleaning up the mess, blot the soiled area with vinegar. This serves to disinfect, deodorize, and discourage pets to return to that spot.
See Also: Homemade Deck Cleaner with Vinegar
Lemons
Aside from smelling completely amazing lemons can clean countless areas of your home. You can mix lemon juice with baking soda and vinegar to make a cleaning paste. You can use this paste on stubborn counter stains, on all-clad pots and pans, on ceramic cookware, and on linoleum stains. Lemon juice can be used to dissolve soap scum and hard water stains.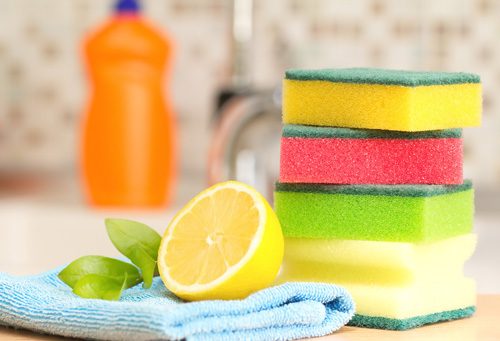 Lemons are great for cleaning garbage disposals. Simply quarter a lemon and drop them down the drain and run the disposal. The lemon helps to clean the disposal and also leaves your kitchen smelling amazing! You can also rub a lemon half on vegetable stains on cutting boards.
Castile Soap
There are a bunch of ways to incorporate castile soap into your homemade cleaning product lineup. Two drops of liquid castile soap into two cups of water poured into a spray bottle works wonders for cleaning windows. You can also make an incredible floor cleaner by combining a couple of tablespoons of liquid Castile and a gallon of warm water. Kick it up a notch by adding 5 drops of lemon essential oils for added grime-busting power and 5 drops of peppermint oil for its antiseptic properties.
Essential Oils
Essential oils can add a wonderful scent to your homemade cleaning products. Some essential oils bring their own effectiveness to the cleaning party though! Citrus essential oils can increase the cleaning power of many of your homemade cleaning products. Lavender oil can be added to detergents to create calming properties. Tea Tree oil can add some antibacterial and anti-fungal properties to your cleaning regime.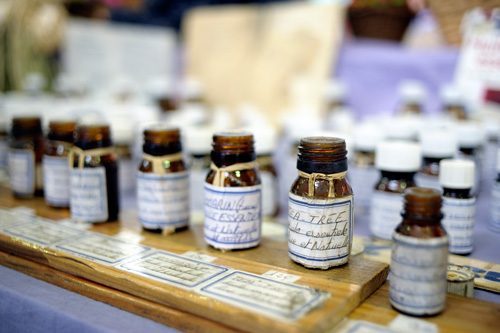 Quick Cleaning Product Recipes
Liquid Laundry detergent
1-quart boiling water
2 cups grated, unscented Castile bar soap
2 cups washing soda
2 cups Borax
Essential oils
– Citrus mix – 5 drops lemon, 5 drops lemongrass, and 5 drops tea tree
– Flower mix – 10 drops lavender oil and 5 drops vanilla oil.
Instruction – Add grated soap to boiling water and stir until melted. Pour soap water into a large clean container and add washing soda and borax and stir until dissolved. Add essential oils and 2 gallons of water. Cover and store in a cool dark space. Use 1/4 cup for each load of laundry. Stir well before use.
Powder Laundry Detergent
1 bar grated, unscented Castile bar soap
2 cups washing soda
2 cups borax
1 cup baking soda
Essential oils
– Citrus blend – 15 drops lemon oil, 15 drops sweet orange oil
– Floral blend – 10 drops rose oil and 20 drops geranium oil
Instructions – mix well, and break up any clumps caused by the essential oils. Store in an air-tight container.
Countertop Cleaner
1 and a half cups water
1/4 cup rubbing alcohol
1 teaspoon liquid castile soap
2 drops lemon or sweet orange essential oils
Instructions – Pour into a spray bottle and shake well before each use.
Floor Cleaner
1 gallon warm water
2 tablespoons liquid castile soap
5 drops peppermint essential oils
5 drops eucalyptus essential oils
Instructions – Mix in a bucket, and mop.