While many people use their garages to store their vehicles, garages have so many more potential uses than that. It can be used as a workshop, storage, play area, or a place for pets, and can have dozens of other uses for different people.
Whatever it is used for, it is a good idea for our garages to use space effectively. The average size of a garage can vary, but most have limited square footage and we need to be smart about what we do with it. Unfortunately, many of our garages are a mess. Boxes, tools, and other items are simply strewn about in random fashion.
Instead of simply piling things up in the corner, we need to find ways to organize our garages. But how? What are some ways to simply organize your garage and its contents without spending an arm and a leg? With that in mind, this article is going to look at a few great ways to organize your garage in a manner that is simple and budget-friendly.
Install Some Cabinets
If your garage is just an open area with not much in terms of actual storage, it will be tough to keep it organized, no matter how much you try. Things need their place, as this makes it easier for you to remember to put things away and keep the floor space clean.
An elegant solution to this is to install some cabinets. Cabinets can hold a variety of items and keep your garage looking cleaner and more organized. These can be installed on the wall, or can also be added to the ground. Cabinets can also come in a range of different designs and styles, too. The choice is yours depending on your unique needs.
There are plenty of online cabinets out there that can be purchased affordably and installed without any professional assistance. The DIY aspect of this will save you a lot of money and give you the satisfaction of a job well done.
Utilize Shelves for Vertical Storage
Using the walls is one of the best ways to organize your garage. It saves your precious floor space, without having to get rid of a lot of potentially useful items. One of the most effective ways to use your walls is to use shelves.
Shelves are often incredibly simple to install. Most are fairly light, and only require a couple of screws or nails in order to be attached to a wall. From there, many can support a good amount of weight and store a variety of things from tools to sports items to bottles of oil or wiper fluid, and everything in between. These can often be used in tandem with cabinets to take your garage organization to the next level.
Add Some Racks and Rails
Cabinets and shelves are great choices for those smaller items, but what if you have big items in your garage that need a place? If you have several large items to store (like ladders, rakes, and other oddly-shaped items), adding some racks or rails is often the way to go. These allow you to give large items their space, without littering them all over the ground.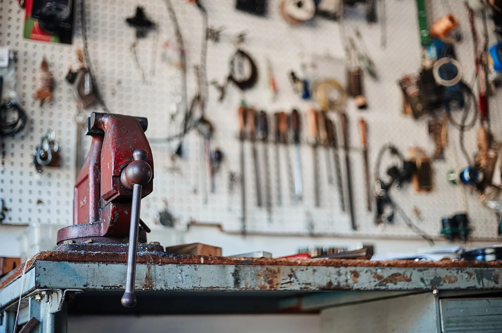 These racks can be put on walls, and could even be used on the ceiling. Depending on how your garage door retracts, a rack to hold large items could easily be attached to the roof of your garage to make use of the space.
A rail system is great for storing items right up against the wall, keeping them incredibly easy to access, but also a little out of the way. These can be installed as large or as little as you like, and you can scale up as your needs change.
In conclusion, hopefully, the information in this article has helped you be able to organize your garage in a way that is both simple and budget-friendly. By adding and installing these additions yourself, you will gain access to a ton more usable space, as well as save money in the process.