Azalea Trail Houston
The River Oaks Garden Club Azalea Trail, an inspirational tour of homes and gardens in Houston's unique development, celebrates the dawning of Spring in the Lone Star State and offers a unique look into a remarkable and exclusive area of historic homes and remarkable gardens.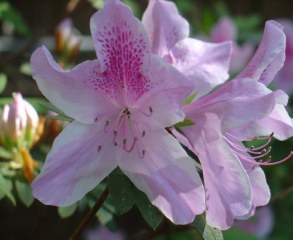 Even with the unseasonably warm winter this year, the birth of the spring season in Texas will be welcomed in by residents and visitors alike who have been anxiously awaiting the return of the warm travel season and the many early season events that go with it.
If historical architecture and finely landscaped, elegant gardens are to your liking, there's no better place to take in the spring pleasures of Texas than Houston's ritzy River Oaks area, Houston's most exclusive neighborhood, complete with white-columned mansions, maids' quarters and manicured gardens.
River Oaks is by Buffalo Bayou and Memorial Park in west central Houston. The residential garden suburb, which comprises 1,100 acres, was developed in the 1920s by Michael Hogg and attorney Hugh Potter, who in 1923 obtained an option to purchase 200 acres surrounding the River Oaks Country Club. In 1924 Hogg organized Country Club Estates to promote the development. The two developers retained Kansas City landscape architects Hare and Hare to provide a master plan that would protect the environmental integrity and natural beauty of the area. What they accomplished was rather remarkable to behold, and today the unique neighborhood development is nationally recognized for its beauty and design.
This luxurious neighborhood of about 1,600 residents offers properties starting near $400,000 to $10 million.
815 Briar Ridge Drive
Azaleas, impatiens, oak trees, magnolias, climbing vines and an herb garden identify the Southern roots of this unique home. A portal to another time, the front gate opens into the grace and charm reminiscent of 19th century New Orleans.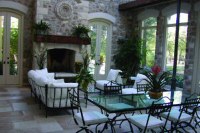 Suggesting several styles of building, crude rubble walls and antique timbers pleasantly contrast with and complement sophisticated hard-troweled plaster walls, crown moldings and a stucco exterior. Babbling water from two sculpted dolphin fountains soothingly cools the shady courtyard while interior walls highlight an extensive collection of Audubon prints of regional flora and fauna.
6118 Crab Orchard
Houston architect Travis Mattingly was asked to design this home in the Louisiana Delta style of A. Hays Town. It was completed in 2001. The house has two fronts: One facing Crab Orchard and one, with twin spiral iron staircases, facing Buffalo Bayou across from the Houston Country Club golf course.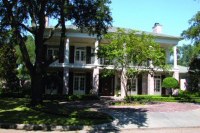 In keeping with the style of A. Hays Town, the home features old brick, exterior French doors with full length mahogany shutters, deep porches, well proportioned columns, wide planked floors of Mayan walnut, and extensive millwork with beamed ceilings. Antiques, oriental rugs and original art augment the low country style.
959 Kirby Drive
Banked in hundreds of daffodils, this stately Southern Colonial home offers
a welcoming entrance through its deep portico. Designed by Cameron Fairchild. in 1938, immediately recognizable by his trademark ceiling curve over the staircase, the house has been meticulously maintained. Oriental rugs, an antique French tapestry, Belgium pewter chandelier, and English Chippendale chairs are some of the many items completing the refined, eclectic appearance in the front of the house.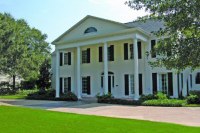 In the back, a crisp, casual sunroom opens onto a generous patio encircling the pool. A colonnade, reflecting the front portico, provides shelter for the coming and going of a busy family. Garden planting continues the Southern tradition with azaleas, camellias, gardenias, oak and magnolia trees.
32405 Maconda
Designed by architect Dillon Kyle and built by Bill Radamaker, this home was completed in January, 2005. The design pulls together the family's favorite components of various architectural styles.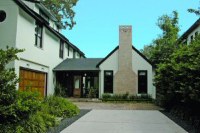 With a New Orleans shotgun footprint, the home reflects Texas hill country in its beams, stucco and beckoning wide porch. Windows are often open, allowing in fresh air and the sound of water splashing from the fountain which extends the length of the swimming pool. The parlor is cleverly placed to the right of the front door and is connected to the rest of the house by a breezeway.
1406 Kirby Drive
Rienzi is the former home of Carroll Sterling and Harris Masterson III. Now part of the Museum of Fine Arts, Houston, it has long been known for its collections of fine European and decorative arts and extensive gardens. Created by John Staub, who designed the original house, and Hugo Neuhaus, architect for the ballroom addition, it is surrounded by extensive gardens designed by Ralph Ellis Gunn. This year the featured area will be the newly completed bulb garden, just north of the driveway. Since 1998, Rienzi's gardens have been a project of the Garden Club of Houston.
2940 Lazy Lane or One Westcott Street
In 1926, Miss Ima Hogg and her brothers, Will and Mike Hogg, chose this 14-acre site for their home. The stately mansion, designed by John Staub and gifted by "Miss Ima" to the Museum of Fine Arts, Houston, in 1957, is filled with her extensive collection of American furnishings and art. Bayou Bend is surrounded by natural woodlands and formal gardens, which have been supervised and maintained by the River Oaks Garden Club members since 1961.
Building and Gardens – 2503 Westheimer Road
The Forum, built about 1880, served as the John Smith Country School until 1920. Will Hogg restored it in 1927 as a "Forum of Civics." Purchased by the River Oaks Garden Club in 1942, it is listed in The National Registry of Historic Places. One of the highlights of the Forum is the five formal gardens. You are invited to swing open our gates and learn how to plant around your gate.