Air Sealing and Insulation Performance
Spray Foam Insulation has become one of the hottest insulation products on the market in the last 30 years.
Spray foam insulation has become one of the hottest insulation products on the market since the late '90s. Although this spray application has existed since the '70s, it was not as popular because of the large amounts of formaldehyde in the insulation material.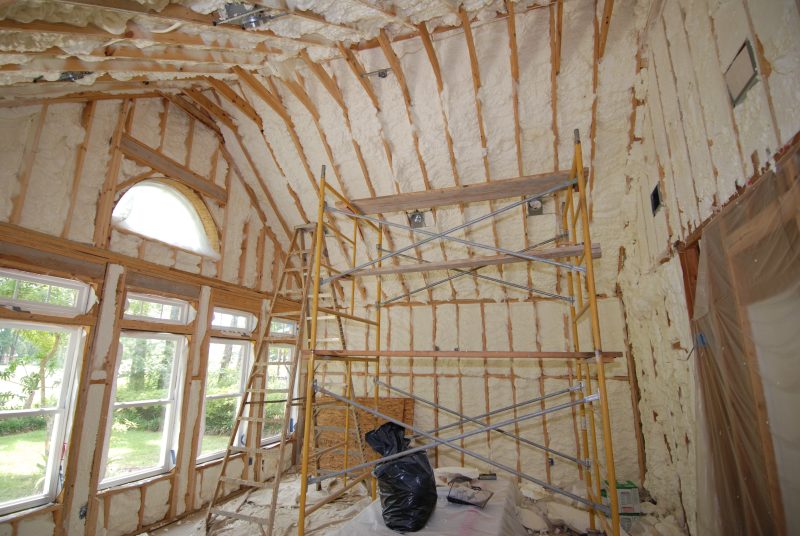 Today there is no formaldehyde, the R-value per inch is at least as good as any other product, and it has the best air-sealing abilities of any insulation product currently available. So why isn't everyone insulating with spray foam now? The answer to this is complicated, and so are the choices of spray foam out there. For this discussion, we will cover closed-cell spray foam insulation.
Closed Cell Polyurethane Spray Foam Insulation
That's a mouthful in itself. This type of spray foam is considered the best because the multiple cells that make up the foam are encapsulated onto themselves. In other words, they are virtually impenetrable to moisture, taking care of any mold worries.
The word "polyurethane" is a fancy way of saying "plastic." So this insulation material is simply a two-part plastic that when heat is applied and sprayed on a ceiling, wall, or attic(or anything), expands to roughly 50% of its original size.
There are many varieties of spray foam densities and each density has a slightly different R-value. Most of the spray foam that is used in temperate climates that see great deals of temperature and moisture fluctuation is 2 lb density foam which has an aged R-value of R-6 per inch. The reason there is an aged R-value is that there is a small amount of off-gassing that occurs as the foam ages. None of the gases are toxic or hazardous in any way, but they do affect the R-value slightly. For instance, the initial sprayed R-value of 2 lb foam is R-8 per inch. Please note that there is only a small amount of R-value lost, and it has very little effect, if any, on the performance of the insulation.
Air Sealing
There is no vapor barrier needed with closed-cell foam because of its water-resistant and air-sealing qualities. Anything under 1.5 lb foam is NOT considered closed cell anymore and is now considered open cell foam. The major benefits of closed-cell foam are numerous. For one, you only need 3 inches on a wall and 5 inches on the ceiling to meet all your code R-values. When using this product, your building is airtight. The only air that comes in is the air you want to come in making your building extremely efficient; from 30-50% more efficient than fiberglass and 10-25% more efficient than wall spray or dense pack cellulose.
Now before you go running to the phone, there are of course some major drawbacks. The first is price. It is very expensive at around $4.00 per square foot. It is not uncommon to have a price tag of $13,000 or more for an average house of 1500 square feet with 8-foot ceilings. Generally, you see your savings within 5-7 years or less depending on your lifestyle.
Do I need Insulation?
Always remember that if you do not know what energy-efficient upgrades to do, hire an energy consultant. He or she will go through the building with you, test the entire property for efficiency and give you a report of areas to improve upon. Depending on where you live, you may be eligible for some rebates and tax incentives.
Spray Foam Insulation From Soy
Denim insulation? Trendy, but the new kid on the block is green, sustainable, energy-efficient spray foam insulation made from soybeans. It's not just for tofu anymore.
The two questions that immediately jump to mind are, "But isn't soy food? Won't bugs and rodents eat the walls?" Usually to the first question, and not to the second. Soy, and some other biopolymers, are inert, meaning that they won't support mold growth or attract bugs or vermin.
Open-Cell and Closed-Cell Foam Insulation
This innovative green building material is available in both forms. Which type is used depends on several factors.
Open-cell foam should only be used for interior applications because it provides no structural support. It's more cost-effective with respect to R-value than closed-cell foams.
Closed-cell foam may be used on exterior applications. It offers low vapor penetration because of its dense cell structure. When applied sufficiently thick, it may be used as a vapor retarder (but not a vapor barrier).
What Makes Soy Insulation so Energy-Efficient and Effective?
Basically, the way it's applied and how it cures. As a spray foam, it goes on as a liquid (water-blown, chemical-free) so the coverage is highly efficient. Immediately, it begins to solidify and expand up to 100 times its original volume.
As it expands, it's forced into all empty spaces. Because of this, it provides a much more air-tight envelope than traditional forms of insulation material such as fiberglass or rock wool batts. Once it's in, it's there for the long run, since it doesn't break down over time.
It adheres readily to all surfaces to which spray foam is commonly applied, including drywall and both wood and steel studs.
It's More Expensive than Some Other Insulation Materials
So why invest in it rather than fiberglass? Because it saves money in the long run. As an example, suppose a new home construction is being financed. Assume the additional cost of the soy increases the monthly mortgage payment by $20.
But because of the energy efficiency of this type of spray foam, thermal gain and loss are minimized and the central air conditioning and heating system won't have to work as hard. It's conceivable that the electricity and natural gas utility bills may actually be reduced by $70.
That's a net saving of $50! Nothing to sneeze at, especially considering that the home's resale value is also higher.
A Very Impressive R-Value
When applied in a standard wall cavity of 3.5 inches (8.89 centimeters) it has an R-Value of 13 to 18, depending on the particular formulation. And because of the way it's applied, it also minimizes moisture issues.
Soy has a fire rating of Class 1. What does this mean? Building materials with a Class 1 fire rating will char but will not sustain a flame.
It's Ideal for Insulated Concrete Form Construction (ICF)
Insulated concrete form construction is a hot, new green building practice that's gathering a head of steam. Soy is the ideal insulation to be used. ICF utilizes a modular foam block with an empty cavity inside.
The wall is assembled with the blocks, braced, and has concrete poured into the voids. The concrete cures and viola! An instant wall with insulation on both sides!