Shrimpers trawl Texas waters, harvesting shrimp that sell in humble, but highly esteemed roadside markets and stands. Find out some of our favorites.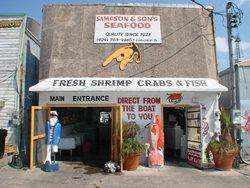 Shrimp and seafood markets emit that unmistakable, nose-tingling scent of the sea and boast few picturesque qualities. They don't have the shapely silhouettes of the lighthouses that attract tourists for photo ops. They lack the dreamy allure of sunset-watching destinations amid sea oats. Many just feature bare wood walls and decades-old ice chests dripping onto a cold, concrete floor. Yet tourists and locals still come, drawn by what's inside—the promise of freshly caught, sweet and succulent shrimp.
Galveston
At Galveston's Samson & Sons Seafood, established in 1921, Milton Samson, III, runs his family's namesake on Pier 19. "He's very Galveston-ish, a true local," says Milton's nephew, 25-year-old George Schmidt. "He's been to Europe, but he likes Galveston more than anyplace else."
A retail-customer operation that hasn't muddied its mission too much with wholesale or restaurant sales, Sampson & Sons opens its doors seven days a week and thrives on purveying fresh seafood of all kinds from local fishermen. "Some of these guys are in their 80s," George says of the fish market's suppliers.
Holding down the fort while his uncle gets breakfast tacos on a recent Saturday morning, George greets one local who's driven in with the day's catch. "Sometimes it's easier for them to drive over than to get their boats in here for deliveries," he says. Transaction completed, George goes on to explain that Milton buys shrimp from bay boats, which make a quick drag or two of bay waters and bring in their catches right way, and Gulf boats, which stay out in deeper waters for a couple of days, quick freezing shrimp in a saline solution and bringing back up to 75 or 80 pounds.
"They sell out of coolers," Nick Guindon of neighboring Katie's Seafood Market says about Samson and Son's. He acknowledges his rival's venerable status in town, despite its low-tech operations. "It's the enemy," he adds, laughing.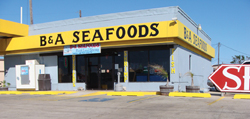 Katie's Seafood, run by Nick's step-dad, longtime fisherman Keith "Buddy" Guindon, and named for his mom, sells to retail customers as Samson does, but a big part of its business comes from restaurant sales and a wholesale business. This newer market, with a wide selection of fresh and imported fish, has had a formidable presence in Galveston since 1998. "We're busiest on a sunny day in summertime," Guindon says.
In truth, there's plenty of business for shrimp and fish markets from Galveston all the way down to Port Isabel's landmark B & A Seafood near South Padre Island.
Rockport, TX
Rockport local and gallery manager Pat Hopper names her favorite shrimp-shopping spot without having to mull it over. "Flowers Shrimp Market on the corner of King and South Church," she says. "The family that owns it runs their boat out of the harbor here, and they have the freshest shrimp." Operating from a tiny house, this small-scale market presents its wares in Igloo® coolers on the back porch. "It's not fancy or anything like that, but it's good," Hopper says.
Another Rockport-area favorite, the bigger and more established Alby's Seafood Market in nearby Fulton, makes a great backup, according to Hopper. Also family-operated, this market has served Rockport and Fulton since the early 1980s and draws many steady customers, as well.
Aransas Pass
In Aransas Pass, Corey's Seafood sits opposite an HEB grocery store, which offers great seafood but lacks the character of a tried-and-true Texas fish market.
The slightly ramshackle Corey's beckons customers with a cool, dim interior and a friendly staff offering samples of its delectable cocktail sauce to those who ask for a taste. A deft jab with a toothpick skewers a boiled shrimp that has simmered in Corey's secret blend of spices. A quick plunge into a tub of Corey's own cocktail sauce delivers the right amount of a tang with just enough horseradish to make the buyer sniffle—and rejoice. This triple whammy of fresh shrimp, spicy boil, and perfected sauce creates an explosion of flavor no highfalutin chef could emulate.  This taste sensation only comes from such places as this—simple and sublime.
Next thing the customers know, they're walking out with more shrimp than they need and plastic tubs of Corey's shrimp boil spice blend and cocktail sauce—the spoils of a wanderer of coastal roads who's fallen prey to the lure of another shrimp shack.