How much should you budget for a deck or patio in Texas?
Instead of moving to upgrade their house, many homeowners are investing in their current place to make it the home they want. Adding a deck or patio is a great way to make the most out of the yard and landscape, an ideal spot to relax by oneself or with family and friends. This Remodeling Cost Guide will help you understand the potential costs involved with adding a deck or patio to your property and your many options.
Deck Options and Prices
Let's talk deck materials first. Your options include pressure-treated wood, which remains among the most popular materials. Other woods include cedar, pine, redwood, and mahogany, which require more maintenance than treated lumber. They'll need to be stained, sealed, or painted every 2-5 years, depending on how hard your climate is on decks.
Green materials are growing in popularity as well. They offer an alternative to wood and are better for the environment. Some of the most popular green decking materials are Trex, Timbertech, other synthetic wood products brands, and composite decking from Certainteed and other manufacturers. Aluminum and PVC decking are also available. Non-wood products have greater durability and require the least amount of maintenance. They are also more expensive.
Decks are usually made of weather-resistant woods like redwood and cedar, but there are eco-friendly and creative alternatives for decking and railings.
In terms of costs, pressure-treated lumber is the least expensive for most outdoor deck projects. Materials will cost $5-$7 per square foot.
Cedar and redwood decking is also affordable, with prices of $6-$8 per square foot.
Synthetic wood products, composite and Brazilian hardwood cost in the $8-$10 range per square foot.
Aluminum decking is $10-$12 per square foot and PVC vinyl is $11-$14 per square foot.
What costs more a deck or patio?
A deck and a patio both have a high resale value. Patios are typically less expensive to install and have a resale value of 100 percent, which is slightly higher than the 76 percent resale value of a deck.
For patios, you've got just as many options for materials. Today's most popular materials for patios are brick or paver stones, fieldstone, flagstone, natural stone, concrete slabs, or poured concrete. If you choose poured concrete, it can be tinted, stamped, or stained. Stamped concrete can be made to look like brick or paver stone. Stained concrete looks like granite.
For prices, concrete slabs or a simple poured concrete patio will cost the least, at $5-$10 per square foot. The others offer a range of styles and options priced from about $9 to $20 per square foot.
Design Ideas for Decking and Outdoor Rooms
Building a deck is something homeowners want to get right on the first try, so planning is crucial before construction begins. Deck Designs, by Steve Cory, is the first stop for anyone planning to add a deck. It is filled with photographs of real-life decks, design-planning strategies, and advice from top deck designers, ensuring that homeowners get it right on the first go-round.
How to Design the Deck
The most valuable and satisfying deck will be one the homeowner had a hand designing. This space will be used by unique people living in a house, and while a designer can provide expert advice, the specifics of how a deck will be used can only come from those using it. So even when hiring a professional, participate in the design process. According to Deck Designs, here's how:
Steal ideas. Begin by perusing the pages of this book.
Draw & Discuss. Get input from family members and sketch out ideas.
Make fundamental decisions about the use of materials and functional elements.
Think about design elements, such as height, lines, size, shape & color.
Outdoor Living
Think of a deck as an extension of the home instead of a new space. It will make the deck more inviting and a natural part of the living area. Kitchens are a popular way to create an outdoor living space, and building a deck is the perfect time to consider this option. Having an outdoor kitchen also makes for quick entertaining and cooking. Other outdoor living spaces that should be regarded as on the deck include:
Dining area
Lounge area
Spa or hot tub
Paths to join the house to the deck or yard
Addition of a Fire Pit
Decking Material
There is a large variety of decking material options from which to choose, so it's important to understand their differences, aside from price. Pressure-treated lumber comes in different types of wood depending on the area of the country where it's purchased, and some hardwoods take to the treatment process better than others. Other material choices include synthetic decking, ironwood, redwood, cedar, and treated decking.
Professional Deck Designers
Deck Designs includes an extensive sampling of the finished decks of four professional designers who work in different areas of the country. These top professionals share basic design plans, tips, ideas, and photographs of some of their most beautiful decks. This part of the book contributes to the design inspiration process that no homeowner should forego.
DIY Installation of Deck or Patio or Hire a Pro?
This can be a do-it-yourself job if you've got the time, skills, and tools. For decks, you'll need a level, power tools, deck screws, bolts and nuts, and concrete if you plan to anchor the main legs of the deck.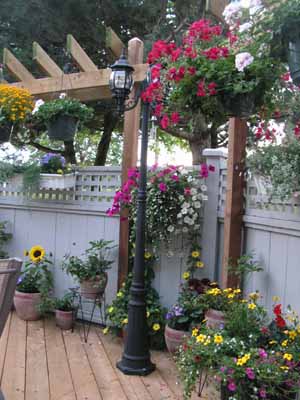 For patios, you'll need tools to get the area level. For poured concrete, you'll need to use wood to build a form for the deck. Paver stones and other types of stones are installed by hand. The job is slow and time-consuming but not especially difficult. Many homeowners enjoy the satisfaction of doing the job themselves.
Busy homeowners often choose professional installation for their deck or patio. The contractors who do the work offer experience and a job with a professional look when finished. Even if you're considering doing the work yourself, gathering a few price quotes from the experts might be worth your time. Then you can determine if your time and effort to do the job are worth the cost savings.
If you get professional prices, request at least three written estimates. This will allow you to find lower costs while discussing the project with each contractor. The result will be seeing a contractor you're comfortable using. While saving on installation is essential when possible, the key is to have it done right.
This deck and patio cost guide provides you with realistic pricing for your project. It will help you plan the addition of a new deck or patio, which will give you many hours of enjoyment in the years to come.