Below is a list of the best groundcovers and ornamental plants for Central Texas:
Asian Jasmine
Asian Jasmine is carefree and dependable. The great thing about it is that it can grow in part sun as well as shade, which is something that most groundcovers will not tolerate. We have even seen it doing well in full sun. Be sure to give it moderate water if it gets much sun, less water in the shade.
Caladiums
a great choice for shady areas, caladiums come in many beautiful shades from white to red. Caladiums are grown from tubers planted every year. They will not last through freezing weather. A great container plant.
Carolina Jessamine
this is a vine that is useful as a groundcover. It has glossy green leaves and yellow flowers in early spring. It will trail off a fence or a hillside. It takes full sun to light shade.
Cast iron plant
this is a shade loving green foliage plant that requires no care and no supplementary water to survive. Of course, it does better with an occasional watering. It is one of the plants that we can recommend highly for deep shade.
Clematis
the only clematis I can recommend for Central Texas is the Sweet Autumn clematis. At the end of summer it has masses of little starlike white flowers. Like all clematis it likes its roots in the shade and it leaves out in the sun.
Coleus
A great shade plant for bed or in containers. Even though there are some who say coleus are able to stand more sun, here in Texas it's still better for them to be in the shade. Plant when all danger of frost is over.
Cyperus
This plant looks like papyrus. It is easy to grow in either sun or shade, it's a drought tolerant, and yet it can take wet areas. It has clumping roots that can be used as a soil erosion barrier.
English Ivy
English Ivy is a carefree groundcover, but you must be sure you want it, because it will spread rampantly as long as it gets a little water. It can live in mostly shade.
Liriope
This is a grass that is extremely useful as a border plant or placed on slopes to help control erosion. It is a perennial and will spread every year. These plants are so useful that I have hundreds of them in my landscape used as borders around many of my bed and across my slopes. They prevent erosion as well as any wall I have ever used. And it can be trimmed to a uniform shape for borders or left to grow naturally which will encourage the purple bloom spikes to appear in summer. It will grow in virtually any kind of condition and needs only a little water occasionally.
Mint
Mint is not usually thought of as a groundcover, since it is an herb, but mint can be used in this way quite successfully. Mint will spread rapidly and will have to be contained in some way. When you trim mint, its wonderful, refreshing scent fills the air.
Setcreasea
Also known as purple heart, this ornamental plant is a great accent plant. It has purple leaves that go well with other plants in part shade.
Succulents
Many low-growing succulents can be used as groundcover. There are many varieties, and many will grow in the sun or some shade. They are disease resistant and drought-tolerant, but you must remember that they cannot take much foot traffic.
Sweet potato vine
This lovely vine comes in lime green and purple versions. Both are lovely, but the lime has more landscaping potential. Since it grows in partly shady locations, the lime variety can brighten up an area that needs more light. This is the case in the accompanying photo.
Does Your Home Need a Landscape Renovation?
Just as you fix up and modernize your home to keep it looking new and appealing, your landscaping will also require periodic attention and upgrades. It's natural for many Austin homeowners to put off landscape renovation as it can seem daunting and overwhelming at first.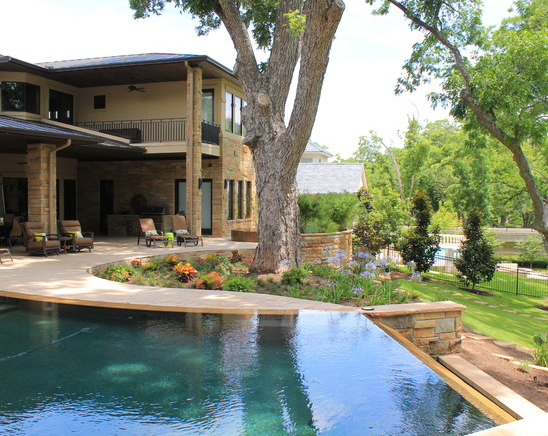 Whether your yard needs a complete refresh of plants and vegetation or just a bit of a pick-me-up, it's important to establish exactly what you want at the beginning. Starting the process with a solid landscape renovation plan ensures the process will go much smoother and the end result will better match what you envisioned.
Renovation of any kind is usually a sizeable project, and most people aren't primed to renovate as soon as they move into a home. In some cases, however, that's just what a new homeowner needs to do.
Here's why you might need to consider a landscape renovation:
The shrubbery is overgrown.
The turf or lawn in both yards is dead or needs work.
The trees on your property need significant trimming.
The layout of both yards does not complement your home at all.
If your home's landscaping possesses any of the above issues, a landscape renovation is pretty much in order. Good landscaping adds quite a bit to your home's value. It can also transform your property into a personal oasis that you look forward to coming home to each day. So, if you want your home to build value and character, it's best to consider getting a landscape renovation sooner rather than later.
Cleaning Up and Rehabilitating
Sometimes, the key to designing a better landscape simply starts with cleaning up. Start with looking at your greenery.
Do your plants look healthy? Or, do they need to be removed and/or rehabilitated in some way? Over time, plants can become overcrowded, transforming a once inviting entrance into an overgrown mess that blocks windows, crowds sidewalks, and overpowers the house in general. Overcrowded and uncultivated vegetation can give a house an 'abandoned' or neglected look, which certainly does not help increase the value of your home. Other problems, such as compacted soil, poor air circulation, and even an overabundance of weeds, cause native plants to become unhealthy. We have all the solutions you need from landscaping around trees to xeriscaping.
If you find any diseased plants, it's best to completely remove them. Clean out anything that might be obstructing those particular areas. Replant with new plants (or seeds) as needed. Regular examination of the state of your plants and cleaning up the excess is a great way to ensure your landscaping efforts last.
Develop a Clear Vision
The key to a great landscape renovation is having a clear vision and understanding of how you want both yards to look. Not to mention, how both yards should look together.
You have plenty of choices when it comes to new landscape design, which is why landscape renovation can be a very exciting time. It's your chance to create a space that enhances your lifestyle. A well-designed landscape doesn't just improve the aesthetic quality of your home – it also allows you to live outdoors in comfort and beauty. This is your opportunity to create an environment that is conducive to your lifestyle, recreational, entertaining, and emotional needs. The way you feel while in your outdoor space will largely depend on how you set the mood with colors, fragrances, textures, privacy levels, and a number of other elemental details and comforts.
While the front yard is more about presentation and looking the part, the backyard area is yours to create your own private haven. If you want to turn your backyard into a living space for your family, do that. Some people opt to add recreational and functional elements to their backyards such as a swimming pool, outdoor kitchen, fire pit, dining areas, and more.
No matter what you choose to do, renovating both yards will add some much-needed value to your home.