Welcome to Brownsville! Located in the very heart of the Rio Grande delta, with Mexico at the doorstep and the Gulf of Mexico beaches so very close by, Brownsville is a dynamic, bustling city that is a perfect travel or business destination.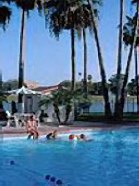 Brownsville's location and tropical climate combine to establish a perfect venue for nature and cultural activities, including Gulf beaches; the Gladys Porter Zoo, with its more than 1,500 animal species in natural settings; national wildlife preserves; historic sites; and numerous museums.
The charm of Southwestern lifestyles, combined with a bicultural mystique, Rand McNally cites the Rio Grande Valley as having the state's best overall climate. And, Brownsville offers a tropical environment of stately palm trees, purple Bougainvillea, exotic birds, and cool, coast breezes. This nature lover and sportsmen's paradise is where the Chisolm Trail began.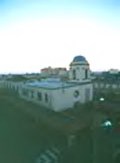 Brownsville weather is generally favorable for year 'round outdoor activities, with at least 234 sunny days per year. In August, which is the hottest month, high temperatures hover around 93 degrees. January generally has highs of under 70 degrees.
Brownsville Attractions
Brownsville features so many wonderful opportunities for the visitor: a world famous zoo, great beaches, beautiful golf courses, new shopping centers, museums, galleries and more!
Brownsville's tropical climate is perfect for nature and cultural activities, Gulf beaches, golfing, sightseeing, wildlife viewing, fishing, or hunting. The most popular Ecotourism attraction is the Gladys Porter Zoo with more than 1500 animal species in natural settings. National wildlife preserves and historic sites are found in and about town. Numerous museums bring a variety of the City's rich heritage alive. Guided and custom tours of many of the attractions are available through experienced operators. The delights of Mexico are just steps south of downtown. The Mexican and Spanish cultural influences come to life in festivals and artistic performances throughout the year.
Boca Chica State Park
Brownsville, TX 78521; (956) 546-3721
Relax at Boca Chica State Park, a remote white-sand beach 20 miles east of Brownsville off Highway 4. Popular activities at Boca Chica Beach include fishing, swimming, surfing, sunbathing, and birdwatching.
Brownsville Museum of Fine Art
660 East Ringgold Street, Brownsville, TX 78520; (956) 542-0941
In its 17,000-square-foot facility in the Mitte Cultural District, the Brownsville Museum of Fine Art displays over 350 paintings, prints, drawings, sculptures, and photographs created by local and international artists. Temporary exhibits of historical artifacts or works by notable artists are also available. Except for Sunday, the museum is open every day.
Commemorative Air Force Museum
955 South Minnesota Avenue Brownsville, TX 78521 (956) 541-8585
The Commemorative Air Force Museum allows visitors to experience World War II through the eyes of America's pilots. The museum is open from 9:30 a.m. to 3:30 p.m. on Wednesdays through Saturdays, and group tours are available.
Costumes of the Americas Museum
501 Ringgold Street, Brownsville, TX 78520; (956) 547-6890
The Costumes of the Americas Museum houses one of the world's largest collections of authentic indigenous clothing from North, Central, and South America. Each exhibition aims to highlight the vibrant images and patterns sewn into traditional designs that represent cultural or religious beliefs.
Gladys Porter Zoo
500 East Ringgold Street Brownsville, TX 78520 (956) 546-7187
The Gladys Porter Zoo is a 31-acre botanical and zoological park located just minutes from downtown Brownsville. The zoo's four areas of origin house over 375 animal and 225 plant species from Africa, Asia, Tropical America, and Indo-Australia. The South American Free-flight Aviary, Macaw Canyon, and a Komodo dragon area are among the outdoor exhibits, while the Small World allows children to touch and interact with domesticated animals.
Historic Brownsville Museum
641 East Madison Street, Brownsville, TX 78520; (956) 548-1313
At the Historic Brownsville Museum, you can learn about Brownsville's long history, including the first battle of the Mexican-American War and the last battle of the Civil War. The museum, housed within a magnificent Spanish-style building built in 1928 as a Southern Pacific Railroad depot, displays various artifacts and photographs that outline the town's history.
Laguna Atascosa Wildlife Refuge
22688 Buena Vista Boulevard, Los Fresnos, TX 78566; (956) 748-3607
The Laguna Atascosa Wildlife Refuge spans 97,000 acres and includes subtropical, temperate, coastal, and arid landscapes. As many as 417 bird species, as well as the endangered ocelot and other wildlife, call the protected habitat home. Visitors to the refuge can explore the park on the various wildlife viewing and nature trails, as well as on a kayak or tram tour.
Palo Alto Battlefield National Historical Park
7200 Paredes Line Road, Brownsville, TX 78526; (956) 541-2785
The Palo Alto Battlefield National Historical Park is the site of the first battle of the Mexican-American War of 1846, a conflict that would shape both countries' futures. Today, the park's visitor center and the half-mile trail that leads to an overlook of the battlefield highlight the battle's and war's history. From December 1 to April 1, guided tours are available, and historical reenactments are held on the first Saturday of each month from September to May.
Stillman House Museum
1325 E Washington St, Brownsville, TX 78520; (956) 541-5560
Henry Miller, owner of the Miller Hotel in downtown Brownsville, built the historic Stillman House in 1850. It was once home to Brownsville's founder, Charles Stillman, and was where Porfirio Diaz, Mexico's seven-term president, plotted to depose his predecessor. The Trevino family owned the house for 100 years before Charles Stillman's ancestor, Chauncey, bought it in 1958. It is now part of a museum with exhibits that tell the visual story of Brownsville's transformation from frontier town to international transportation hub.
World Birding Center at Resaca de la Palma State Park
1000 New Carmen Avenue, Brownsville, TX 78521; (956) 350-2920
The 1,200 semitropical acres of Resaca de la Palma State Park provide a haven for up to 277 native and migratory bird species. As such, it is one of the Rio Grande Valley's nine World Birding Center locations. Numerous hiking, biking, and tram trails wind through the park, providing opportunities to explore the area and spot wildlife.
Brownsville Climate
A year-round tropical paradise at the southernmost tip of Texas, Brownsville is home to unique natural beauty and a dynamic, progressive business community. Brownsville is the major manufacturing center of the Rio Grande Valley and is known for a loyal world-class workforce with a strong work ethic. An aggressive, probusiness climate and can-do attitude, along with a well-developed infrastructure, modern industrial parks and an unsurpassed quality of life make Brownsville a center for technology, industry and distribution. Brownsville is the front door to free trade.
Brownsville Economy
Brownsville is the sixth fastest growing manufacturing region in the United States, according to a national ranking by Industry Week Magazine. The same survey rates Brownsville 55th out of 310 metropolitan areas nationwide as a good place to do business – the highest rating of any other border city. Economic data reflects a 22% employment increase and a 36% income hike for the manufacturing sector over the last three years. These numbers were calculated prior to Titan Wheel and other manufactures announced they would add a combined 1,000 jobs in the upcoming year. This will continue to place Brownsville at the nation's forefront of economic growth and attractiveness to new companies. Brownsville is the front door to free trade. A quality, award-winning workforce provides cost effectiveness and productivity unmatched along the border.
Brownsville's earliest history begins with the exploration and subsequent colonization of the area by Spain, after the conquest of Mexico. Colonization north of the Rio Grande River began in 1748,when General Jose de Escandon was appointed by Spain to colonize Tamaulipas, wherein Brownsville was later located.
Matamoros
Matamoros, located across the Rio Grande River from what is now Brownsville was founded in 1765 under the name San Juan de los Esteros Hermosos. In 1796, the name was changed to Congregacion del Refugio. In 1821, in honor of the martyred priest, Mariano Matamoros, who lost his life in Mexico's struggle for independence from Spain in that same year, the name was changed to Matamoros.
In 1835, Texas declared her independence from Mexico, resulting in a war which was won by the Texans at the Battle of San Jacinto in 1836. Texas claimed the Rio Grande River as her western boundary. As a result of this claim, Mexico lost nearly half of what had been the State of Tamaulipas, which caused many disputes that lasted throughout the nine years that Texas was an independent Republic.
Continental Airlines provides daily, direct flights from the Brownsville/SPI International Airport. The airport's proximity plays a vital role in Brownsville's economy. It is the closest Rio Grande Valley airport to South Padre Island and the Republic of Mexico. Agriculture also plays an important role in Brownsville, as well as all of Cameron County. With more than 230 sunshine filled days a year, Brownsville boasts a local multi-million dollar agriculture industry. Approximately 455,000 of the 573,000 acres of land in the county are dedicated to farming and ranching. The major crops include upland cotton, grain sorghum, corn for grain, sugarcane, cabbage, onions, bell peppers, sweet corn, tomatoes, carrots, and citrus.
The citrus industry provides a cash crop, as well as a scenic landscape of orchards of orange, grapefruit, tangerines, lemon and lime trees. Valley grapefruit has the distinction of being redder, sweeter, and juicier than those grown in other parts of the country. Texas oranges are also known for their juiciness and low-acid content.
The Shrimping Industry pumps an average of $60 million dollars a year into Brownsville's economy, and indirectly contributes to the creation of thousands of jobs throughout the community. Home to over 190 shrimp boats the shrimp harvest at the Port of Brownsville places Brownsville fifth highest overall in the United States. As a world-class facility, it boasts all conceivable services vital to the shrimping industry. The Brownsville shrimp fleet, along with that of Port Isabel, makes our area the Shrimp Capital of the United States.