How do I get a Technical Certification?
Private consultants, company technology workers, and job seekers are all more and more aware of the importance of technical certifications. The high-tech industry has become more complex and the competition for jobs, for advancement, and for advancement has never been higher. Having a technical certification is absolutely obligatory in some company situations, and extremely valuable in all the rest.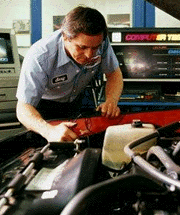 Nearly all the big players in the high-tech industry offer some form of certification in their proprietary product services. For example, a Cisco certification designates an expert in the installation and implementation of Cisco switches, hubs, routers, and network technologies. There are close to a dozen different Microsoft credentials that indicate proficiency in working with the various Microsoft Windows, workgroup, and network tools. Sun Microsystems recognizes certifications in Java development, the Solaris operating platform, SPARC servers, and many of its other products.
Most of these valuable credentials are available from schools and institutes outside the companies that develop and sell the products. Of course, it is possible to attend a Microsoft, Sun, Cisco or IBM-run school in order to get the product training, but it is usually more convenient in terms of location and time schedules to find the courses and certification exams in your own local region or online. Another advantage of the private learning centers is the ability to take courses in more than one company's product line. Technical certifications are valuable career-building blocks. In addition, most schools offer the opportunity for ongoing training as new technological developments are released.
---
Aircraft Maintenance Certification
In the United States, the Federal Aviation Administration is responsible for issuing the mechanic certification called the Aircraft Maintenance Certification. Possession of this certification means that the holder possesses both the skills and the knowledge needed to become an aircraft maintenance technician. These individuals are responsible for tasks such as inspecting aircraft and performing the preventative maintenance needed to keep them functional.
To receive the Aircraft Maintenance Certification, a candidate must meet the conditions laid out in the Federal Aviation Regulations. Applicants must be at least 18, able to communicate in English, possess the requisite education, possess the requisite experience, and pass a set of tests in a time period not exceeding 24 months in length. The tests include both a set of knowledge tests and a practical test with an oral component. Experience means either a certification of completion from a certified school or months of practical experience. The requirement is 18 months with either airframes or power plants or 30 months with both. Depending on the candidate's choices, meeting the conditions entitles him or her to receive certification for either an airframe or a power plant rating, or in some cases, certifications for both.
Once the candidate has received the Aircraft Maintenance Certification, he or she can find positions in a number of industries. Common examples range from airlines to defense.
---
ASE Certification
Automotive Service Excellence (ASE) certification has almost become mandatory if you are interested in a career in the automotive maintenance field. Most, smaller shops and all major dealerships now require you to be certified in at least one of the 14 fields that you can receive an ASE certification.
Requirements
To receive your ASE certification you have to meet two criteria. The first being two years of verifiable experience and the other is to pass the certification exam for your particular field of interest. It is not necessary two have two years in before you take the exam but you will not receive your certificate until you do.
Fields of Specialty
There are over 40 different tests that make up the 14 different series of ASE Certifications. These being:
Auto Maintenance and Light Repair
Certification Test (G1)
Automobile & Light Truck Certification Tests (A Series)
Collision Repair & Refinish Certification Tests (B Series)
Damage Analysis & Estimating Certification Test (B6)
Automobile Service Consultant Certification Test (C1)
Truck Equipment Certification Tests (E Series)
Alternate Fuels Certification Test (F1)
Transit Bus Certification Tests (H Series)
Advanced Engine Performance Specialist Certification Test (L1)
Electronic Diesel Engine Diagnosis Specialist Certification Test (L2)
Engine Machinist Certification Tests (M Series)
School Bus Certification Tests (S Series)
Medium-Heavy Truck Certification Tests (T Series)
Parts Specialist Certification Tests (P Series)
Undercar Specialist Exhaust Systems Test (X1)
Passing any of the tests will get you your certification and passing two or more will help you receive your ASE Masters Certification.
Benefits
Receiving your ASE Certification tells potential employers or customers that you know what you are doing. Most shops will hire you as soon as you pass your examines and many will hire you on the contingency that you receive your ASE Certification within a certain period of time.
ASE certified mechanic at a busy shop can expect to make up to two or three times as much as an uncertified mechanic. This is a very large difference and definitely makes taking the time to study worthwhile.
---
Automotive Collision & Repair Certifications
Professionals who receive their automotive collision and repair certification are capable of repairing vehicles that were involved in a collision. They require a specialized degree of training to become certified in the field. Sufficient knowledge relating to the automotive industry and an understanding of all of the technology relating to automobile repair is imperative to working in this field. General technician duties involve the straightening of any bent auto bodies, replacing parts that are damaged beyond repair and removing any dents. Technicians will work on a variety of different trucks, cars, tractor-trailers, and buses.
Begin with a GED or High School Diploma
To enter into this occupation, this is often the only thing that is required. Specialized education and training on the job prove to be beneficial. Classes from a community college or vocational school in physics, electronics, English, mathematics, computers, and chemistry are ideal. Technical and trade schools will often award students with a certificate after completing six months up to a year of training.
Don't Forget about the Main Skills Needed
Possessing good math and reading skills that include physics, geometry, and computer skills is crucial to this field. For the technician to restore a vehicle to its original form, you need to follow diagrams and instructions and make precise measurements to make sure all of the sections for the body are placed accurately. Close attention to detail is important.
Obtaining Certification from the National Institute of ASE
Even though it might not be mandatory to have this certification to work in the field, it has become a pervasive credential in the industry. To advance in the workplace, you need to have your certification. A technician can take up to four ASE exams to become a master technician. For those who can't pass all of the tests, passed exams and previous work experience might be what you need to qualify for technician status.
Retaking the Exam Every Five Years
To retain automotive collision and repair certification, you have to retake the exam every five years. Continuing training is offered through I-CAR, which can gain you the title of a platinum technician.
---
Aviation Maintenance Certification
With the increased need for security, there is a raising need for certified aircraft technicians. Aviation maintenance technicians (AMT's) are trained to repair, service, and overhaul aircraft systems and their components. This includes dealing with propellers, electrical systems, and environmental systems. To take the Federal Aviation Administration (FAA), you must prepare with the Aviation Maintenance Certification program.
What is involved in an Aviation Maintenance Certification?
To enter training for the Aviation Maintenance Certification program, a person needs to have their high school diploma or equivalency. A person will undergo a rigorous set of tests, including practical, written, and oral.
There are two certifications. The Airframe Rating Certificate allows you to work on the outside body of the aircraft. The Powerplant Rating Certificate allows you to work on the engine of the aircraft. Depending upon the certification you want, Airframe, Powerplant, or both, you are looking anywhere from 1,150 hours through 1,900 hours of training. The program for Aviation Maintenance is usually between 18 and 24 months.
Coursework for the general courses includes hydraulics, cleaning and corrosion control, ground operation, and knowledge of federal regulations. Those studying the Airframe courses should expect to study covering, welding, pneumatics, and instrument systems while those studying Powerplant courses are expected to cover fuel metering systems, cooling systems, electrical systems, and induction and airflow systems.
How can an Aviation Maintenance Certification help advance my career?
Lives are in aviation maintenance technician's hands, so any company serious about placing you in contact with a turbine, piston, and radial engine aircraft wants serious credentials. Receiving your Aviation Maintenance Certification moves you up in the ranks at your current job and makes you stand out for future employers.
Receiving your training at an accredited school also places you in the eyesight of some of the top companies in the industry as they actively recruit for the best.
---
Car Mechanic Certification
Since automotive technology is quickly becoming sophisticated, employers are looking for technicians who have completed a formal education program at a community college or some other institution. Once the person is hired, industry certification is normally required.
Education: Where does it Begin?
Taking classes in electronics, automotive repair, mathematics, computers, and English during high school will often provide you with a good background on the way to getting your car mechanic certification. To become fully trained, you will need additional training. Completing a training program at a vocational or post-secondary institution is one of the best methods of preparing for an entry-level position. Programs will last anywhere from six months up to a year. They provide you with intense preparation for your career with hands-on practice and classroom instruction. You can also receive a certificate in a specific skill in one of the short-term programs.
Depending on how far you want to go, you can always get a two-year degree in the field. Courses will include mathematics, computers, automotive repair, and electronics. Some of the programs have also added customer service, English, and a host of other critical skills. Different dealers and manufacturers often sponsor these two-year programs. Students can spend time alternating between taking their classes full-time and working full-time in the shop under the direct supervision of an experienced tech.
Training: What All Do You Need?
Most of the time, you are required to complete training on the job for your car mechanic certification. Depending on your educational background, it can take anywhere from two to five years for you to become fully licensed in the field. After that time, you will also need another one to two years of working experience before you are familiar with all of the different types of repairs there are out there. A new worker will often begin as a trainee technician, lubrication worker, or technician helper and begin gaining and practicing their new skills working alongside a technician or mechanic who has experience in the field.
Any technician who is working with refrigerants will have to be properly licensed by the EPA. Formal preparation isn't required for the test, but a number of places do offer training programs for the test.
---
Diesel Mechanics Certification
Many diesel mechanics will learn their skills informally while working on the job, but employers are continually looking for those who have already completed their post-secondary training in the field of diesel engine repair. Even though this isn't required, it is important for those who are looking to work as a diesel mechanic.
What Education is Needed to Work in the Field?
Most of the time, an employer will require at least a GED or high school diploma. Earning your diesel mechanics certification will require classes in automotive repair, mathematics, and electronics. Many employers want someone who has completed some post-secondary education in the field. Numerous colleges and vocational schools offer programs in diesel repair. On average, the program will last anywhere from six months up to two years. In the end, you will receive your diesel mechanics certification to show to a prospective employer.
Programs will often mix hands-on training with classroom training, which will include repair techniques, equipment, the basics of diesel technology, and a number of practical exercises. Students will also gain an understanding of how to interpret all of the different technical manuals and various diagnostic reports. Graduates will often advance to journey-worker status, which in turn, means a minimal amount of supervision is required.
What Type of Training is Necessary?
Some diesel mechanics will begin working in the field without having any post-secondary education and they receive their training on the job. As a trainee, you will be assigned basic tasks, such as checking oil and fuel levels, cleaning parts, and driving vehicles into and out of the shop. After learning routine repair and maintenance tasks, as well as demonstrating competence, trainees will be able to move forward to some of the more complicated jobs. The process can take anywhere from three to four years, which is when the trainee will be considered a journey-level mechanic.
Over the course of your career as a diesel mechanic, you need to learn all of the newest equipment and techniques. Employers will often send experienced mechanics to specialized classes offered by the vendors and manufacturers to learn all about the new technology for diesel.
---
Electrical Component Repair Certification
When a car is in need of repairs, customers search for someone who has a specialized degree of knowledge. Earning your electrical component repair certification helps you prove to potential clients that you have the proper skills and knowledge that it takes to get their repairs handled properly. Employers will be far more likely to hire you and provide you with an opportunity to work on larger projects and take on more responsibility in the workplace.
Getting Certified: What Does it Entail?
The electrical component repair certification is available through the National Institute for Automotive Service Excellence. It requires that you possess at least two years of work experience relevant to the industry or at least two years of proper training and one year of work experience in a related field before qualifying for certification. Beyond having to possess the proper amount of work experience, you are also required to pass a test that is composed of 40 to 60 multiple-choice questions. When it comes time to take the test, you will have four hours in which to complete the test.
Taking the Test: What Do You Need to Know?
As you prepare for the test, you will need to know a few different things to make sure you are able to pass the test with ease. Two of the largest content areas that make up the test are electrical and suspension and steering. To prepare for the test, you need to know in great detail how to diagnose, repair, and identify elements within all of the aforementioned systems. A little more than half of the test revolves around six other key areas: heating and air conditioning, brakes, drive train, engine cooling systems, restraint systems, fuel intake, and exhaust systems. As a whole, the test for your certification is designed to see if you know the appropriate methods for repairing and analyzing collision damage to automobiles. Once you have passed the test, you will be awarded your certification to prove that you are familiar with the automobile as a whole.
---
Electronic Technician Certification
A career in electronics goes beyond wanting to work in electronics and dabbling around in the garage. It requires extensive training and dedication. Those that work as electronic technicians find themselves working in sectors such as computers, energy conversion, robotics, transmission, electrical equipment, and power generation, to name a few. Technicians are responsible for the design, testing, manufacturing, repair, and installation of expensive electronic equipment such as medication monitoring devices and communications equipment. To be successful, you should aim for your Electronic Technician Certification.
What is involved in receiving my Electronic Technician Certification?
In order to pursue your Electronic Technician Certification, you must already possess your high school diploma or equivalency. There are many laboratory assignments, interactive exercises, and tests to help you prepare for your exam.
You will have many solid foundational courses for a period of about two years. The coursework includes learning about voltage, currents, ohm's law, resistance, transformers, AC/DC Circuits, magnetism, semiconductors, digital electronics, amplifiers, and more.
How can an Electronic Technician Certification help advance my career?
There are many people out there going to school and stating they are certified to become an electronic technician. However, with an electronic technician certification, you are showing your dedication to the field. This is documentation of your proven proficiency in the field. With an electronic technician certification, you are a licensed technician, which adds value to yourself. You are able to add value to a company and that is the type of employees they seek so they look good to their clients.
Having a certification is a great step in advancing your career, next to your hard work and dedication to a company. You are showing employers you are working at your own self-improvement. Government and private entities often require you to have certification before you can work for them. If your desire is to become a senior technician, consultant, or electronic educator, this is your first step.
---
Motorcycle Mechanic Certification
Technical Certifications Training ProgramsIf your passion is motorcycles, then working as a motorcycle mechanic may be the career choice for you. As certification is not needed to work on your own motorcycle, this hobby turned career choice for many becomes a lucrative job and a way to gain exposure to some of the most coveted bikes in America. This is an amazing opportunity to be paid doing what you truly love.
What is Involved in Motorcycle Mechanic Certification?
To get your certification, you must have a thorough understanding of motorcycles. There are many online and physical campuses to take motorcycle mechanic programs. These programs teach you diagnostics, troubleshooting, fuel, and electrical systems, engine operation, tires, maintenance, brakes, ignitions, and more. Some programs teach you about ATVs as well.
These are in-depth and hands-on classes, giving you more exposure than just reading a repair manual. Most programs give you a general overview of motorcycles and then get into the diagnostics. Then, you'll progress to a specialty program, learning about specific manufacturers such as Suzuki, Honda, Harley-Davidson, or Kawasaki.
Programs typically last from 1 to 2 years. These programs are offered at specialty training schools, universities, and community colleges. During this time, you will gain valuable experience during the training process. Work opportunities may become available even before you complete your certification test.
How Can a Motorcycle Mechanic Certification Help Advance My Career?
The job outlook is promising for motorcycle mechanics as more people are purchasing motorcycles. You could find yourself working at a motorcycle dealership, an automotive repair shop, or start your own independent repair shop. Manufacturers such as Harley-Davidson and Honda require their employees to be certified before touching their motorcycles. So the best way to get your foot in the door is to prove on paper that you have what it takes from a certified motorcycle mechanic program.
---
Marine Mechanic Certification
Marine mechanics work on various watercraft engines, servicing and repairing inboard and outboard motors on yachts, commercial fishing boats, and various private boats and cruisers. Sometimes called marine technicians or motorboat mechanics, marine mechanics can choose from a wide variety of work environments, from onshore sites to the open sea, all over the world.
Marine Mechanic Certification
If you are interested in becoming a marine mechanic, certification is the best route. While some mechanics find employment without experience and learn through on-the-job training, most employers prefer candidates with a marine mechanic certification. The certification shows an employer that the prospective employee has the knowledge and technical training required to do the job.
While specific classes vary from school to school, marine mechanic certification courses usually take no longer than two weeks to complete. A typical certification course focuses on marine motors and aspects of mechanical equipment, often including certification in:
Marine corrosion
Diesel engines and systems
Gasoline engines and systems
Marine systems
A/C and refrigeration
The short time required to complete a marine mechanic certification makes it especially appealing. Potential employers tend to favor marine mechanics who have already been through the training and certification process because they require less onsite training, and certified mechanics often demand a better salary than those without certification.
Additional Specialized Certification
In addition to basic certification, there are other options for marine mechanics to receive more specialized training. Watercraft manufacturers or distributors often provide courses for mechanics for servicing their own products, which allows the mechanic to perform maintenance and repairs under that manufacturer's warranty. These specialized training courses are sometimes offered only to mechanics who have worked in the field for a set period of time. These specialized certifications, on top of the marine mechanic certification, will go a long way toward securing a reward career in the industry.
---
Small Engine Repair Certification
Why get a Small Engine Repair Certification?
Small engine repair was once a small field that dealt primarily lawn mowers, weed eaters, and chain saws. These were simple engines that required some knowledge to work on but were not very technologically advanced. It is not that way anymore.
Small engines now are highly advanced and require a great deal of technical knowledge to work on. When you receive a Small Engine Repair Certification you will be qualified to work on all types of small engines. Yes, lawnmowers and chain saws but also motorcycles, personal watercraft, outboard boat motors, and about any other piece of powered equipment smaller than a car.
Small Engine Repair Certification Requirements
The requirements to receive a Small Engine Repair Certification vary greatly from state to state. In some areas, all that is required is the completion of a small engine repair course that will normally run for two semesters. Pass and you receive your certification.
Other areas have much stricter certification requirements. You may be required to pass your classes then take a state-monitored exam and have 2-5 years of working experience to become fully certified.
Benefits of having a Small Engine Repair Certification
Small engine repair is one of the few fields that has actually benefited from recent economic events. As household budgets have become more restricted, people have been forced to have equipment repaired where they once would have replaced it. This has been a boom for the small engine repair field, with the national average job growth in this field, over the last few years, running at near 20 percent and showing no signs of slowing down.
Once considered the poor stepchild of mechanic fields, small engine repair is now a highly technical area that is growing at an astronomical rate and offering vast opportunities and financial rewards for employment and entrepreneurship.