How do I get a Medical Certification?
Employees within the greater medical profession can accelerate their career advancement by earning medical certifications within their specialty areas or in new areas of concentration. The step from general technician to a specialist is an important one with regard to employment opportunities and salary increases. Many hospitals, clinics, individual medical and dental practices, and laboratories require personnel to be certified in their specific disciplines. The concern for the highest quality patient care and worries about potential legal liabilities make these medical institutions prefer team members with degrees and certifications.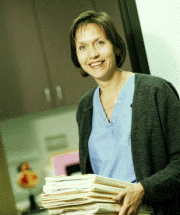 Some medical areas, such as emergency providers or emergency medical technicians (EMTs), require certification in most states. The EMT is often the first medical professional to come in contact with sick and injured patients. Other professionals such as radiology technicians take a significant step forward when they obtain radiologist certifications. Certified x-ray and MRI certified specialists are able to undertake greater responsibilities than radiological technicians with minimal training. Important medical decisions may revolve around the diagnostic interpretation of patient x-rays. The same responsibility issues apply to laboratory technicians. There are laboratory procedures that only certified laboratory specialists are permitted to perform.
The fear of error and malpractice actions drives medical administrators to seek the most highly trained workers for all these professional areas. Medical professionals with current credentials and certifications are generally the first choices in these positions. Earning a medical certification takes an additional amount of schooling, but the expanded employment potential and the higher salary rates earned by certified medical professionals make the effort worthwhile.
---
CMA Certification
What is CMA Certification?
CMA certification is designed to teach you the skills and knowledge you need to become a medical assistant. There are several varieties of CMA certification, depending on what specialty interests you. In general, as a medical assistant, your role would be to help patients in hospitals and care homes. Your responsibilities would be a mixture of clinical and clerical tasks. The amount of clinical tasks to clerical varies between states. Each state has its own guidelines on what CMA certification allows you to do. You may find that most of your duties are clerical in some states.
The job can include health and safety, wound management, basic pharmacology and disease processes, nutrition, patient relations, ethics, medical coding, and hygiene. Your day-to-day tasks may involve helping patients to eat, take medication, or dress. You may also take vital signs such as breathing rate or blood pressure.
How Can Certification Help My Career?
Not all states or hospitals require CMA certification, but if you do hold this qualification, you can start to make a valid contribution to a health care facility from day one. In this sense you could be more highly regarded over somebody applying for a position that does not have the training. The U.S. Department of Education accredits programs in medical assisting. There are currently two accredited educational agencies: the Commission on Accreditation of Allied Health Education Programs (CAAHEP) and the Accrediting Bureau of Health Education Schools (ABHES). This could be a factor in the CMA certification program that you choose.
---
Massage Therapy Certification
Earning massage therapy certification requires students attend classes to learn about different massage techniques, such as Swedish, myofascial and deep tissue, as well as human anatomy and physiology. Medical conditions that are relieved through massage therapy may also be explored in a massage therapy program, along with courses in interpersonal communication, ethics and infectious diseases.
What is Involved in Massage Therapy Certification?
Classes are taught by certified massage therapists with years of experience. Program lengths vary but are usually completed within 12 to 16 months. Once certified, students are qualified to pursue one or more advanced positions with continuing education classes or working by as interns in spas or clinics:
Registered massage therapist
Licensed massage practitioner
Bodywork therapist
Therapeutic massage technician
Integrated deep tissue massage therapist
Career Outlook and Salary
In recent decades, alternative healing therapies such as massage therapy have grown increasingly popular. According to the Bureau of Labor Statistics, the massage therapy job market is expected to experience a 19 percent increase over the next 15 years. Salaries for certified massage therapists range from $20,000 to as high as $60,000 per year, according to Salary.com. However, experience, location, and whether a therapist works for someone else or is self-employed influence the amount a massage therapist can earn in one year.
A Good Choice as a Career?
Individuals interested in becoming a certified massage therapist should be comfortable with touching people and enjoy interacting with customers. Because building a permanent client base is important to being a successful massage therapist, students with a natural ability to talk to and empathize with people who suffer from medical problems can often experience a successful and rewarding career as a massage therapist.
What If I Don't Get Certified?
Most states require students to complete a program of massage therapy classes offered by an accredited learning institution before they can legally work as massage therapists. Students will also need to pass a state-directed examination as well. A few states currently have no requirements to practice massage therapy but may have county-to-county laws regulating the ability for people to legally work as massage therapists.
---
Medical Assistant Certification
Medical assistants are needed in a variety of facilities, so becoming certified as a medical assistant can create access to a vast number of career paths. Due to the serious nature of the position, anyone interested in performing its duties must be fully certified. Specifically, those with focused career aspirations must pass the Certified Medical Assistant (CMA) examination devised by the Certifying Board of the American Association of Medical Assistants (AAMA). The AAMA certification fully credentials a professional as being knowledgeable, skilled, and experienced to the level required to perform the job.
There are certain very narrow eligibility requirements associated with the ability to take the examination. A person wishing to sign up for the exam must meet one of the three main eligibility requirements. The three umbrella requirements are as follows:
1) The applicant must be either a recent graduate or completing student of a medical assisting program accredited by the CAAHEP or ABHES.
A recent graduate is defined as someone who takes the test within 12 months of graduation of an accredited program. A completing student is someone who takes the test no more than 30 days prior to completion of the program.
2) The applicant is a non-recent graduate of a medical assisting program accredited by the CAAHEP or ABHES.
A non-recent graduate is someone who completed the accredited program after 12 months, but less than 60 months. Anyone who does not pass the exam prior to the 60 months elapsing is no longer eligible for the exam.
3) The applicant is re-certifying for the CMA (AAMA) credentials
Recertification is only offered to those who have previously passed the examination.
The Career Opportunities Available to Certified Medical Assistants
A medical assistant must perform a great many specialized tasks such as cleaning equipment, interviewing patients, performing certain tests, recording vital signs, and more. Very few people possess such professional skills. As a result, those with the necessary knowledge of the task become part of a small talent pool held in consideration for job openings. Furthermore, being a certified assistant can increase both earning potential and job security.
---
Medical Transcriptionist Certification
Earning an advanced medical transcriptionist certification will give you a set of skills that you can use to find a position as a medical transcriptionist in your choice of health care environments. Graduates with a medical transcriptionist certificate are in demand as the health care industry continues to grow every year. Let's examine the medical transcriptionist certification and what it will mean for your career.
What Is a Medical Transcriptionist Certification?
A medical transcriptionist certification is a credential that you will need to hold a position taking detailed notes for doctors on their procedures. Medical transcriptionists have an important position, as it is their job to help doctors keep accurate records for accountability purposes. When you earn your medical transcriptionist certification, you will be an integral part of the health care process.
How Can a Medical Transcriptionist Certification Help My Career?
A medical transcriptionist certificate is certainly a positive credential to add to your resume. When you earn your medical transcriptionist certification, you will be ready to work with doctors in hospitals and health facilities all over the country. In fact, it is only through a rigorous medical transcriptionist certification program that you can be considered an eligible candidate for hire in the medical transcription field.
Where Can I Go For Medical Transcriptionist Certification?
To earn your medical transcriptionist certificate, you need to find a health care training program from a school in your area. Medical transcriptionist certification programs also offer financial aid options for you to consider that can help you pay for your education.
---
Nursing Certification
Medical Certifications Training ProgramsThe healthcare industry is one of the fastest-growing industries. A great way to enter the field is by receiving your nursing certificate. Nursing certification is an important process, which must be validated by a nongovernmental agency. These certificates are also recognized on a national level.
What Types of Nursing Certifications Are Available?
There are many, many medical specialties available, such as call nursing, critical care, dermatology, diabetes, emergency, gastroenterology, gerontology, home health nursing, medical-surgical, nephrology, pediatric, psychiatric and mental health nursing, women's health, ostomy, continence nursing, and others. While many of these are satisfied with a registered nurse certificate, many others require specialties.
For example, in peri-operative nursing, one can gain their certification as certified nursing operating room or certified ambulatory perianesthesia nursing. Those interested in nephrology nursing can become certified peritoneal dialysis nurses or certified hemodialysis nurses. And those interested in critical care can become certified critical care nurses or receive their progressive care nursing certification.
What Are the Benefits Of Earning a Nursing Certification?
Earning a nursing certification can enhance your professional career in many ways. Nursing certification is an excellent way to confirm your knowledge and hands-on training as a nurse. It allows you the opportunity to measure your competency in a program, which is recognized and accepted by state boards of nursing across the United States.
A nursing certificate indicates to the medical industry you have proven clinical training and some certifications are stepping-stones towards advanced opportunities such as a case manager or a head nurse. Those interested in completing their registered nursing license will find this can place them in the healthcare setting of their choice sooner, so they can start proving themselves and be ready for placement after receiving their nursing degree.
---
Pharmacy Technician Certification
Anyone who works as a technician in a pharmacy must be highly skilled and up to date on all the many innovations and changes in the industry. Those wishing to hire a pharmacy technician are likely to be most interested in hiring someone who possesses a high level of qualifications. Anyone who presents an accredited certification in the field demonstrates that they are capable of proving a high level of knowledge, professionalism, and skill.
Requirements
Certifications of this nature are acquired after the completion of a reputable program and the passing of a comprehensive examination. The National Commission for Certifying Agencies (NCCA) is one entity that accredits many pharmacy technician certification Programs. Enrolling in one of these programs is usually the first step in moving towards full certification.
Following the completion of such a program, students can then sign up for the ExCPT Pharmacy Exam. The exam itself is administered by the Pharmacy Technician Certification Board (PTCB). Once the exam has been passed, the title of Certified Pharmacy Technician (CPHT) is awarded along with the accompanying professional certification.
In order to sign up for the exam, there are certain eligibility criteria that must be met. For one, all candidates must have a high school diploma or a GED. Candidates must not have any felony convictions nor any misdemeanor convictions related to drugs or pharmacy laws. No one who has been suspended, denied, or revoked any license from the State Board of Pharmacy will be eligible either. Also ineligible are those who have admitted misconduct to the State Board of Pharmacy.
The Examination
The examination itself is broken into three parts. Over two-thirds of the exam focus on questions related to assisting the pharmacist and helping patients. The remaining one-third of the questions focus on inventory and medication control systems and being knowledgeable about pharmacy administration and management. The exam is comprised solely of 90 multiple-choice questions. Results of the exam are issued immediately after completion of the test. Those who fail the exam may retake the test up to three times.
---
Phlebotomy Certification
If you're looking to enter the medical field rather quickly, consider working as a phlebotomist. Phlebotomy is the process of drawing blood samples from people to use for blood analysis, research, and blood transfusion.
It's a fast paced environment and not meant for the faint of heart. This position involves working with patients and their families through various health care settings. Due to the sensitivity of patients, phlebotomists must show their patients that they are caring, gentle, and have patience. Through verbal and non-verbal communication, they must gain the trust of their patients.
What is Involved in Receiving My Phlebotomy Certification?
Depending on your state, you may need to complete an extensive phlebotomy certification program consisting of many classes, hands on experience, and clinical hours before completing your exam. Some states are more relaxed though, allowing you to complete your phlebotomy program online. So, you can expect training to last anywhere from three weeks to six months.
During your training, you will, of course, learn how to draw blood and handle specimens. In addition, you will need to have a general understanding of basic anatomy and physiology. You will cover blood and cell composition, first aid and safety, and laboratory safety procedure courses. After successful completion of a course, you will move on to take your certification exam.
How Can A Phlebotomy Certification Help Advance My Career?
As with all health care positions, the demand for phlebotomists is expected to increase. Those seeking employment should have no problem starting above minimum wage, working in hospitals, clinics, doctors' offices, and diagnostic labs. The Red Cross is a great place to start, seeing as they work with blood specimens around the clock.
There aren't many advancement opportunities in the field of phlebotomy, but those willing to travel or relocate will have greater advantages. Other positions would include becoming a lead phlebotomist or a managing phlebotomist.
Since the phlebotomy certification program can be completed in a short time, many nursing or medical assistant students will complete the program to help them get into the medical field sooner and gain valuable experience.