How to Pump a Bike Tire
Every bike rider has those less-than-ideal days when you find yourself with a flat tire at the worst possible time and, of course, there is no one around to help (I suggest you invest in a portable bike pump if you don't already have one). Or maybe you are doing your routine bike maintenance (which we recommend!) to ensure that your tire pressure is at the recommended pressure level. Whatever the reason, it is important to understand the correct procedures involved in pumping air into your bike tires. In this article we will discuss the steps involved.
Determine The Type Of Valve
The first step in the process is to determine the valve type of your bicycle. The two basic valve types are the Presta (typically found on road bikes) and the Schrader (typically found on mountain bikes). The Presta valve is long and slender and is typically found on high performance bikes that require high air pressure. Schrader valves, on the other hand, are wider and more secure than the Presta counterpart. Therefore, the head of bike pumps differ depending on the type of valve in place.
Once you have identified the type of valve used on your bike, you then want to select a pump that is compatible with that valve type. These days, most pumps have dual compatibility and have attachments that can be used to fit either valve. To verify, quickly check the packaging of the pump to determine the type of valve it accepts.
Attach The Pump To The Valve
The next step is to attach the bicycle pump to the valve. If there is a screw covering the valve (typical for Presta valves) this must first be removed. When attaching the pump be careful to ensure that it is pressed down snug to prevent air from escaping. If when you are pumping you realize that the tire is not inflating, that may be a sign that the pump is not attached correctly – try readjusting the pump to ensure that there is a tight seal. Additionally, when pumping into a Presta valve be careful not to cause damage to the thin pin in the center, as it is fragile. Damaging this pin could mean replacing the whole tire, as the pin typically cannot be replaced.
Pump Air into Tire
Once you have attached the pump correctly you want to ensure that you are pumping the correct air pressure into the tire. The optimal air pressure of the tire is often given in psi (pounds per square inch) and can be found on the sidewall of the tire. When selecting an air pressure, lean towards using air pressure in the higher end of the recommended range for your tire. A standard rule of thumb for air pressure is 85 – 130 psi for road bikes and 30 – 50 psi for mountain bikes; this can be helpful to bear in mind if you are not sure about how much pressure to use. However, be careful to stay within the range recommend so as to prevent over-inflation.
Most bicycle users tend to have a track or floor pump at home and a smaller portable hand pump in case of emergencies. Using a track pump is a great option to easily get the correct pressure for your tire with minimal time and effort. There are several bike pumps these days that have a wide range of capabilities and features; depending on your cycling needs it may be worth investing in one or two quality pumps.
Over time, as can be expected, the air pressure of your tires will slowly go down due to use, therefore be sure to monitor the air levels and continue to pump in air as needed. It is important to maintain the right amount of pressure in your tires, as low air pressure can damage the rims of your tires and also increase your chances of getting a puncture. Developing a routine for checking your tires' air pressure before riding can help you to reduce the unnecessary risk associated with a low-pressure tire. Depending on how often you cycle, you may find yourself topping up with a little air every time you cycle, or once a week if more appropriate.
Bicycle Pump Reviews
Let's talk bike pumps! This may not seem like the most exciting topic, but if you have ever been stranded with a flat tire and found yourself praying to the bike-tire gods to magically send you a bicycle pump, then you will have some idea as to just how valuable these little tools can be when you are out biking. I will admit that I too learned the hard way; I didn't decide to actually get a pump until I had to endure one of those unfortunate incidents that ended with me having to walk my bike all the way home with a flat tire. Ever since then, I make sure that I always have one with me when I go out, and I also have one that I keep in the garage at home.
Hopefully you are not like me and are being proactive in your decision to get a bicycle pump. But whatever the reason, welcome to my site – I hope you will find the information here useful. I did a lot of research on the different bicycle pumps when I was looking for one for myself, and I thought all the information that I gathered can possibly help someone else, so I went ahead and created this website. As there are so many bike pumps on the market, I narrowed them down to my top picks in different categories and reviewed each one here for you to see.
---
Best Overall Floor Pump
Topeak Joe Blow Sport II
I choose the Topeak Joe Blow Sport II as the best overall because it is a high-quality pump that both professional and amateur riders can use. It's made with very good materials and it has a reasonable price tag, considering how well made it is. This is just an all-round good pump that will get air into your tires when you need it to; with minimum maintenance you should be able to keep it around for many years.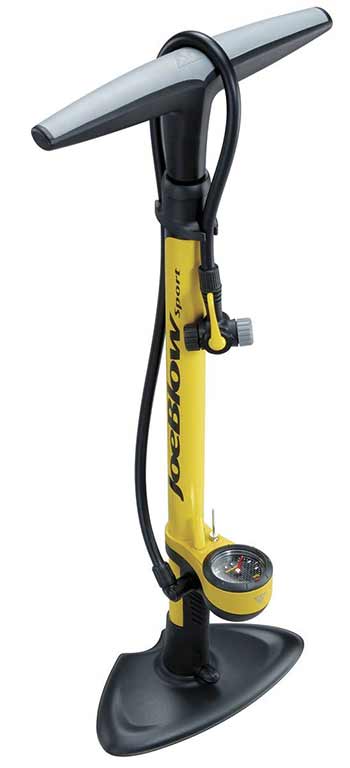 The Most Popular Valves
The Topeak is compatible with both Presta and Schrader valves and, as these two are the most common valves on bicycle tires, you will be able to use it with most bikes. The head on this device is double-sided and each side has a different end to work with the appropriate valve. You will also be able to reach your tires more efficiently as this pump has a hose that is extra long and the ability to pivot up to 360 degrees.
Well-Built Pump
The Topeak Joe Blow Sport II is made with high-quality components and materials. The barrel and the base are made of a durable steel, and the base is also extra wide to help it be more stable when it's in use. The manufacturer also made the handles over-sized so that they are more comfortable to hold.
---
Best Mini Bike Pump
Vibrelli Mini Pump with Puncture Repair Kit! Fits Presta & Schrader
I think this is a great little mini pump that could easily rival some of the full-sized pumps out there. Even though it is small it has all the essential features every bike pump should have, and then some.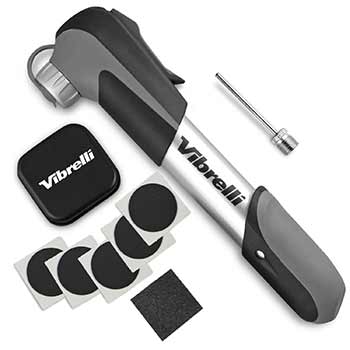 A Very Clever Valve
One of the things I love most about the Vibrelli is its valve. Most mini bike pumps leak when you try to connect them to Presta, but the valve on this one has been specially designed to be a "Super Fit Clever Valve" that will fit Presta as well as Schrader valves without any leaking. The best part is that you won't have to change the valve or use any adapters – the valve on this mini pump will automatically lock on securely to either type of valve, so you won't have any leaks even if the pressure is as high as 120 PSI.
Gotta Love Bonuses!
You will also get two awesome bonuses when you purchase this pump. The first bonus is a very handy little glueless repair kit for punctures. It is pocket-sized and has everything you need to quickly patch up any unexpected punctures and get back on your bike. The next bonus is a sports needle that you can use for items like basketballs or footballs.
---
Most Affordable Multifunction Pump
Schwinn 5-in-1 Floor Pump
If you are looking to get the most value for your money when you purchase a bike pump, then I definitely recommend that you take a closer look at the Schwinn 5-in-1 Floor Pump. Not only does it have a super-affordable price, it also gives you five different functions in one device. That's an amazing deal from the trusted Schwinn brand.

5-in-1
Whatever type of valve you have on your tires, you will be able to use this pump to get air into them. This also means that you will be able to help other people who need to have their tires pumped as well – no matter what type of valve they have. So be prepared to rescue a lot of bikers in distress when word gets out that you have one of these multi-functional bike pumps. The locking head on the Schwinn lets you choose Presta, Schrader, or Dunlop valves, and you can use it to inflate sports balls and cones as well.
The pump itself stands firmly on its wide base, so there should be minimal movement when you are pumping your tires. As well, you will be able to see the pressure readings on the large pressure gauge that is on the Schwinn.
---
Best Compressor Bicycle Pump
SKS Rennkompressor Floor Pump
The SKS Rennkompressor is a classic compressor pump. This German-made SKS is considered to be the grandfather of all floor pumps and you will be hard-pressed to find another one more deserving this title.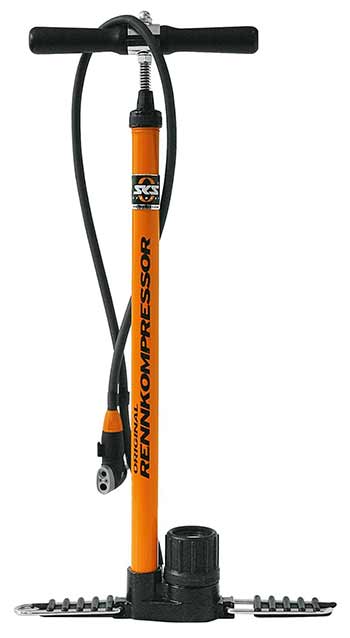 Constructed to be Tough
I think one of the strong points of the SKS Rennkompressor is its durability. It is made of a tough cast iron and corrosion-resistant steel – one tough cookie that will be able to survive whatever you throw at it for many years, a trait not commonly found in most modern bike pumps. If you need a bike pump that can put up with the rigors of being in the real world, this is the one. Even though it is unlikely to ever break, in the event that it does, you won't have to worry as it is backed by a lifetime warranty from the manufacturer.
All The Pressure
If you are looking for pressure, look no further! This bad boy can pump up to 230 PSI, and that is more than enough to keep your tires pumped up and ready to go. There is a pressure gauge conveniently located on the base of the pump so you can easily read the pressure stats.
---
Best Portable Travel Bike Pump
PRO BIKE TOOL Floor Pump with Gauge – Presta & Schrader Compatible
Tires are notorious for losing air or getting punctured when you are biking on a trail that is 200 miles from any sign of civilization or – well, you know – when there is no one around. For this reason all bikers should seriously consider getting a portable pump so that they can be prepared for these types of situations.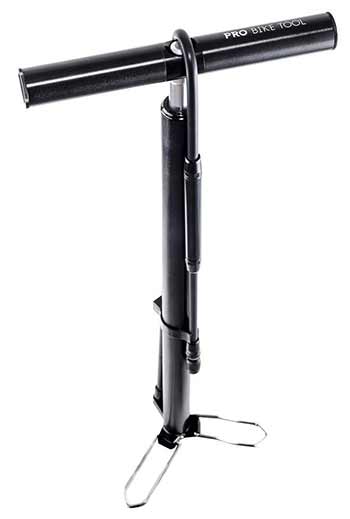 On The Go
This lightweight bike pump weighs less than 2 pounds; that is one of the reasons it is so portable, but it is not the only reason. It also has stainless steel feet that can be folded up when you are done using it, adding to the portability of the unit. The folding feet also mean that you will be able to easily fold it away for storage. You will get a very nice "luxury" carrying case for the pump when you purchase one, and it even has a shoulder strap to make it super-easy to carry. The handle is removable so that it can fit into its carrying bag.
Only The Best
This pump is designed and made for bikers who know that they deserve only the very best for their bikes. Whether you have a mountain, dirt, road, or motor bike, this travel floor pump can handle the job. The stunning and stylish look is a clear indicator of its quality and all the thought that went into making it.
---
Most Solid Steel Bicycle Pump
Lezyne Steel Floor Drive Pump
OK, so this pump isn't made of all steel, but it does have a solid machined steel barrel which is the thing that will pop out at you the most when you first see it. The piston is also made of steel and this is just an excellent, high-pressure pump that you can use on both Presta and Schrader valves. With a combination of solid steel parts and other high-quality materials like its varnished wood handle, the Lezyne will certainly feel good in your hands.
No Plastic Please
Many of the bike pumps you will find on the market have more than their fair share of plastic parts, even some of the pricier, more "high-end" models. While they are often very capable of pumping air, there's just something about plastic that feels cheap; so if you are looking for a pump that lets you feel its quality when you hold it, the Lezyne is one of them.
Color Choice
Although the barrel of the Lezyne is made of high-quality steel, you won't be able to tell just by looking. This is because the barrel comes painted in one of three very distinct colors: yellow, black or red. If you fancy a pump that will stand out from the crowd, the red and yellow are great options. In any case it's good to have a choice, as many alternatives have only one color option.
---
Best Mini Bicycle Pump with Gauge
Pro Bike Tool Mini – Presta & Schrader Compatible
The manufacturers of this pump are known for producing high-quality, attractive, and high-performance bike tools, and this one only serves to further cement that reputation. Mini bicycle pumps are great because you can take them with you on your biking trips to be prepared for any punctures or loss of pressure that may occur.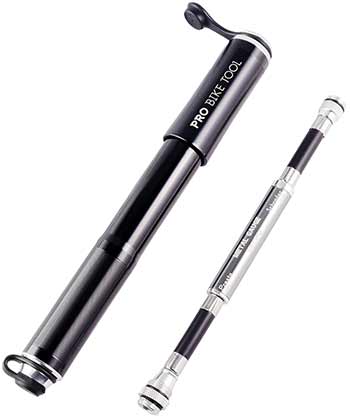 Bike Pump Technology
Despite its small size this is one of the top performers on the market. Its design incorporates new technology that makes it more efficient and easier to use, like the deliberately oversized piston that requires 30% fewer strokes to get to your desired tire pressure. The pressure gauge on this pump has also been integrated into the hose to make it easier for you to achieve your precise pressure.
Take It Anywhere
You will never find yourself without a pump if you own one of these pumps. Not only are they very portable because of their 4.5 ounces of weight, but they come with a frame mount kit that you can use to mount them securely on your bike. This is one of the best ways to ensure that you will always have it when you need it, but you can also carry it in your pocket or in your backpack when riding.
---
Best Presta & Schrader Tire Pump
AerGun X-1000
Schrader (American) and Presta (French) valves are two of the most common valve types you will find on bicycle tires. While some pumps are compatible with both types, in some cases they are not very effective and you will still get some air leaking through. With the AerGun X-1000, however, you can be sure that it will work with both Schrader and Presta valves without leaking – even when you are disconnecting it from the valve.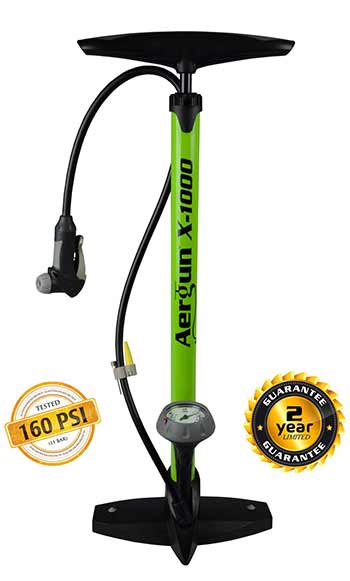 AerTight Pump
The "no-leak" promise that the manufacturers make about the AerGun X-1000 is possible because of their confidence in the AerTight head on this pump. This specially-designed pump head is airtight so that no air can escape no matter what type of valve used. They also made a very clever play on the words with AerTight and airtight, thumbs up for that one, AerGun.
Freebies!
Yes, you actually get a nice free gift when you purchase this pump – an ebook that is valued at $9.99 and is called The ABC's of Bike Tires… How To Choose The Best Tires For Your Bike. If you are new to biking or just need some advice on how to choose tires, this book can be a real help. I have to give Aergun (the manufacturer) credit because I haven't seen many other sellers giving freebies to their customers. I also love that they have a solid "no questions asked" 2-year warranty.
---
Best Value Pump Kit
Vibrelli Floor Pump with Glueless Puncture Kit
If you are looking for a bicycle kit that has everything you need to handle a tire situation in an emergency and has a price that won't break the bank, you should check out the Vibrelli. This pump has it all – it is compatible with both Presta and Schrader, it comes with a glueless puncture kit, and it can handle pressures up to 160 PSI.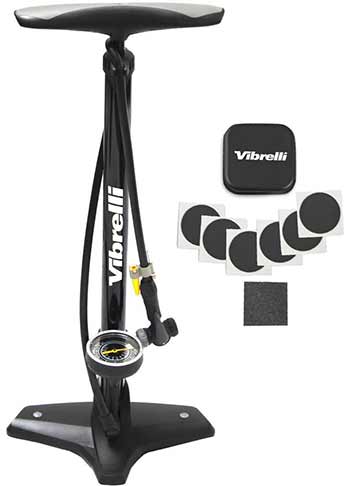 Effortless Valve Switching
Thanks to the unique Rapid T Valve switch, you won't have any hassle switching between Presta and Schrader valves. This innovative T-valve quickly and effortlessly makes the change when you switch it from one function to the next. There is no need to use any adapters or to change any parts. All you do is just switch the lever to the setting for the valve that you want, and it will change it automatically, while preventing any leakage at the same time.
Accurate Pressure Gauge
If you are like me and you rely heavily on the use of a pressure gauge to see how much pressure you are using, then you will love that this pump has a very good pressure gauge that has been thoroughly tested for accuracy. Working with a faulty pressure gauge can be frustrating, to say the least, and so it helps to know that the gauge has been tested and is also easy to read.
---
The Different Types of Bike Pumps
For the seasoned cyclist, pumping a bicycle tire is a run of the mill operation; you've done it so many times you've lost count. However, for new cyclists it can be overwhelming trying to understand all the different components of the bicycle and making sure you select the right tools, like bike pumps, that you need to maintain your cycle. In this article I will discuss the most commonly-used bicycle pumps and the differences between them so you can have a better idea about them when you are ready to purchase one for your bike.
Stand (Track Or Floor) Pump
The stand pump is a standard pump that every bicycle owner should have in his home. These pumps are able to provide the high pressure air that smaller, more portable pumps cannot. To operate, the base of the pump is placed on the floor and the user must pull and push the handle in order to activate the flow of air from the tube into the tire. Track pumps are ideal for providing a quick, quality pump, and are able to inflate tires with high pressure with relative ease.
Hand Pump (Mini-Pump)
These are portable pumps that can be used for emergencies or occasional use. The main features of these pumps are their small size, which makes them perfect for traveling. While it does not provide as high an air pressure comparable to that of the track pump, a hand pump is a useful alternative when you need a quick fix for a flat or punctured tire. Using a hand pump can place pressure on the bike valve; as a result you can find hand pumps that come with a hose attached to reduce stress on the valve and minimize air leakage. In spite of this, the process can be somewhat tedious and provides a less-than-ideal flow of air.
Stand Pump
These are a multi-functional pumps that are most commonly used on cars. Stand pumps fit the wider Schrader valves; if it needs to be used on a Presta valve, a brass reducer will need to be purchased. The stand pump is not ideal for pumping tires that need high air pressure, but OK for those that need only low air pressure.
CO2 Inflators
A CO2 inflator technically can't be considered a pump as it can really only provide a single shot of air. It typically contains carbon dioxide and has the ability to provide a significant inflow of air in a short period of time, which makes it perfect for cyclists short on time (primarily racers). These days inflators are typically used by persons who don't want to lug around a heavier pump or racers who need to save time when they have a punctured tire. One thing you want to keep in mind with these inflators is that carbon dioxide leaks faster than air; you may find yourself needing to pump up your tire again soon after.
Electric Pump
Electric pumps have many uses; they have the ability to pump a range of items such as car tires, toys, mattresses, and, of course, bicycle tires. They typically feature a built-in gauge which can allow a more accurate reading of the pressure level, ensuring that you do not over-inflate the tire. The main benefit of the pump is that it reduces the level of manual labor involved in pumping. The electric pump is generally more costly than the manual pumps out there, which is an important factor to consider. Also, due to the size of the pump it is typically used at home, as it may be difficult to take with you. Additionally, as with most electronic devices it may need to be routinely checked to ensure that it is still operational.
Having the proper air pressure in your tire is important as it reduces the likelihood of getting a puncture. If the tire pressure is too low, that can cause damage to the rim of the wheels and may also increase your likelihood of getting a puncture. Spending the extra time to correctly maintain the air pressure in your tires will go a long way in reducing unnecessary hiccups caused by faulty tires. Additionally, depending on your lifestyle, you may find yourself having a standard track pump at home and a smaller, more compact pump to handle any on-site flat tires. Either way, understanding the differences in the types of pumps will ensure that you select a pump that best suits your lifestyle.
Final Words
Those were my top picks for the best bike pumps on the market. If you are still unable to decide, you can check out some of my other articles, like my buying guide, which gives you tips on what to look for when shopping for a pump.
Thanks for stopping by, and remember – A True Biker Is Always Prepared!