Finding The Best Golf Putters To Improve Your Game
There are very few things that are more important to your golf game than finding a putter that you are confident, comfortable, and successful using. When it comes to golf equipment, there may be more putters on the market than anything else.
This is a good thing because the variety >makes it easier to find a putter that is right for you. Putters are available in all different sizes, shapes, lengths, lie angles, and weight. Each of these factors can affect your putting stroke.
Putter Buying Factors
Length
The first thing to consider when buying a putter is the length. This is perhaps the most important component of the putter.
When choosing your putter you want to make sure that you can be in a correct address position. Your eyes should be over the ball when tilting from the hips. Your hands are placed under your shoulders and your elbows will be slightly bent, but still touching your ribs. Your hips are over your heels.
The putter that you choose must fit this stance. If you are gripping down the shaft you will want to choose a putter that is shorter. If you are gripping past the end of the putter you want a putter that is longer.
Weight
If you determine that your putter is too long, cutting the shaft of it is not going to do any good. The reason for this is because each putter is built for being a specific swing weight at a specific length. If you cut the shaft makes the swing weight go down. This will make it feel too light when you are swinging it.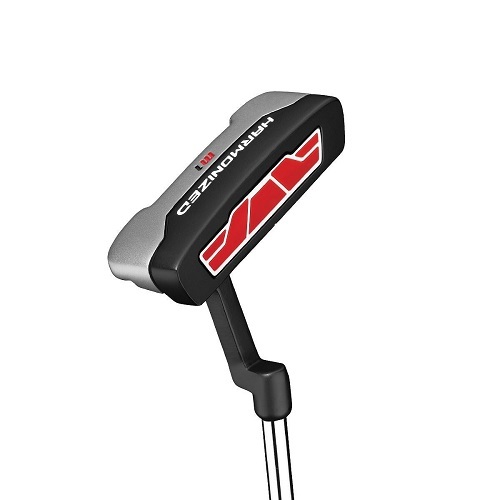 It is important to buy a putter that is the right weight. Most 35" putter typically will have a head weight of around 330 grams. If you need a shorter 34" putter the head weight should be 350 to 360 grams. A putter that has a length of 32 or 33 inches should have a head weight of 370 to 380 grams.
Balance Point
There are 2 main types of putter heads. The first is called a face balanced and the second is called toe balanced. If you place the shaft of your putter in your hand with it parallel to the ground and the face of it is towards the sky, the putter is face balanced.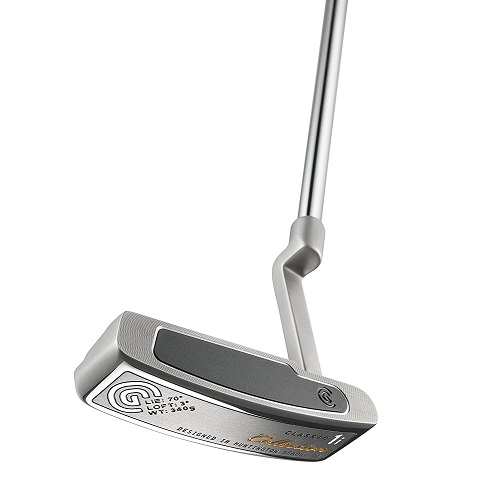 If the toe hangs toward the ground it is a toe balanced putter.
The type of putter that you choose depends on the type of putter that you are. If you want a square stroke where the putter always faces square to the target, choose face balanced putter.
If you prefer an arc stroke, which means that the face of the putter will face open and closed depending on the target and your stroke will travel on a slight curve, a toe balanced putter is the best choice.
Head Design
When it comes to the design of the head it is really a personal preference. There are many different shapes and sizes of putter heads available. You will want to decide if you want a blade head or a mallet head. Another thing to consider is whether or not you want a sight line.
For those that prefer square putting using a faced balanced putter, a mallet head with a sight line might be beneficial. If you prefer arc putting, a blade putter without a sight line may be the best choice.
When choosing this putter, first choose one that fits the setup as listed above and then add on length so it reaches your chest or stomach. You will use an arc put for a belly putter. A long putter is closer to using a square putting path as the shaft will be held more upright.
Long Putters And Belly Putters
If you watch the PGA at all you may have noticed more and more golfers using long putters or belly putters. If you suffer from tremors when you put, this type of putter may be the best choice. These putters are anchored to your chest or stomach, which stabilizes your putter during your stroke.
Best Golf Putters
Pinemeadow Golf Men's PGX Putter
This putter has a white finish, which will stand out when using the putter on the greens. The contrast of the white on the green allows you to focus on your alignment to ensure your putter is on target.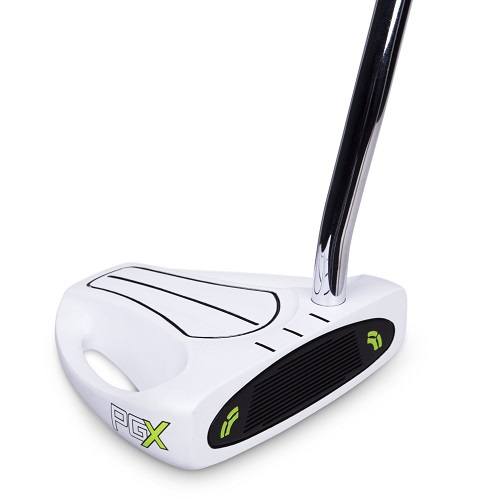 This is a standard sized 36 inch putter.
Overall, the reviews of this putter are quite high. It currently has a 4.5 out of five star rating out of 428 reviews. One complaint that some people have is that the shaft of the club feels a bit flimsy.
White putter
Weighs 380 grams with an additional 40 grams of weight making it tour weighted
​Suited for fast greens
Comes with custom headcover

Cleveland Golf TFI 2135 6.5 Putter
This putter features a 2135 technology that allows you to perfectly align every one of your putts. Cleveland discovered that one of the biggest issues people have with putting is that the golfer's eyes typically deceived them. This putter was designed to take alignment out of the equation.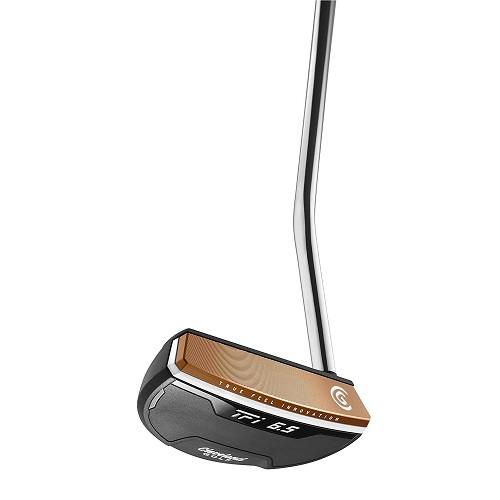 The sightline of the putter has been moved 21.35 mm from the ground. This makes the sightline accurate every time and makes alignment much easier.
There are currently 14 reviews of this putter on Amazon and the putter has a 4.7 star rating out of 5. One critical review of the putter stated that it feels clunky if you do not hit the sweet spot of the club.
Shaft length of 33, 34, or 35 inches
Perfect alignment for each put
​Suited for fast greens

Conclusion
Overall, there are many great putters from which to choose. It is best to go to a golf store to test out several before deciding on which one feels right to you. Choose one that fits your stance best and feels right when you swing.