How to get a Computer Certification
Few areas of innovation have grown more quickly than the computer industry. The computer professional has become an integral and important player in almost every other industry as well. Both computer technologies and the ways they are applied by business, government, and individuals all change rapidly. The certified computer professional is able to grow with these changes and to adapt to the needs of a varied group of users and do so in a manner that will protect the integrity of the data being used. This important level of computer knowledge is portable and universal.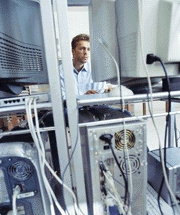 Individuals who have earned computer certifications in one or more computer-based disciplines can work for thousands of different companies and government bodies in any part of the world. The certified computer professional is responsible for the application of in-depth information systems knowledge, and for the vital area of computer security. Computer security is a vital part of the global security and anti-terror effort. Attackers can interrupt the economy and destabilize governments interfering with information on computer systems. Certified computer specialists must be aware of these dangers and detect and neutralize attacks from any external or internal source.
The computer certification professional must also be ready to prevent the loss of data through natural disasters, acts of war, and simple human error. Computer engineers may understand the importance of their own specific areas of information and knowledge. The certified computer specialist learns the bigger picture: the importance of accurate, private, and recoverable data throughout the entire enterprise.
---
A+ Certification
While many people are familiar with the vast number of certifications available for software usages, fewer outside the industry are aware that you can be certified for hardware technology as well. A+ certification is a qualification that tests you on your knowledge of installing, upgrading, configuring and repairing desktop systems. Because it isn't bound to any one specific vendor or product, it is one of the most popular entry-level certifications, designed specifically for people with minimal experience in the computer industry.
ADVANTAGES
Getting an A+ certification affords a wealth of advantages. First of all, it's ideal for those interested in getting straight into the workforce with minimal time spent on education. It provides you with very intensive training over a short-term period, giving you a broad base of knowledge upon which to start building your career as a hardware technician.
Another advantage to A+ certification is that it's one of the most inexpensive ways for you to get your foot in the door of this particular field. Information technology can be a very competitive industry, so becoming adept at the hardware aspects can often pave the way to becoming adept at other challenging careers within its domain. It can allow you to qualify for corporate training programs because it shows your employers that you're willing and eager to learn. In an industry that changes on a daily basis, proving you're willing to grow with it is often the best way for you to achieve success.
---
Cisco Certification
Certification in the network, wireless, voice and other technology products made and supported by the Cisco Corporation can be a technologist's key to a very bright future. The training programs for Cisco certifications give the skills needed to administer and create these highly technical products such as switches, routers, firewalls, telephony, and more.
The Cisco certificate is a validation of the learning level attained by an individual and proclaims to the professional world that the holder has reached a high standard of technical expertise. Of course, Cisco products and services cover a very wide range.
Individuals can choose the specific Cisco skill track in which they wish to be certified. For example, the local area network (LAN) and wide area network (WAN) certification is for engineers skilled in the installation and maintenance of Cisco access routing and switching technology. They are able to scale Internet protocol (IP) addresses and to manage network address and network performance issues. IP Telephony Operations Specialists can implement and configure the Cisco call manager technology and can resolve the telephony connectivity problems that arise in a wide variety of telephone and voice-mail systems.
The certification for wireless LAN technologists includes training in such areas as the radio transmission and antenna equipment that underlies the wireless systems, bridge and access points, the creation and configuration of a wireless "hotspot," and the security technology that protects the wireless LANs from intruders. There is also a Cisco certification track for the specialists who design and install optical fiber-based network technology.
---
Linux Certification
One of the most rapidly expanding corners of the computer industry today is the Linux market, driving the demand for qualified users higher with each passing day. Linux certification is one of the most effective means for employers to find those employees best capable of fulfilling their professional needs.
LINUX CERTIFICATIONS
There are a number of Linux certifications available to those that are interested. Currently, the best known is the vendor-neutral Linux Professional Institute Certification (LPIC), with three different levels of expertise, Junior, Intermediate, and Senior. Novell offers similar certifications, mirroring what the LPIC requires, but rather than a written test, they ask participants to resolve randomly selected situations in a timely fashion. Other certification offerings are the Linux+ and Sair's LCP.
ADVANTAGES TO CERTIFICATION
Because Linux is free to download, just about anyone can dabble within that particular environment and then put that experience on their resume. However, Linux certification's most powerful function is its capability to separate those who may only know a few basics from those who can fully administer sites, troubleshoot heterogeneous networks, and even design solutions for multi-site ventures.
While employers will always value practical experience, Linux certification opens doors for you that may not necessarily have been available to you without it. It demonstrates the scope of your knowledge before you ever have to say a word. In this competitive world, it's best to take every edge you can get.
---
MCSE Certification
MCSE is the designation for a Microsoft Certified Systems Engineer. With a MCSE certification you are qualified to design and implement an infrastructure for business solutions based on the Microsoft Windows platform and Microsoft Servers System.
Who Should Pursue MCSE Certification
MCSE certification is designed for IT professionals working in medium-to-large organizations with complex computing environments. If you are involved in the planning, design, and implementation of Microsoft Windows server solutions and architectures for your company and have at least one year of experience implementing and administering network operating systems and desktop operating systems for your organization MCSE certification is essential.
Benefits of MCSE Certification
MCSE Certification is one way of staying relevant in the IT industry and is one of the most specialized certifications available today. Pursuing MCSE certification will offer you:
Recognition for your expertise in Microsoft products and technologies.
Opportunity for advancement and leadership roles.
Opportunity for increased salary.
More responsibility.
Preparing for MCSE Certification
There was a time when MCSE certification lost some of its credibility as a number of "paper only" MSCEs flooded the market. The current MCSE certification exams are much tougher as a result. Compounding this is the fact that while Microsoft makes the product, others write the exams. Field engineers with knowledge of real-world problems write the exams and scenarios at you just to ensure you're qualified to possess a MCSE certification. The best way to prepare for this is to enroll in a MCSE certification program.
---
Microsoft Certification
A variety of Microsoft Certification programs are available to choose from, most of which will allow you to become a Microsoft Certified Professional (MCP). Being a Microsoft Certified Professional will grant you an extra edge against your peers as you apply for employment and seek out greater compensation.
In addition to validating your skills and allowing you to brush up on core competencies, Microsoft Certification allows you access to MCP Member Sites, which offer you tools sought after by IT professionals and exclusive access to certain discounts. Membership in several professional associations is also offered, as is MCP documentation to identify your expertise.
Microsoft certification tracks include programs to certify knowledge and expertise in Systems administration, Windows Security, Windows Server products, Microsoft Systems Engineers, Database Administration, and others.
Microsoft Certification exams are extensive and rigorous, requiring you to know the ins and outs of your course of study thoroughly. The Microsoft Certified Systems Engineer certification, for example, requires candidates to pass seven exams on various Microsoft operating system networking, installation, and maintenance, in addition to designing network infrastructures in various Microsoft environments. One exam is on a topic of your choice and accordingly, a variety of courses are recommended.
Courses to prepare you for your Microsoft Certification exam will depend on your certification track but will likely include coursework to ensure competency in core Microsoft technologies, in addition to coursework on security safeguards and networking. Other coursework specific to your certification exam is recommended.
---
PMP Certification
If you enjoy planning out an important project from start to finish, then a PMP certification might be just the credential you need to solidify your career. Earning your PMP certification is an impressive credential that employers are always on the lookout for. Graduates with a PMP certification find themselves at the head of a variety of exciting and important projects for firms and institutions all over the country.
What Is A PMP Certification?
PMP stands for project management professional and encompasses the certification of professionals that plan and manage various projects. Quality graduates with a PMP certification are always in demand because of their specific management experience. Your PMP certification will develop your skills of multitasking and personnel management in the context of major project development.
How Can PMP Certification Help My Career?
When you earn a PMP certificate, you will hold one of the most sought-after educations in the industry. Because you have the letters PMP after your name and your certification on your wall, you will enjoy and above-average opportunities for advancement as well as the salary to go along with those opportunities. Your PMP certification will have value in a variety of exciting fields and positions. You simply cannot go wrong with a PMP certification.
Where Can I Go For PMP Certification?
You can obtain a PMP certification from any one of the various technical schools, colleges, and universities that are in your area. PMP certification is grounded in a combination of theory and practice that gives you real-world experience throughout your education.