With over 800,000 acres of conserved wilderness, Big Bend National Park, one of our biggest National Parks, is the ideal destination for adventure-seeking campers and RV'ers. Visitors to the park will undoubtedly find everything they seek in the more than 1,100 square miles of the Chihuahuan Desert. A vast expanse of preserved wilderness that includes not only huge regions of desert and the Rio Grande area, but also the Chisos Mountain range and vast areas with numerous ponds, streams, gorges, and canyons, makes this a place worth exploring.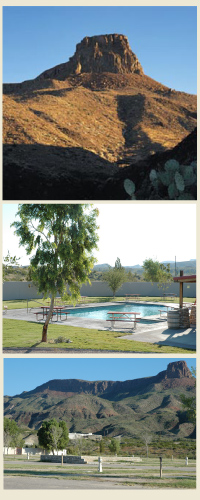 Tourists to Big Bend National Park will appreciate the visitor centers, which are all wheelchair accessible and offer presentations and exhibits. The park's more than 250 miles of paved and dirt roads are known for providing scenic drives and a great way to see the sights. There are also hundreds of backpacking and hiking trails, as well as numerous camping areas. True adventurers come to Big Bend to hike and camp in the wilderness of the rugged yet beautiful Chisos Mountains and the Rio Grande.
The fantastic variety of plants and wild animals that live in this park will delight campers and RV'ers; these are major attractions. This is one of the best places in America to go bird watching and observe wildlife. Bird watchers are astounded by the park's more than 460 different bird species. Official bird watching tours and birding expeditions are available at Big Bend National Park.
All of the parks along the canyon rapids provide boating, rafting, and kayaking opportunities. Because of the harsh weather and conditions in the summer and winter seasons, spring is a popular time to visit Big Bend. There are numerous resorts, campgrounds, and RV parks nearby, but reservations should be made as soon as possible.
Broke Mill RV Park
Campground Details for Broke Mill RV Park. Del Rio's newest and finest RV Park is now open. Broke Mill RV Park is a roomy modern facility with 40 seasonal RV sites and 40 overnight RV sites. Visit Del Rio, Texas, and Lake Amistad, while staying in our unique RV park built on an old ranch headquarters. Bring your RV club rally to Del Rio, Texas and Lake Amistad. Three miles to Lake Amistad, five miles to Super Wal-Mart, and 10 miles to Ciudad Acuna, Mexico.
Broke Mill RV Park Resort
6069 West Us Hwy 90
Del Rio, Texas 78840
Phone: 830-422-2961
Testimonials and reviews:
This is a very nice park. It is close to the Lake and to the town of Del Rio. There is room for your extra vehicle and room for slide outs on your RV. We watch the deer and the turkeys come from the brush into the park. The man who runs and owns the park is very nice and our stay here was very enjoyable.
To all, this is a Wonderful park. We were most impressed with the staff, the building's, bathroom's and exercise room which were spotless and all in excellent order. Not only was it in a great location close to wall mart and was very close to the lake. They had a very large recreation room and excellent wifi as well. Mike (the owner) came over and talked to us personally inquiring on how our stay was going and thanked us for choosing his park. I forgot to mention the wide spaces between the sites and many pull through sites which were lush with green grass. The laundry facility, over 90 cable channels and the pool were top notch as well. The park is very nice you will not be disappointed. We will be staying at broke mill again next we go through Del Rio.
Our San Antonio RV club stayed here and everyone enjoyed their stay and commented how this was a fantastic place. The staff, amenities and location were everything anyone could be looking for. We plan to stay here in route back to San Antonio after a month in west Texas and New Mexico. We would recommend this park to anyone either traveling through or spending an extended time in Del Rio.
This RV Park Rocks with First Class Facilities and very Clean, Clean, Clean. This park is very close to Lake Amistad for those boaters like me. The owner Mike is a really nice guy and can serve as a very knowledgeable guide when it comes to directions to attractions to see on the Lake. We plan on visiting with Mike and staying at the Park again during the Labor Day Weekend 2009.
Broke Mill RV Park Features:
Paved roads throughout
3900 square foot building
laundry facilities
fitness center, day room
roomy bathrooms and showers
Swimming pool and patio area
1260 square foot RV park office
5100 sq ft Event Center w/Kitchen
Great for RV Rallies!
Park Model Trailer
Wireless Internet
50 amp and 30 amp service
water, sewer and TV cable
RV sites, 45 ft wide by 70 ft long
10 by 30ft parking for car and boat
plenty of room for your RV's slide outs
No other RV Park in Del Rio offers you this kind of room for your RV rig.
Broke Mill RV Park
6069 West Us Hwy 90
Del Rio, Texas 78840
Phone: 830-422-2961
Maverick Ranch RV Park in Lajitas Resort
Maverick Ranch is surrounded by the painted hills of Quiet Canyon and bounded on the east by Lajitas Mesa. This campground is located at the Lajitas Resort and Spa; it is named Maverick Ranch RV Park. If you like the desert, this is the place for you. It is located between Big Bend National Park and a huge Texas state park, and it is by far the best private campground in the region.
Featuring full hook ups, Wi-Fi, luxurious bathrooms and private showers, new state of the art exercise room and pool all included! A new Laundromat is available at the RV Park as well. Maverick Ranch also contains indoor space for group gatherings and meetings and shaded areas by the pool. All Resort amenities and activities including the Agave Spa, ATV tours, horseback trail rides and other equestrian activities, Lajitas Five Stand skeet and sport clay shooting, Cowboy Action and more.
Spend the day enjoying activities at Lajitas, hiking, swim in the pool or just relax and visit. Stretch out in the shade or laze in the sun on the manicured landscaped lawn. A cozy vine covered pergola is a great place to sit and catch up on your reading.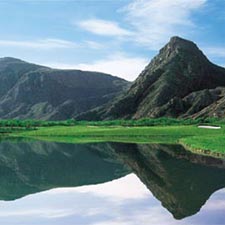 For those that wish to bring their horses to Lajitas and enjoy over 28,000 acres of majestic beauty we have a full equestrian center including boarding facilities available to guests.
Lajitas Resort & Spa
HC 70, Box 400
Lajitas, Texas 79852
phone 432.424.5000
fax 432.424.5001
Testimonials and reviews:
Although this campground is located at the Lajitas Resort and Spa, it is named Maverick Ranch RV Park. If you like the desert, this is the place for you. It is located between Big Bend National Park and a huge Texas state park, and it is by far the best private campground in the region. The area is about as isolated as you can get–the closest Wal-Mart, we were told, is 100 miles away. The facilities are terrific, including one of the nicest bath houses we've seen.
The resort has a golf course, an equestrian center, and all sorts of outdoor activities are available on site or nearby. The rates were also quite reasonable. We found our stay there very relaxing and we would definitely stay here again. We camped here in a Fifth Wheel.
We stayed here for 4 days and loved it. It is a quiet, lovely setting with mountain views. The Bathrooms, laundry, pool, keep fit room, were all clean. 60 pull through sites. There is lots of space. Paved site and grass. We will be staying here again. There is so much to see and do. We camped here in a Travel Trailer.
This campground is part of the Lajitas resort. There were 10 to 15 campers here while we were here. Lots of room and big spaces. The showers were very clean and well kept. You have to check in at the resort which is not at the park area but is not really a problem. The camp host was very nice and helpful. Very convenient to Big Bend NP. We would stay here again. We camped here in a Motorhome.
Maverick Ranch RV Park Amenities
Full hook ups
Wi-Fi
Luxurious bathrooms
Private showers
Exercise room
Pool
Laundromat
Indoor space for group gatherings and meetings
Shaded areas by the pool.
All Resort amenities and activities:
Agave Spa
ATV tours
Horseback trail rides
Equestrian activities
Lajitas Five Stand skeet and sport clay shooting
Cowboy Action